---

GridWise and the Energy Policy Act of 2005

John J. "Jack" Mc Gowan, CEM
Energy Control Inc.
Contributing Editor
In August I had the honor of covering the President's signing of the Energy Policy Act of 2005 for Energy and Power Management. One key initiative to come from this Act will be a major focus on electricity reliability. It is among the targeted areas for tax incentives totally $3.1 billion that have been put into place. Senator Pete V. Domenici, Chairman of the Senate Energy and Natural Resources Committee is credited as a driving force behind the bill and he emphasizes that most of the (Act's) tax provisions '82%' go to energy efficiency, renewable energy sources, clean technology and electricity reliability." This chart shows the actual distribution according to Senator Domenici.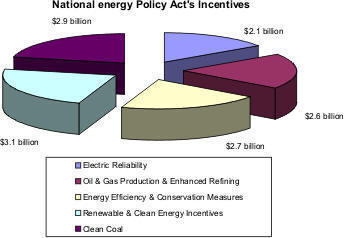 Of particular interest here is the topic of electricity reliability, and it is going to get a great deal more attention in the near future. Over the past year this column has covered the GridWise Architecture Council created under the Department of Energy's Office of Electricity and Energy Assurance headed by Kevin Kolevar. Steve Widergren of Pacific Northwest National Labs, home to much of the day-to-day GridWise activity is finalizing plans for the first major event under this initiative, the GridWise Constitutional Convention. Widergren says that the event will be held in Philadelphia, a likely spot for a Constitutional Convention, during the second week in December of 2005.
Electricity reliability is a huge issue that came clearly into the spotlight on August 14, 2003, a date that many in the utility industry simply call "814". There was of course on that date a major blackout affecting most of the Northeastern United States and parts of Eastern Canada, and it focused national attention on the electric grid. The grid of course must respond to demands from large urban areas to the last mile with diverse sets of needs for geographic areas based upon a host of factors from climate to dominant electric users. Yet it is a little known fact that even on the annual peak day for electric use, the US needs only about 75% of its generating capacity. Without question there are many local areas that do not have enough generation, but of equal importance is the transmission and distribution grid. GridWise is focusing on both of these challenges by working to serve as the catalyst for developing the technology solutions that will make the grid self healing and improve reliability. 814 stimulated a substantial amount of investment in technology that notifies utilities of a fault in energy supply, and there have also been steps taken to improve intercommunication between utilities. In spite of all these efforts however, there is still no comprehensive intelligent system technology to optimize the performance of the grid. Think of an eBay style Internet Service that would allow utilities to not only wheel power between transmission and distribution systems, but more importantly would create an economic engine to allow energy trading between utilities and even energy users.
GridWise is not just about reliability however. By implementing the information technology infrastructure necessary to accomplish the reliability goal, it would also be possible to transform the energy services business. Electricity in the U.S. is a $250 billion industry that is designed around the concept that utilities sell as much power as users demand at any moment. Given the increases in demand and in fuel cost for generation, as well as environmental and numerous other factors, the U.S. no longer has the luxury of assuming that we can supply all the power that is demanded all the time. GridWise is about implementing smart technology that will offer alternatives to this vicious cycle of demand and supply. Using smart systems, and the Internet, to shape demand curves and shift load is expected to save money for utilities and their customers. Equally important, it can transform the energy business and make it possible for utilities to dispatch energy efficiency in the future, instead of bringing on another generating unit. The capacity for smart systems on the demand side of the meter could also allow a GridWise Architecture to serve as spinning reserves for utilities, instead of expensive gas-fired peaking plants. Automated demand response, distributed generation and clean energy sources such as photovoltaics could all blend together with a host of GridWise techniques yet to be developed, to complete this transformation. It is truly exciting that the potential for all of these developments is enabled by the same technology that will make the grid both more reliable and even self-healing.
Since GridWise is intended to be a catalyst, one of the first steps undertaken by the GridWise Architecture Council (GWAC) has been to create a set of principals to serve as a GridWise Constitution. Over the past 9 months, I and the other GWAC members have interviewed a broad base of stakeholders that will be impacted by GridWise; from utilities and information technology leaders to system integrators and regulators. Readers who have not had the opportunity to weigh in on GridWise should contact my office to schedule an interview and provide input on this landmark initiative for electricity and energy. The emphasis of this effort is truly electricity reliability but the outcomes will surely go far beyond that goal alone.
As nearly everyone knows, in 1989 Tim Berners-Lee invented the World Wide Web, using the Internet that had already existed, while working at CERN, the European Particle Physics Laboratory. Berners-Less says that "the dream behind the Web is of a common information space in which we communicate by sharing information". The point is the World Wide Web has grown to have an impact on the planet far beyond simply sharing information. Nearly everyone on the planet can cite the impact of the Web based upon both due to the value of the information shared and the context of the sharing. In much the same way these humble efforts to improve the reliability of the grid can be expected to outdistance the goal of reliability and create new industries and new business opportunities.
In summary there is a huge opportunity regarding the electric grid and information technology. Equally exciting there is an opportunity for Energy and Power Management readers to voice their opinions and participate in the process. I hope that many readers will take that opportunity and even more exciting that I will see many Energy Power & Management readers at the GridWise Constitutional Convention in December!
________________________________________________________________________
About the Author
Mc Gowan is an author and President of Energy Control Inc., an Energy Service Company and System Integrator. He has published 5 books including "Direct Digital Control" on Fairmont Press. The Association of Energy Engineers named him 1997 "International Energy Professional of the Year. Mc Gowan sits on the DOE GridWise Architecture Council and the Energy and Power Management Technical Advisory Board. He is a Contributing Editor with www.automatedbuildings.com.
---


[Click Banner To Learn More]
[Home Page] [The Automator] [About] [Subscribe ] [Contact Us]