---

The Ethernet switch is crucial to control system operation
and therefore must perform continuously.

Joe Stasiek
Sales Manager
Contemporary Controls
When you interconnect your Ethernet equipment within a control panel, you're tempted to select an office-grade or small office – home office (SOHO) Ethernet switch from one of the mass merchandisers such as Best Buy or Office Max. The equipment is readily available and inexpensive! Since the equipment works at home or on the bench, it should certainly work in a control application.












The alternative is to purchase Contemporary Controls' Industrial Ethernet equipment marketed under the CTRLink® trade name which costs more and perceived to be over qualified for the application. Since both approaches will work, why not save the money and take the SOHO route?
However, there are issues when making this decision as you see in the following picture. Cost savings may not always be realized and reliability could be compromised by taking this direction.
1. Mains Powered
SOHO equipment requires an external regulated 5 DC power supply. This supply, that is included with the purchase of the unit, is frequently called a "wall wart" since it must be mains-powered and hangs from a duplex receptacle. If a receptacle is not present in the control panel, it must be provided at extra cost. Since a wall wart can be easily dislodged during shipment or use, some municipalities require the wall wart to be attached to the wall plate with a screw. Failure to do so can result in a "red tag" given by an electrical inspector, and most wall warts do not provide this feature. In addition, the 5 volt end of the wall wart is a simple push-on connector creating another potential point of failure. It can easily fall out and disrupt system operation resulting in an expensive service call.
CTRLink equipment is wide-range, low-voltage AC or DC powered, allowing the same equipment to operate worldwide. For safety purposes, most control panels function from either 24V AC or DC sources so it is simple to power the CTRLink switch from the same source as the other control equipment in the panel. There is no need to have higher voltages present in the panel just to power an Ethernet switch.
2. Mounting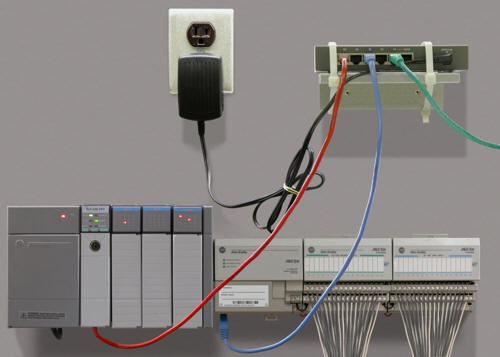 SOHO equipment was made for the table top―with four rubber pads to prevent surface marring of a desk or shelf. To mount the SOHO equipment in a control panel takes some extra effort either by fabricating a bracket or a shelf to hold the unit. Attachment can be made using duct tape or a tie wrap. Seldom are there available mounting holes in the unit. Since SOHO equipment usually has its LED indicators on the opposite side of the RJ-45 connectors, either the LEDs can be viewed or the connectors can be viewed but not both.
CTRLink equipment was made for control panel installation. Flanges are provided for panel or DIN-rail mounting. Once attached, the CTRLink switch looks like it belongs with the other equipment. SOHO switches stand out as not belonging with the remainder of the control equipment. Both the LED indicators and RJ-45 connectors are near one another and are easily viewable when the door of the control panel is opened. The end result is that the installation is neat, organized, and worthy of the price being charged to the customer.
Another problem with SOHO equipment is inconsistency of supply. Models change frequently with no notice and no concern on the part of the mass merchandisers. Specifying a SOHO product in a bill-of-material would be fruitless. Contemporary Controls understands the effort involved in qualifying vendors and equipment, and guards against obsolescence by providing a fit, form and function replacement guarantee.
3. Redundant Power Source Provision
Because of Ethernet's star topology, the Ethernet switch is crucial to control system operation and therefore must perform continuously. A loss of primary power will disrupt system operation so CTRLink switches have redundant power connections, allowing the switch to continue to function without disruption from the loss of primary power. Since the unit can be powered from wide range AC or DC power, the backup source does not need to have identical capability. Any voltage source in the specified range can serve as a backup, one including batteries. In addition, the screw-style power connector is locking¾making it easy to wire and yet durable for shipping to the job site.

4. Regulatory Approvals and Environmental Specifications
Most municipalities require a UL or CSA label applied to the control panels. A common standard is UL 508 Industrial Control Equipment, which CTRLink equipment meets this compliance. For more stringent applications, a UL 864 Control Units and Accessories for Fire Alarm Systems, rating may be needed. SOHO equipment has neither of these approvals and installing a non-approved device in a UL control panel is an invitation for a red tag by an inspector.
CTRLink equipment is definitely more rugged then SOHO equipment. Four-layer printed circuit boards and input filters meet the industrial limits of electromagnetic compatibility (EMC) standards EN 55022 and EN 55024. It is this attention to design that allows CTRLink equipment to function in harsher EMC environments.
There are two widely accepted temperature range specifications for CTRLink equipment. The industrial temperature range is 0º to 60ºC consistent with the ratings of programmable logic controllers (PLCs) or BAS controllers. The second is the wide temperature range or outdoor range from -40º to 75ºC. SOHO equipment is either rated from 5º to 40ºC or not rated at all. Your Ethernet equipment should have equal or better environmental specifications as the connected control equipment. Unlike some SOHO equipment, CTRLink equipment does not incorporate unreliable fans for cooling.
5. Product Support
Ethernet technology is complex and equipment selection from repeating hubs, plug-and-play switches and managed switches can be confusing. Troubleshooting problems in the field can be tedious and that is why CTRLink equipment is designed with ample LEDs to indicate crucial parameters such as data rate, activity, valid link and duplex. Some of the CTRLink products have a writing area on the switch itself to note connections to field equipment. This aids the technician to quickly find the source of a problem when drawings cannot be located.
Contemporary Controls understands control applications, the limits of Ethernet equipment and the use of fiber or twisted-pair cabling. Our engineers can assist you with issues such as auto-negotiation and auto-MDIX as well as advanced features such as virtual LANs, trunking and simple network management protocol. This level of support is not provided by mass merchandisers.
Depending upon the sophistication of the Ethernet switch being used, the cost differential between SOHO and CTRLink is not significant. You want 100% uptime and a switch failure results in an expensive service call so why not choose the best for the customer? A neat, clean, professional, and reliable installation will satisfy your customer and lead to repeat business for you, the installer over time.
---


[Click Banner To Learn More]
[Home Page] [The Automator] [About] [Subscribe ] [Contact Us]