---
Energy and Buildings…



What opportunities does the current economy present?

Jack Mc Gowan, CEM
President
Energy Control Inc.



It seems that building intelligence technology is advancing almost at the pace that it appears as a blur. Building Automation Systems (BAS) as we have known them have evolved into the central enabling technology for every major trend in the built environment today. For many BAS companies and building owners, the last five years has been about survival and weathering the economic downturn and it may be a while before construction comes back. According to the AIA's Consensus Construction Forecast panel this past recession, steeper than any other post-war downturn, has produced one of the weakest recoveries in recent memory. That panel has been projecting low single digit growth rates year over year compared to the near standstill in new construction markets that we see across the country today. Despite that dismal view, the purpose here is to highlight several of the truly massive market opportunities that BAS professionals who demonstrate ESI (Energy System Integration) skills, can take advantage of with existing buildings now. There has been widespread consensus that the retrofit market holds the greatest potential but, more than that, the energy opportunities are really exciting. This article can only hit three topics in this area, Smart Grid / Demand Response (DR), BIG DATA and ESCO 2.0. In all three cases BAS is the enabling technology, but it requires specialized skill beyond traditional new construction installs that were common five years ago. Quite simply this discussion is built on a simple idea; the earth is a star, and keeping the lights on in the future will require a "five points of light" project strategy that leverages BAS to sell solutions under the three topic areas above.
The "must-attend event" this year for building owners, manufacturers and professionals that want to learn more about these topics is Realcomm and IBcon (https://realcomm.com/ibcon-2013/) in Orlando this June. Jim Young, the creator of this event believes that the time is now for Smart Connected Buildings and beyond energy, he emphasizes huge benefits in occupant productivity and sustainability.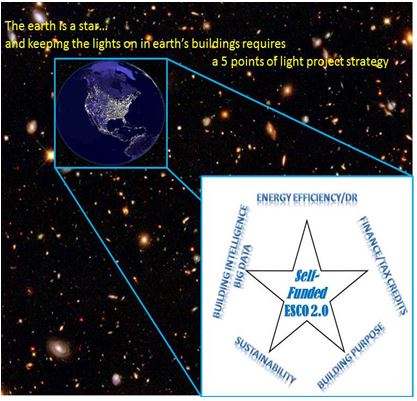 Starting with electricity, BAS is the cornerstone of Smart Grid and Demand Response (DR) implementations, which Pike Research projects will drive global revenues increasing from just less than $1.3 billion in 2011 to more than $6.1 billion by 2016. The term "killer ap" may be a bit dated, but DR is that proven strategy that is driving opportunities that could eclipse the size of the BAS business itself. Countless opportunities exist, particularly in markets that are deregulated for integrators who are capable of leveraging existing control systems to response to DR events, when they are called by the utility. This model pays the building owner for participation and, provided that the ESI chooses strategies that can insulate the owner from comfort issues and disruption of "building mission" functions, it is a win-win solution. Many building owners shy away from DR but particularly with the new EPA rules on running diesel generators for DR, it may be a great way to drive upgrades to existing systems. Under the Smart Grid banner also, meters and other equipment to measure/meter BTU's, etc. are seeing expanded functionality for the BAS as well. For example, using this technology for measurement and verification is a great entré to Big Data and ESCO 2.0.
Big Data is a hot topic today and it builds on many buzzwords we have seen in the last several years, such as; portals, dashboards, enterprise energy management and analytics. The authors recent article "What's all the Hype about Big Data and Energy Analytics" drills into this topic in more detail. It highlights how both Energy and Building Analytics use sophisticated software engines to evaluate energy consumption data and building condition data. The analytics engines conduct analysis to report energy consumption and performance metrics for buildings. The simplest source of energy data is a building's utility meter, the ultimate cash register for energy. Older buildings may require meter upgrades to add data interfaces, but this is easier with the advent of utility smart meters. Most building automation systems (BAS) already pick up meters as data points and can export consumption data in standard formats, e.g. BACnet, to analytics applications. The simplest source of building performance data is a building's BAS. Without a BAS, routers or data loggers can access data and communicate to systems over the Internet or building networks. This market is a segment of a much larger multi-billion analytics industry, but is seeing rapid growth and BAS players should take a hard look at it.

ESCO 2.0 is another market opportunity that relies heavily on BAS technology. This topic was covered in an automatedbuildings.com article last year, where ESCO 2.0 was described as a variation on the proven theme that has been called Performance Contracting over the past three decades. The "2.0" is an outgrowth of Web 2.0, which according to Wikipedia "is a loosely defined intersection of web application features that facilitate participatory information sharing, interoperability on the World Wide scale." With ESCO 2.0, access to the Web is critical, but the "application features" in this case are designed to access new revenue streams and create larger more exciting capital projects. So the ESCO 2.0 is here, and forward looking companies are embracing it by incorporating Smart Grid and Demand response (DR) strategies to tap into the positive cash flow revenue stream to compliment the energy efficiency (EE) revenue stream. The EE/DR revenue streams require a BAS and Energy System Integration to create a 2.0 funding matrix. Of course Energy Service Companies or "ESCO's" are those organizations that specialize in delivering this model, but of course all ESCO's are not created equal. Central to this model however is deployment of next generation BAS strategies and DR technologies. ESCO 2.0 will provide a mechanism to achieve Smart Buildings, and with the Energy Techno-Strategies deployed by local, and cloud based technology, the building with be an energy profit center by participating in both efficiency and the electricity markets. Previously ESCO projects overlooked these revenues from DR, etc., but ESCO 2.0 will start with commissioned, effectively operated BAS, electric sub-metering, dashboard technology to visualize building performance and analytics to evaluate performance over time and develop benchmarks for comparison.

In summary, the economic recovery that we see in 2013 will not present a robust new construction market with plenty of jobs to bid. However there are a host of near-term solutions that savvy BAS integrators can use to grow, even without new construction.
Jack McGowan, CEM, is president of Energy Control Inc. (ECI), an Optera Energy Company, and chairman emeritus of the DOE's GridWise Architecture Council. He has published five books and authored hundreds of articles, and was admitted to the AEE's International Energy Managers Hall of Fame in 2003.
---


[Click Banner To Learn More]
[Home Page] [The Automator] [About] [Subscribe ] [Contact Us]