---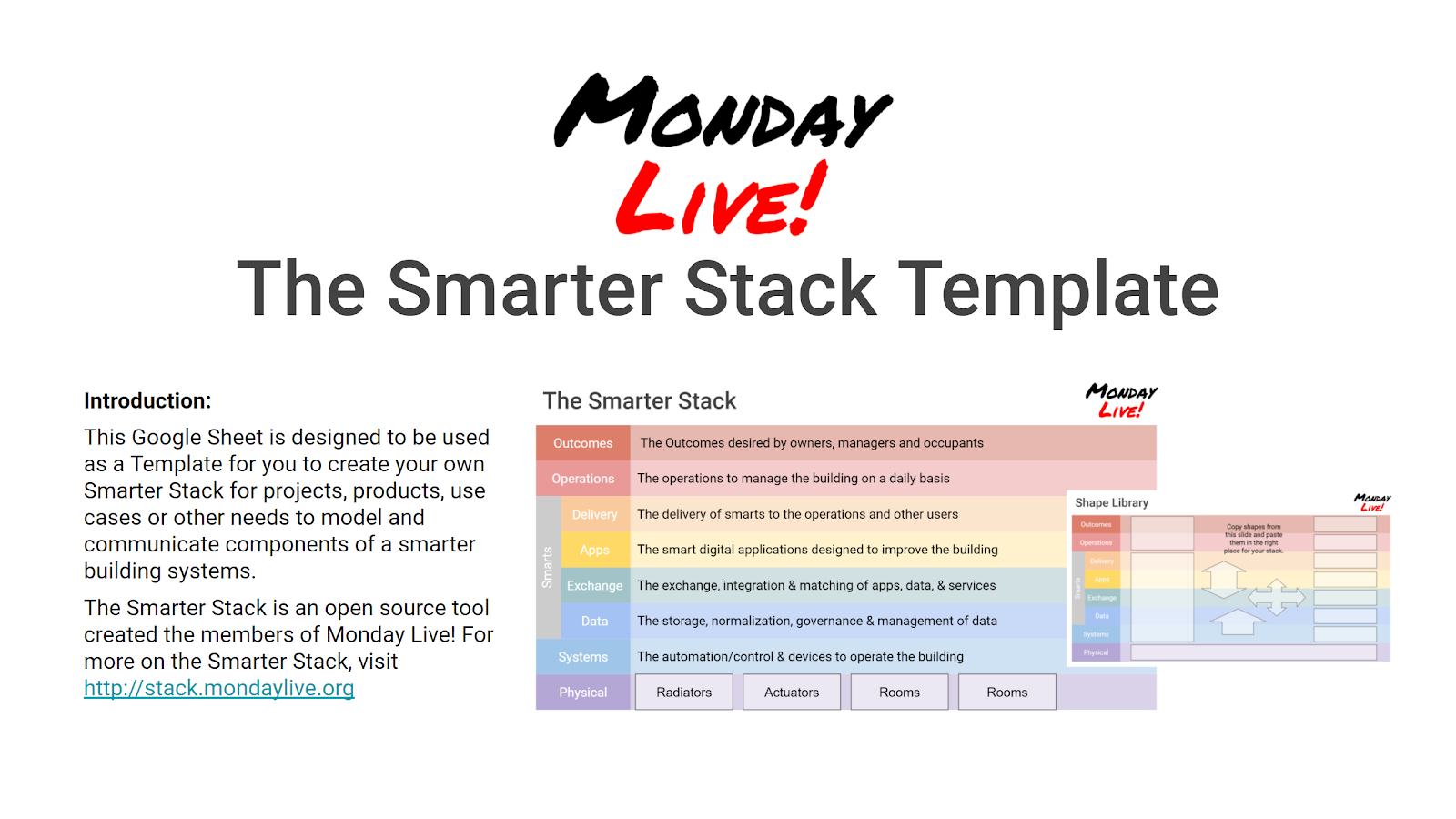 The Smarter Stack is an open-source tool created the members of Monday Live! For more on the Smarter Stack, visit
Monday Live
Really interesting and great approach when it comes to getting started to plot out what smarts go into a building and how it might fit with existing dimensions. A great tool to have and I will try it on for size and see how the tool fits.
The thing with tools and frameworks is that there are a lot of them out there.
I like the IoT Decision Framework from Daniel Elizalde. If you haven't seen his work yet, you are in for a treat!
And my first question to the Monday Live crew during the webinar was how to get the Smarts framework to be adopted by the ones that need it the most. Which also opens a pandoras box in the sense that all existing stakeholders might need something that makes sense across domains. And as per usual, it is not usually one tool/framework that is needed, but many in conjunction at specific times.
Again, the systems, the people, everything is here as ingredients. But how can we create the recipes? And how can we help each-other become smarter in the process?
"We probably need a course adjustment and keep our eyes on the road still. But to also ensure that we can take our hands off the wheel, knowing that we should be able to take control at any given point in time. "
- How can we share knowledge between stakeholders?
- How can we bring in more youthful people to the industry?
- And how can we enable buildings to become smarter and smarter and possibly Smart Buildings?
- What was potentially missing from the Smarter Stack?
News Flash: There Are No Self-Driving Cars on Sale Today
A lot of questions for sure and only time will tell. But it is equally interesting that this article was shared the other day.
"What exists today is a collection of technologies called Advanced Driver Assistance Systems (ADAS), which can handle basic driving tasks for short periods of time in specific, ideal conditions. ADAS must be monitored at all times, and the car's driver must be alert, undistracted, and prepared to take control at any moment. The best ADAS available today allow drivers to take their hands off the wheel but not their eyes off the road."
Which reminds me of this article from Troy Harvey, who will soon be a guest on the Beyond Buildings Podcast talking about the past, present and future of building automation.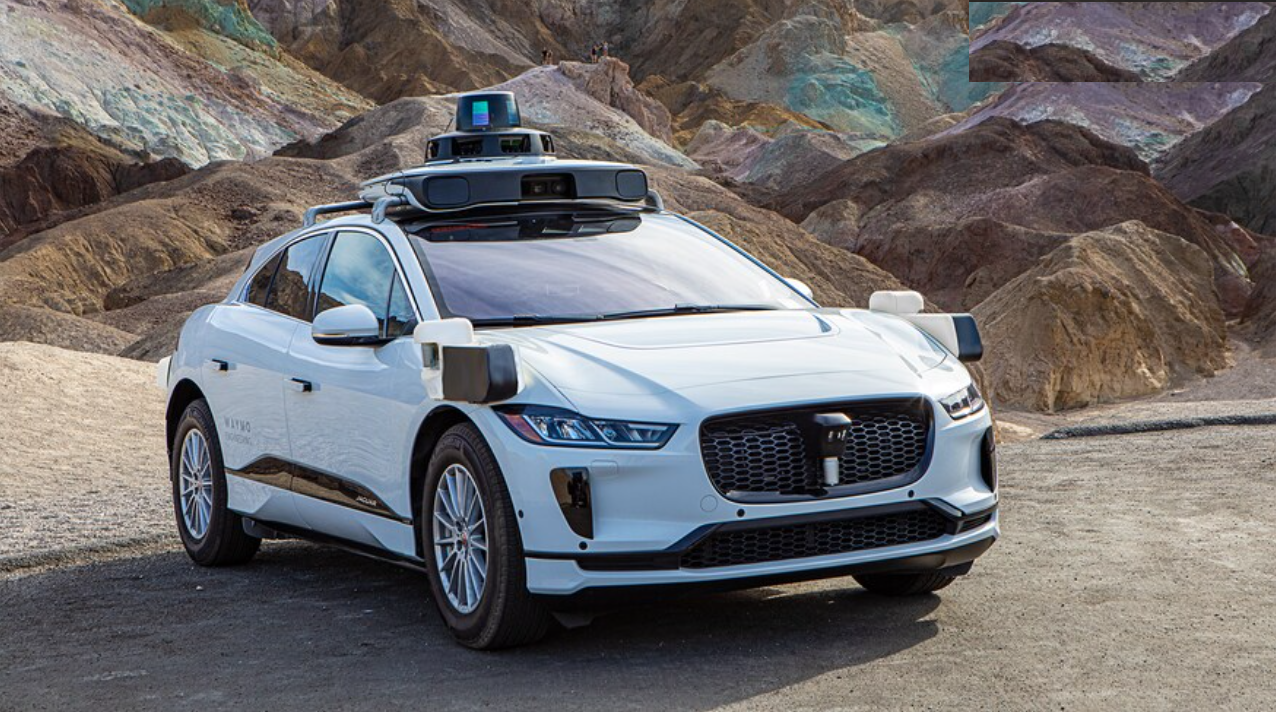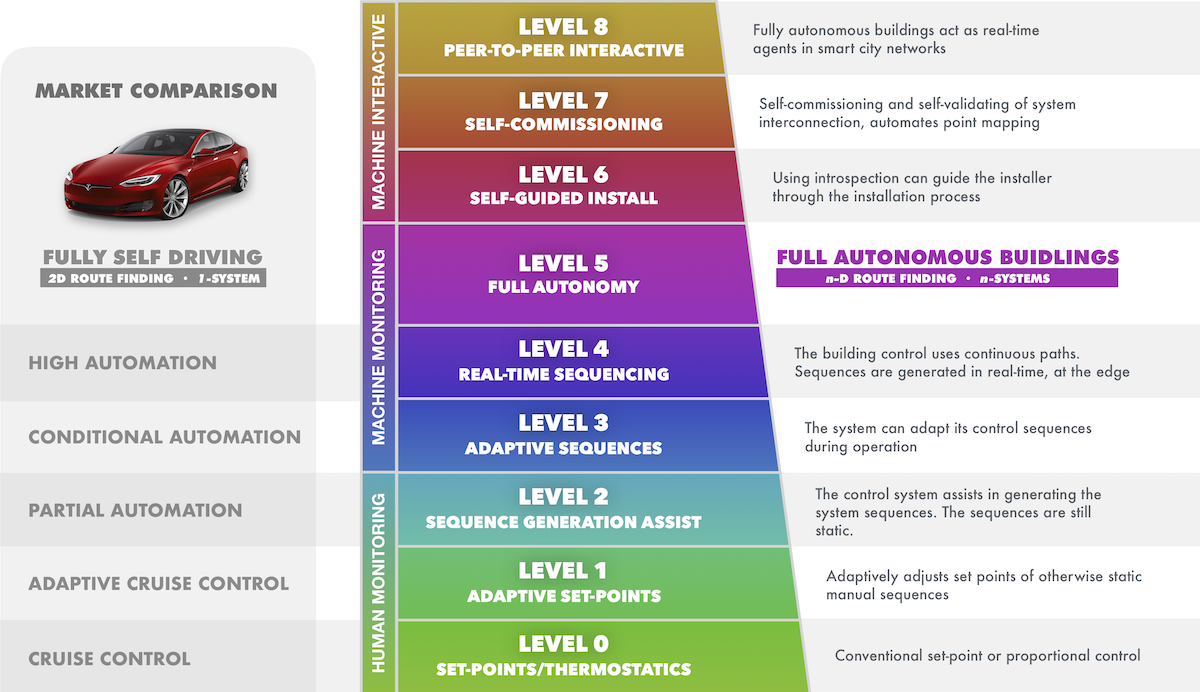 iv Full Autonomous Buildings Picture by Troy Harvey, Passive Logic
Maybe it is less about Smart Buildings and more about understanding where buildings, companies and existing systems are and take the necessary steps to become smarter. And along the way towards becoming truly smart we first must get digital. Where buildings might or might not be more advanced than the people and organizations managing them, servicing them, nor using them.
We probably need a course adjustment but also keep our eyes on the road for a while longer. And to also ensure that we can take our hands off the wheel, knowing that we should be able to take control at any given point in time. But we are getting there. And considering that buildings still are energy enthusiastic, we better get to a point where smartness also includes sustainability, security as well as the context of buildings which is the connection to the outside world.
"What I've learned is everything that we do, whether it's FTD, whether its analytics, whether it's systems integrations, um, that's not the end goal. That's the means to the end goal and what everyone needs to keep in mind is this is about climate change. This is about making the world a better place." - Don Kasper
Coincidentally, this is exactly what episode 🎧#28 of the Beyond Buildings Podcast was all about! We talked to Don Kasper about going Beyond Buildings and how to get started in commanding the future, where part 2 will be more about AI-ML models and how to enable that level of smartness from above.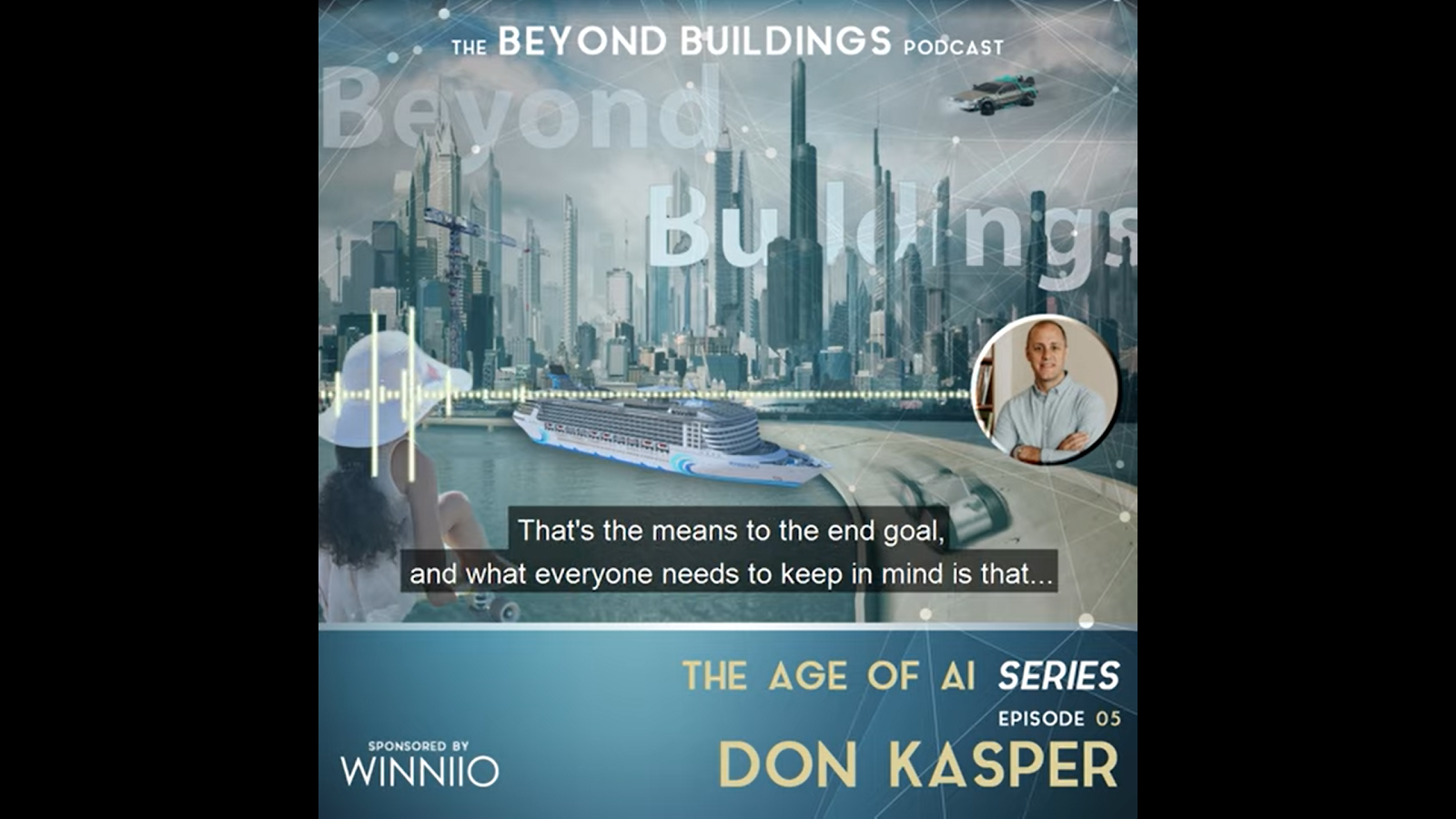 Going above and beyond
If extreme weather, climate crisis here. And if the ingredients exist, how do we create and share the recipes? How do we move towards systemic change? And what factors should modern systems cater to? People? Other systems? AI?
And where do companies start? Do they start with adding new sensors? Or making sense of the old? And how can we learn from industrial ways of working and share knowledge freely between people as well as systems?
Maybe Automation ML and other tips and tricks might do some of the jobs necessary. But it's one thing to create tools and frameworks for the ones that want to look at the ingredients. And another thing entirely to get it out there and create value for the ones that need the outcomes of getting the recipes right. I will tackle the Chicken and egg situation with how to get started soon so keep your eyes and ears open.
This and more will be discussed during the next episodes of the Beyond Buildings Podcast and in the newsletter, so stay tuned for more. And do connect with me on Linkedin if you have not done so already!
And if you or someone you know need help with questions regarding strategy, innovation, and figuring out how modern technologies can help you where you are today. Look no further. WINNIIO will always be by your side. Just reach out to me, Nicolas Waern, on LinkedIn or check out my Podcast Beyond Buildings if you need any assistance.
Sincerely,
Nicolas Waern ceo@winniio.io
Nicolas Waern is the CEO, Strategy & Innovation Leader, and a Digital Twin Evangelist at the consulting firm WINNIIO. He is a firm believer that the Real Estate Industry needs more of a lifecycle focus where we need to go Beyond Buildings and come back with an understanding what tools and technology we could use. And to solve the jobs to be done, together, with an open mindset.
Nicolas is working with leaders in several industries to understand how they can succeed in the age of AI. Predicting what the world will do in a week, a month, a year from now and to best utilize strategies and solutions that pass the test of time. He does this through a Digitalization- on Demand approach for anyone that needs to change before they have to.

Nicolas is a Podcast Creator & Newsletter Editor for Beyond Buildings
Thought Leader regarding Smart Buildings & Building Automation for AutomatedBuildings
Speaker and Influencer Event Streaming Platforms as the Holy Grail for Industry 4.0 Applications
Subject Matter Expert Real Estate Digitalization Proptech Digitalization Expert
Active Member of Digital Twin working groups Digital Twin Subject Matter Expert
Bonus Gif of a reality capture that I took in 1 minute during a trip to the local theme park. Reality Recording is already here, and there's plenty more where that came from… stay tuned for more!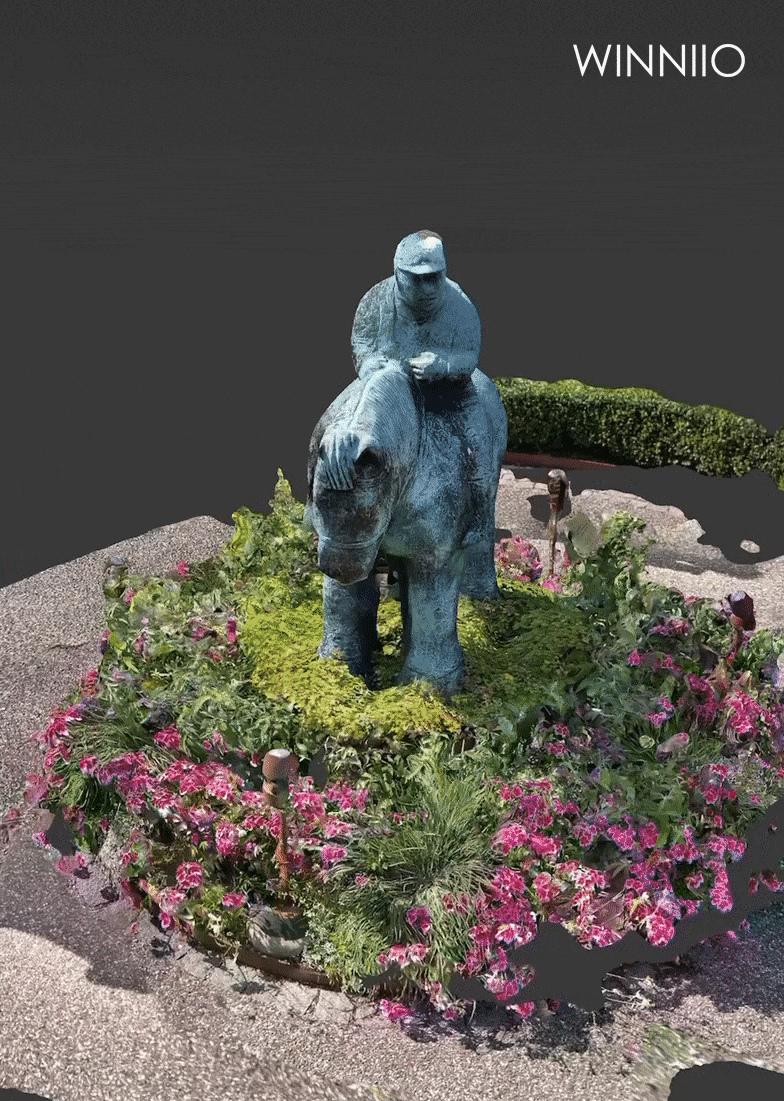 ---


[Click Banner To Learn More]
[Home Page] [The Automator] [About] [Subscribe ] [Contact Us]