---
Evolving User Experience in the IoT Building




Our IoT visualization solutions need to be flexible enough to serve relevant data to each stakeholder in the format and on the device they choose to use.


Greg Barnes
Vice President,
Sales and Marketing, Activelogix, LLC
The Internet of Things is comprised of sensors, connectivity, people and their processes. Our need for interaction with these "Things" is creating opportunity to evolve the user experience with new types of applications and services that consume the data and provide tangible benefits such as reducing cost/time or improving a process. The volume of connected devices continues to explode and includes devices from the many different systems listed in Figure 1 as well as other non-traditional systems:

Figure 1 Growing List of Devices Sharing Data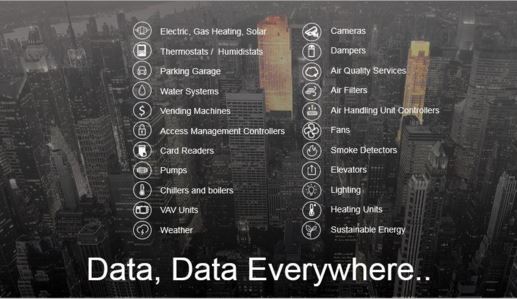 As more of our equipment and automated systems are increasingly connected, they share IoT data that is potentially very useful to a wide audience including: design professionals, construction management, owner and occupants. Having relevant, real-time data from these IoT building level devices can often lead to a greater understanding of building operation versus design or occupant needs and can produce tangible benefits such increased operating savings, improved environmental footprint or tenant retention. The list of key stakeholders taking advantage of this relevant data continues to grow as the data becomes more available and the user interface becomes more position oriented. New stakeholders (see Figure 2) with need for more of the relevant data include:

Figure 2 Growing List of Stakeholders Using Building Data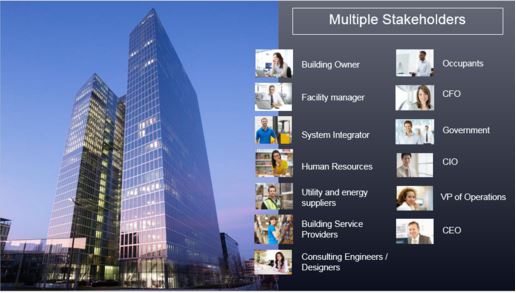 In an ideal world, each type of user (i.e. CEO, Human Resources, Energy Manager, Front Desk Security, Sustainability Coordinator, and Maintenance Technician, etc.) will consume data from a portion of smart devices in a way unique to their needs. Some stakeholders will need real time alerts when problems occur; others may want monthly summaries of usage versus goal. Other users will seek to impact change by sponsoring competition to reduce waste (see Figure 3 for College Dashboard example). Our IoT visualization solutions need to be flexible enough to serve relevant data to each stakeholder in the format and on the device they choose to use.

Figure 3 – Customized IoT Collegiate Visualization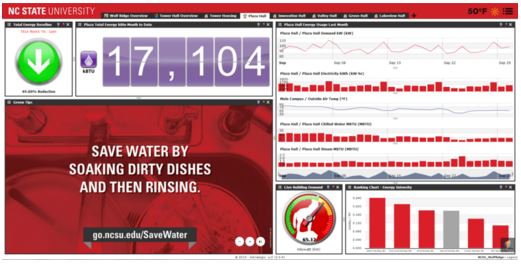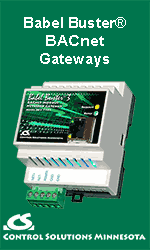 The challenge facing our industry is the rapid development of software applications that serve to connect a single manufacturer's set of building devices and only offer visualization of their unique subsystem. It is often a method to "lock" a manufacturer's devices in by creating barriers to competitive bidding. It's common for some stakeholders have a sole focus on access to data from devices in his or her domain, but it's just as likely that others within the organization would find this data useful in other unique applications. For instance, occupancy data is needed by security, HR and environmental systems departments. Many of the devices offered today have some form of industry standard connectivity, but how do we cost effectively access all data, customize the visualization and share the information with the many consumers that only need portions of the data? Does the tool allow the end user to manipulate the visualization to their needs? Today we expect that each stakeholder should be able to visualize data on a device of choice – phone, tablet or desktop. See Figure 4 for Phone Tablet and Server Visualization examples.

Figure 4 IoT Data Visualization for Cell, Tablet and Server Platforms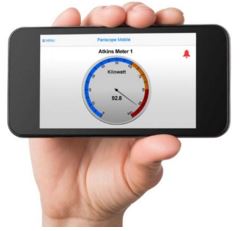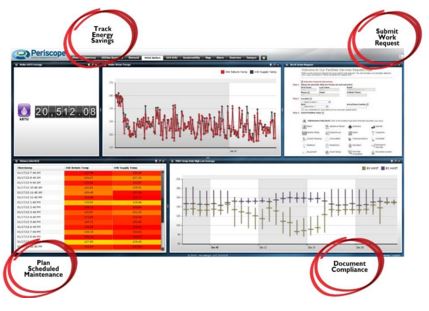 Fortunately, our efforts to standardize are beginning to pay off and forward thinking companies are providing cost effective tools that allow the end user and systems integrators the ability to combine data from many devices and customize the view of data to each interested stakeholder. The successful industry tools will allow each unique IoT stakeholder to choose data from multiple devices, choose live and/or historical data sources, and choose not to worry whether the visualization platform is mobile or desktop. Be sure to examine visualization tools at ASHRAE with these goals in mind!

---
About the Author
Greg has 29 years of experience in the building and energy automation markets. He currently leads the Periscope Sales and Marketing efforts at Activelogix. Greg started his career in Building Automation with Johnson Controls and later led the non-regulated Energy Services group of Carolina Power & Light. In 1998 he joined the software start-up Tridium, where he helped build the Distribution and OEM channels for the Niagara Framework technology. In 2006, Greg joined Activelogix as Vice President of Sales and he currently leads the marketing effort of Periscope and IoT initiatives.

---


[Click Banner To Learn More]
[Home Page] [The Automator] [About] [Subscribe ] [Contact Us]