---
Calculating Energy Costs Based on Real World Complex Utility Rates



Introducing Rate Modeler and Tariff Engine Features for SkySpark®



John Petze,
Principal,
SkyFoundry
Reducing operating costs and improving financial results is one of the prime drivers in applying data analytics to facilities and equipment systems. The role of analytics in identifying opportunities to reduce energy and operational costs is now well proven with thousands of successful implementations.

A critical element in using analytics to drive financial benefits is the ability to assign costs to electricity and other resources such water, fuel oil, and natural gas. We need to be able to able to calculate the cost of usage and also correlate those costs to operational issues identified by analytic rules. One of the great challenges in assigning costs to energy use and analytic findings is the complexity of energy rates. It's reported that there are over 30,000 different rate programs in the US alone!

In order to address the need to calculate costs based on real world, complex energy rates we are excited to introduce a major new addition to SkySpark - The Rate Modeler and Tariff Engine. This new capability allows precise calculation of the costs associated with the use of energy (and other resources) and applies those costs to "sparks" identified by SkySpark rules.

This new capability is a natural extension that builds on SkySpark's previous cost features, which have always allowed cost factors and to be added to analytic Rules and energy meters. The key enhancement is that now cost calculations can be based on actual (and often complex) tariff rates and all of their many charges.

The rate modeler allows rates to be defined based on a wide range of billing "charges" including:

Consumption
Demand
Service and equipment charges (both fixed rate and percentage-based)
Distribution and Generation charges
Minimum contract charges
Ratchets
Time of Use including both time of day and monthly use factors
Ranges (or blocks)
Currency
Custom charges which can be expressed as math functions
Definition of billing periods (including support for variable billing periods)
Variable fees based on data retrieved from external systems
Once the "charges" that make up a tariff rate are defined the next step is to assign the tariff to equipment systems such as meters. The SkySpark Tariff Engine then calculates energy costs based on those charges. And the SkySpark analytics engine uses those detailed cost calculations to automatically calculate the cost associated with issues it detects. The result is a precise calculation of costs associated with the use, and misuse, of energy resources.

The view below shows an example of cost based on a rate with a range of charges - a basic charge, distribution charge for kWh, generation charges for kWh, a demand charge and state taxes – which is a very simple example by the way. We worked with our partners around the world to insure the Rate Modeler design could support virtually every rate imaginable.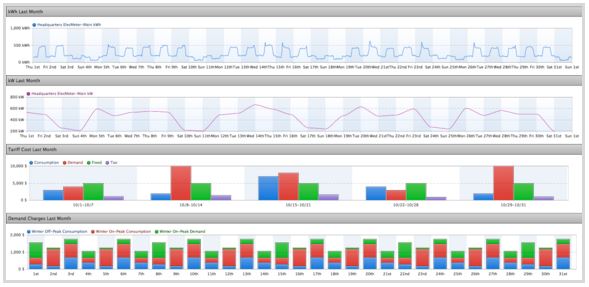 SkySpark view shows costs of energy use based on a rate with charge elements along with consumption and demand values.

While it's true that not all analytic findings can be easily associated with costs, a significant portion of analytic results can have costs associated with them. Being able to present cost data enables facility manages to:

Develop more comprehensive proposals and justifications for upgrades, repairs and improvements
Plan operating and capital budgets
Communicate the financial implications of operational issues to others in corporate management
One of the key benefits customers using SkySpark have seen is the clarity and visibility it brings to understanding the impact of operational issues. It gives facility operators financial and reporting tools on par with the sophisticated tools used in other departments enabling them to more effectively make their case to justify maintenance priorities and capital expenditures to improve facility performance and reduce operational costs. Data when presented correctly truly is a powerful tool.

About the Author

John Petze, C.E.M., is a partner in SkyFoundry, the developers of SkySpark™, an analytics platform for building, energy and equipment data. John has over 30 years of experience in building automation, energy management and M2M, having served in senior level positions for manufacturers of hardware and software products including Tridium, Andover Controls, and Cisco Systems. At SkyFoundry he is working to bring the next generation of information analytics to the "Internet of Things".

More information on SkySpark® analytics is available at www.skyfoundry.com


---


[Click Banner To Learn More]
[Home Page] [The Automator] [About] [Subscribe ] [Contact Us]