---

EMAIL INTERVIEW – Roy Kok and Ken Sinclair
Roy Kok, VP of Sales and Marketing
Ocean Data Systems makers of Dream Report

Roy Kok heads up sales and marketing for Ocean Data Systems. Previously, Roy held management positions at ARC Advisory Group, Kepware Technologies and GE-IP. Roy has had over 30 years of experience in the automation marketplace.

---
Dream Report "Proven Partner" Program
You can only achieve positive results if you know where you were, where you are, and where you want to be, with respect to your building automation system.
Sinclair: Hello Roy, I saw a recent article you posted about the Dream Report "Proven Partner" program and your relationship with The S4 Group. Can you tell us about that?
http://dreamreport.net/dream-report-supports-johnson-controls-metasys-n2-communications/

Kok: Thanks Ken, would be happy to. First, a little background on why a partner program is important. As you know, we offer a software solution, the best in class, for automated report generation and performance dashboards. That product is called Dream Report. The value of Dream Report is only realized when it is connected to other (third party) systems that are generating data. In the world of building automation, that means that we need to connect to the control solutions of other automation vendors. Those for example are Johnson Controls, Honeywell and any number of others. We connect to these vendor products through standard interfaces such as MODBUS, OPC, OLE-DB, ODBC or proprietary interfaces. Dream Report offers over 70 of those interfaces already. Anytime you see solutions that are integrated from the products of different vendors, you have to be concerned with support and the quality of that integration. Our Proven Partner program is designed to address those fears, making sure they are aware that at a corporate level, not just at a product level, our solutions are backed by two companies that will stand behind the joint solution. There should not be any system integrator concerns, or end customer concerns when a solution is delivered by Proven Partners of Dream Report. We've tested our products and will jointly support our customers.

Sinclair: So The S4 Group. What does that partnership deliver?

Kok: We wanted to address the legacy installed base of Johnson Controls building automation systems, those based on the N2 Protocol. We investigated the suppliers of integration tools and were happy to work with The S4 Group, leveraging their communication technology. With The S4 Group product, Open: OPC N2 Router, Dream Report can integrate directly with existing N2 protocol based Johnson Control building automation systems. It is done in a very elegant way. The Metasys system will continue to control the building as before, but Dream Report has the ability to communicate with N2 devices, using their data for the generation of performance reports and dashboards.

Sinclair: Is it common to use reports and dashboards with legacy building automation systems?

Kok: That is a great question. Today, we see our customers looking to save money anyway they can. It typically comes from improvements in their core line of business. But more and more, we are seeing engineers looking onto their building automation systems as a significant source of cost savings. And in many cases, better control of your building automation, can lead to improved performance or quality in a manufacturing environment. But you can only achieve positive results if you know where you were, where you are, and where you want to be, with respect to your building automation system. That is where Dream Report comes in. We can perform the KPI statistics that will help you understand where you were and where you are. A clear understanding of that will enable you to make the decisions necessary to implement improvements. Dream Report not only implements the statistics, it formats the results and delivers them to all stakeholders. Delivery can be in the form of a Web Portal, or the delivery of reports in PDF or Excel form via email or FTP.

Sinclair: Don't these systems already have report generation?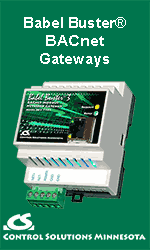 Kok: Actually, some do have the ability to deliver reports that are built by the automation supplier. But those reports are typically very limited, primarily to the scope of the building automation system. Today, customers are looking to integrate data from a number of sources, the BAS being one of them. Another source would be the manufacturing automation system, the PLCs and controllers used on the plant floor. We can tie into all those. We can also deliver a lot more information that is typically delivered in a standard BAS. The delivery of department billing reports are a good example. Dream Report can access your EAM systems (Enterprise Asset Management systems) and can generate and deliver maintenance reports. The reports that are part of existing solutions are rarely extensible to outside data sources. They also don't offer the flexibility to bring on new tasks easily. They may offer canned reports, but if you want something new, it comes at a higher price and needs to be delivered by domain experts. Dream Report changes all that.

Sinclair: How do customers access Dream Report?

Kok: Our Website offers a product download and a wide variety of demo videos. The Dream Report demo is quite functional, delivering a working version of the product only limited by runtime (30 minutes at a time) and the number of report tags. So, potential customers can download the product and give it a try. Contact Ocean Data Systems and we can provide a longer "Trial License" if necessary. Of course, you can also contact one of our many Vendor OEMs. They are companies that have private labelled our product and sell it as their own. I would be happy to discuss Dream Report with your readers. Have them contact me at Roy.Kok@DreamReport.com.


---


[Click Banner To Learn More]
[Home Page] [The Automator] [About] [Subscribe ] [Contact Us]