---

EMAIL INTERVIEW – Varun Nagaraj and Ken Sinclair
Varun Nagaraj, President and CEO
Sierra Monitor Corporation

---
AHR Preview: Sierra Monitor Corporation

Varun Nagaraj, President and CEO of Sierra Monitor Corporation, previews the company's offering at the 2016 AHR Expo, Booth #1159.

Sinclair: Can you remind me what Sierra Monitor (SMC) exhibited at last year's AHR Expo?
Nagaraj: Last year, we focused on highlighting our FieldServer protocol gateway solutions as the Swiss Army knife for system integrators. We also debuted our BTL Certified BACnet Router at the time and highlighted its ease-of-use features, such as DeviceFind™ and its 2 RS-485 ports.

Sinclair: From the last interview about half a year ago, you talked about Sierra Monitor being involved with the IIoT and cloud solutions through the FieldServer product line. Does this hold true today?
Nagaraj: Yes, as you know, we've always been a strong player in the building automation space with FieldServer gateways and routers that can translate more than 140 protocol languages. With over 200,000 FieldServers installed in commercial and industrial facilities worldwide, we have realized that is a very good and strategic vantage point for us. FieldServer is the perfect on-ramp to the IIoT and cloud.

Sinclair: Is this what you will be exhibiting at the 2016 AHR Expo?

Nagaraj: Along with exhibiting our FieldServer gateways and routers, we will also be introducing something we call the "SMC Device Cloud." The SMC Device Cloud is a "point-of-presence," or "PoP." If you remember back in the internet service provider days, there was the concept of the PoP, where a PoP is a place where things in the field got together. Relating back to our FieldServer line, what we're talking about now is our gateways and routers that are scattered across the planet all essentially speaking back to a central cloud authority – registering themselves, sharing information back and forth, and getting the latest firmware upgrades. This SMC Device Cloud is what we're bringing to market as our cloud solution, and we will be exhibiting this at the Expo.

Sinclair: Will the SMC Device Cloud compete with other clouds, such as Salesforce, Microsoft Azure, Google, Oracle, and so on?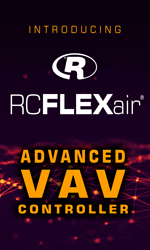 Nagaraj: No, this is something we are not doing. The clouds you mentioned are referred to as application clouds, while ours is referred to as a device cloud. In fact, our device cloud will be in a position to share field data from our FieldServer protocol gateways with the various analytics and application clouds that exist today. If you look at the clouds you mentioned, Salesforce, Microsoft Azure, etc., these are great companies that are evolving their platforms to take care of the IoT. In their view, the devices or smart connected products are an extension to the customer or product record, and that is absolutely the right view. However, the last thing you want is for customers of these application clouds to try and figure out how to take a Salesforce or Google cloud and make it talk to thousands of field devices speaking hundreds of languages scattered around thousands of sites. That is ugly dirty work, and I like to pride myself that we can do the ugly dirty work better than anyone else. This is what our device cloud will be doing, and from there, we'll be presenting a nice, clean interface for these other application clouds to pick up the field data that they want in order to get to work. I think we figured out a way of adding value into the cloud ecosystem, and hopefully partnering with some of these larger companies with something unique.
To learn more about what we will be exhibiting at the AHR Expo, please visit us at Booth #1159 or go to our website, www.sierramonitor.com.


---


[Click Banner To Learn More]
[Home Page] [The Automator] [About] [Subscribe ] [Contact Us]