---
Huge Potential for Chinese Building Automation Equipment Market

Despite the considerable potential for growth in the Chinese building automation equipment market, two issues need more effort from building automation equipment and services suppliers in China for the growth to be realized.



Rita Liu
Analyst
IHS/IMS Research
Building Technologies, Security & Fire Group


According to a new report from IMS Research – now part of IHS (NYSE:IHS) – the Chinese building automation equipment market was estimated to be worth $181.6 million in 2012, nearly one-tenth the size of the Americas market. However, IHS predicts China represents a huge growth potential for building automation equipment over the next five years.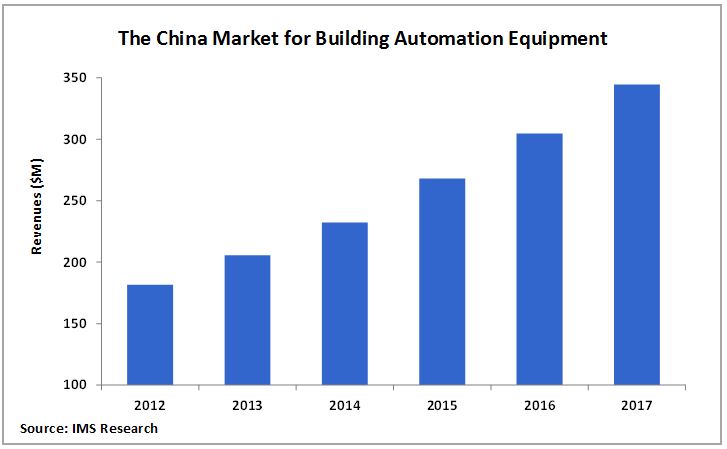 Early Phase of Its Growth Stage
Since the 1992 Earth Summit in Rio de Janeiro, the Chinese government has issued many guidelines and regulations promoting the development of green buildings. The concept of a green building is increasingly gaining awareness in China. Chinese building owners are not aware of green building technologies such as building automation equipment. According to the Chinese National Bureau of Statistics, China currently has less than 40 million square meters of green building space. Over 645 million square meters of commercial and office space were constructed from 1998 to 2011.Much of this space has no building controls installed. This provides a large amount of space available for upgrading to more advanced building automation systems.

Policies and Legislations
Recently, the Chinese Government has started to pay closer attention to energy savings. In May 2012, the government announced the Implementation Opinions on Speeding up the Development of Green Buildings in China. This set a goal of having green buildings account for 30 percent of new construction projects by 2020. This was the first time China set such a goal for the development of green buildings. The government proposed the amount of green building space will reach more than 1 billion square meters by the end of 2015, nearly 25 times more than its current amount. To achieve this goal, the government decided to take concrete measures to strengthen fiscal support and prioritize funding to encourage the construction of green buildings. The increasing green building space within China will accelerate the growth of the Chinese building automation equipment market.

Development of Energy Auditing System
In 2007, the Chinese central government issued guidance on energy auditing for government buildings and large public buildings. Beijing, Tianjin, Shenzhen and other designated demonstration cities were the first to establish a Public Building Energy Consumption Monitoring Platform. As a direct consequence, since 2007 the market for energy performance contracting services has seen large growth. This boost in energy auditing will provide a good opportunity for new building automation systems to be installed to reduce energy consumption in the buildings.

Despite the considerable potential for growth in the Chinese building automation equipment market, two issues need more effort from building automation equipment and services suppliers in China for the growth to be realized.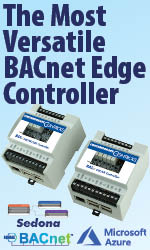 End-user Oriented and Better After-Sales Service
Building occupants are not typically involved during the construction of the building. However, the equipment and services provided by building automation vendors do not always meet the requirements of the building occupants. Specifying user friendly systems and providing training of the systems installed ensure the systems are used efficiently and effectively.

Vertical Targeted Solutions
Every building is different, with differing functions and occupancy levels. Each building has different requirements for their building automation systems. For example, data centers have severs running 24hours per day, seven days per week, to keep server rooms and associated data center infrastructure at the right operating temperature, humidity and pressure is very critical to IT equipment working stably. In comparison, an office building may only be occupied Monday through Friday for 12 hours per day. End-users such as data centers, airports and hospitals are increasingly requiring vertical specific systems that are tailored to their specific needs and requirements.

Overall
The Chinese market for building automation equipment is forecast to see high growth over the coming years. Legislation and the promotion of success stories will likely create opportunities for building automation equipment suppliers.

---
About the Author
Rita Liu is an analyst with IHS / IMS Research's Building Technologies, Security & Fire group. She is focusing on the research of access control, building automation, fire detection & suppression, and other security markets in the Asia region. Rita holds a dual Bachelor degree from Shanghai Jiaotong University in Engineering in Industry Design & Management in Accounting. Rita also holds a Masters Degree in Arts in Industrial Design from Shanghai Jiaotong University. Before joining IHS, she worked for a worldwide market research company. Rita is based in the company's Shanghai, China office.

---


[Click Banner To Learn More]
[Home Page] [The Automator] [About] [Subscribe ] [Contact Us]