---
Sedona New 1.2 Version





Control Engineering Just Became Much Easier!


Dr. -Ing. Gert Ulrich Vack,
General Manager
SysMikŪ Germany

The Niagara Forum, the famous bi-annual conference of the European Niagara Community, achieved great success last month in London. More than 400 members of the community took part in this three days event, which included technical discussions as well as business reviews. Apart from getting the latest information about the Niagara AX Framework, displaying new products, sharing ideas and business plans, it was a perfect timing to announce the new Sedona 1.2 version which just came out.
Sedona – A quick introduction
In order to clarify what Sedona is used for, here is a short explanation about the Niagara Framework, from which it developed.
The Niagara Framework
The Niagara Framework is highly modular, customizable, expandable software for implementation of web-based automation solutions. The software is JAVA based and can operate on various platforms, from embedded controllers to powerful Windows servers. Along with variable hardware resources configurations as well as the scalable license model, the system is a highly scalable multiprotocol solution. All these factors together allow the user to freely define and configure the control points, according to the required architecture and hierarchy, Intranet or Extranet. In this way, the system provides a perfect solution for any system – from standalone controller to WAN networked distributed facilities.
The Challenges of Niagara AX
The described modularity and expendability are enabled by JAVA technology, requiring a virtual machine for its operation and therefore cannot run on compact field devices. In addition, the Niagara Framework is not optimal for real-time data transmission, as the IO must be transmitted along with the data protocol.

Sedona – the Solution
Sedona is the perfect solution for compact field devices with limited resources, as well as real-time application. Developed as an open source platform and designed very similarly to the Niagara Network, Sedona includes a highly portable open source code virtual machine and programming language, similar to C, Java, and C#. The compact Virtual Machine (SVM) enables compact controllers to run the Sedona code without requiring any local operating system. It even provides a complete networking solution, designed to work over IP; therefore enabling direct connection to the devices around the world, allowing for remote programming and management of the devices. Above all, Sedona is fully integrated into the Niagara Framework, enabling the user to manage the entire system, from field level through management level and up to enterprise level, using one tool – the Workbench AX. The Workbench AX is available on PC, as well as through a web interface that runs on the station. Therefore, the user can access full programming tools everywhere for easy and quick engineering and maintenance.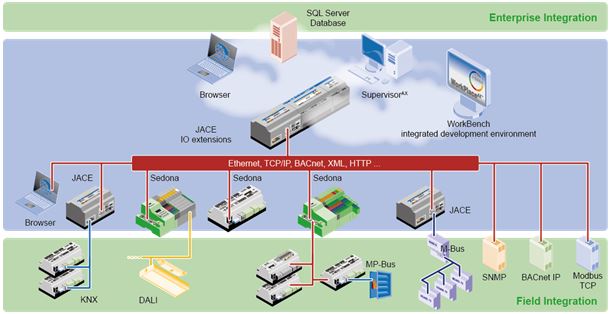 Sedona 1.2 Version – What's New?

The new 1.2 version of Sedona brings with it new features, which enhance its usability and make it even more powerful and easy to use. The new features make control engineering much faster and easier, and the system is better fit for real-time usage.
• Sox Gateway
The Sedona 1.2 version provides a true seamless integration of field devices into the Niagara Framework, as well as simplified hierarchical display and access to the devices. Using Workbench AX, the access the Sedona field devices is now organized per management station, therefore the user can access only the station, and immediately get full access to all its networked Sedona devices without having to connect to each of them manually.

Local Kit and Platform Manifest Server
The new version turns management and deployment of Sedona devices to an easy task. From now on, the device's files can be allocated on the device itself; in addition, these files can be transmitted from and to the device, thus enabling remote file management for backup and restore, installation and upgrade. Files get transmitted up to the management level when needed for programming, provisioning and commissioning of devices.
• Offline Programming and Debugging
Why waste valuable time and money, and require connection to the actual device in order to program it? New Sedona 1.2 enables Sedona devices programming in a complete offline mode – in the office, at home or even on the train. Sedona offline programming includes all programming features as well as a new Device Simulator, so the developer will never feel anything is missing – graphical programming, drag and drop, the entire programming interface – it's all available.
• Extended Programming Components
The new Sedona 1.2 version offers a wide variety of new components, as well as a much better structure of the existing ones. The new components include the new 'pricomp' kit that offers various components with 16 prioritized values as well as an override option.
Full Support for Real Time Applications
As part of the new programming features, the new version offers high flexibility for defining the execution rate of different components of an application. That way the programmer can choose specific components to be executed at a slower rate, while others to be executed at a higher one. This flexibility allows programming applications that include real-time components, and allocation of execution time according to the applications specific needs. It can be useful, for example, in cases of a light switch that must react immediately, versus automated temperature control that can work perfectly with slower response time.
• Device Discovery
Sedona 1.2 makes engineering much simpler and quick with the new Sedona device discovery mechanism. Using a multicast message, all Sedona devices that joined the network appear automatically with their IP address and platform ID. Using this feature, the engineer doesn't need to be familiar with all the devices on the network and enter them manually, one by one as before.
• Sedona User Management
Starting from version 1.2, the Niagara Framework provides a centralized user management capability for all Sedona devices. Through the Niagara station, the user can define and manage users for many Sedona devices at once, and not separately for each device as before.
• Time Synchronization
The new version enables the user to synchronize the time of many Sedona devices at once, using a Niagara Station. This eliminates the need to do that for each device manually.
Summary
The Sedona framework is the ideal solution for affordable field level automation devices, communicating using Ethernet. It omits the hassle of dealing with multiple protocols and external tools, and allows the user to focus on a single, user friendly, interface from field level devices through management level and up to enterprise level. It decentralizes and simplifies every automation solution, by delivering programming capabilities to the field devices; thus providing high programming, management and control flexibility over the entire site. The Sedona framework makes it extremely easy to program – through a remote station, over the web or even offline.
The new 1.2 version elevates this technology to a perfectly integrated solution, which enables simplified system management and engineering, with highly advanced capabilities and extreme flexibility. Using Sedona programmable devices saves time and money, while perfectly answering today's automation challenges.
About SysMik

SysMikŪ Germany is a leading provider of control products and a pioneer of open systems since their inception. SysMik is Tridium's partner in Germany, and also offers training and system integration services. "Intesa", integrated server architecture, is our scalable solution suite for M2M and control applications; based upon the Niagara AX and Sedona frameworks, and open protocols such as LonWorks, BACnet, and web services. Our products answer the challenges of cost efficiency, flexibility, openness, and standardization in infrastructure und building automation and for distributed facilities.

---


[Click Banner To Learn More]
[Home Page] [The Automator] [About] [Subscribe ] [Contact Us]