---

EMAIL INTERVIEW – Jack McGowan and Ken Sinclair
John J. "Jack" McGowan, CEM
Principal
The McGowan Group
jackmcgowan.energy@comcast.net
---
Energy and Analytics

Big Data and Building Technology Integration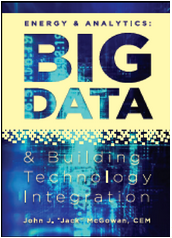 Sinclair: Jack, your new book will be published on The Fairmont Press, how did this come about?

McGowan: Ken, first thanks for taking time to do this interview. As for publisher and topic choices, this is my fourth book on The Fairmont Press. Some may know that Fairmont is associated with the Association of Energy Engineers, where you and I first met, and has an impressive catalog of titles in the energy and buildings content area.
Sinclair: What led to choosing the topic of Energy and Analytics?

McGowan: In my mind this is the hottest topic on the planet, and at its' nucleus is the science of automated and intelligent buildings, that are part of smart campuses and cities. These are topics that matter to me, however I also believe there is a great void of information in this content area because it is multidisciplinary; Building Automation Systems (BAS) and middleware, Energy Management, electricity and deregulation, web services, Internet of Things (IoT), data communication standards and, oh by the way, the Analytics software and standards. My goal was to create the definitive text that would enable any professional with experience in one of the areas above, or no experience in our industry at all, to get a foundation of knowledge on these exciting technology and business developments. Of course the book could not be a thorough reference for all of these topics, but rather an introduction to the content with an explanation of how these developments impact energy management and buildings.

Sinclair: So how does electricity and deregulation fit into this book?

McGowan: Great question Ken. Quite simply, electricity is our highest quality fuel (meaning it can be used in the most diverse ways for both simple and sophisticated purposes, like IT), and it is the essential source of energy for our quality of life as well as every facet of our economy. And yet the business of providing Electricity to consumer is antiquated, as is the infrastructure, and new policies (think EPA Clean Energy Plan, targeting carbon from coal-fired power plants), etc. are putting serious strain on the Grid. I believe that all building and energy managers must take aggressive steps to leverage technology for electricity self-preservation (sometimes called "energy resiliency). More than that though, I also believe that this new electricity reality presents the greatest business opportunity in decades for automators and integrators. The buildings world is asking for solutions that will ensure resilient access to energy, while also addressing energy cost and mission benefits.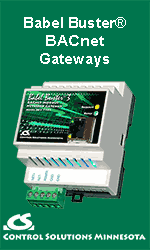 Sinclair: What do you mean by "Mission Benefits"?
McGowan: We focus a lot on energy and operational savings to promote automated buildings, but it is equally important to consider the "mission" of the occupants in those facilities. Automated buildings are ideally equipped to drive savings, while creating interior environments that benefit, or at least do not detract, from the mission. There are lots of applications that rank mission requirements over energy cost, such as Hospitals that must maintain conditions for Joint Commission requirements, Labs that require minimum air changes and hood controls and schools that require quality learning environments. Most importantly, all of this must be both effective and repeatable, as well as insulating customers from outages through Energy Resiliency.
Sinclair: So what does resilience have to do with Energy Management?

McGowan: Thanks for highlighting that point Ken. The basis for this book is the idea that we have to start with energy management 101, and that means benchmarking buildings and clearly understanding how they use energy. This knowledge leads to a series of actions, but in the big picture we really need to do more than take a few actions and move on. Improving building benchmarks against similar facilities is step one, then managers need to institute a program that uses automation and analytics to achieve continuous improvement. Add to this process the fact that $100 Billion in Solar photovoltaics have been installed on the customer side of the meter in recent years, plus microgrid technology, and this really gets interesting. The best way to achieve energy resilience is to leverage BAS and Analytics, and develop strategies to use these technologies to respond when outages occur. For building managers who also have onsite renewable or conventional generation, the next step toward resilience is to leverage those strategies along with the generation assets and the understanding of their buildings gained from benchmarking to pursue continuous improvement.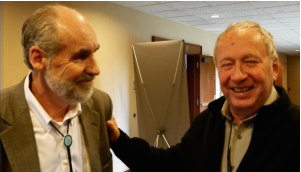 Sinclair: This sounds like a great book for our industry, and others, to read, when will it be available?

McGowan: Ken, you can pre-order the book right now with the form provided by Fairmont. They will not put the book on the Website for ordering until is on the shelf in late July or early August. Anyone who wants to pre-order using the form will have the book shipped immediately and should have it for late summer reading.
Sinclair: Thanks Jack and best of luck with book sales.

To pre-order: Click here

Here is a video interview with Jack and I at the Haystack convention courtesy of Control Trends.
---

[Click Banner To Learn More]
[Home Page] [The Automator] [About] [Subscribe ] [Contact Us]