---
| | |
| --- | --- |
| (BAS) Application-oriented Switches Yields Overall Efficiency | |















Introduction
Like any facility where residents live and work, a prison must have a humane living environment. Good temperature control systems are necessary for life. Case in point was a male-populated prison with standard security, erected more than 10 years ago in southeastern Louisiana. The correct action was taken to network a centralized system that would allow staff to monitor, control and respond to the system's requirements.
Story

In mid-2007 prison officials contracted with Computrols (based in New Orleans) to upgrade the prison's temperature control HVAC system. The existing system was old and nearing EOL so replacement parts were becoming scarce. Also, there was a definite reduction in the system's overall efficiency.
Computrols has been a premier BAS manufacturer for more than 25 years. "With an existing relationship with the local municipal government in the area, the company was a trusted source for this project," said Logistics Manager Mike Zapalowski.
The goal of the project was to join different wings of the seven campus blocks to one central monitoring location for control. "Since these buildings would share a common monitored power source and the length of the runs demanded an Ethernet repeating solution, switches were a logical fit for this application," explained
Zapalowski.
The switches were deployed as repeaters from one building to the next, connecting the company's 32-point and 64-point DDC line of controllers and other 3rd-party devices to the automation server in the main guard's office. The automation server operated the Computrols Building Automation System (CBAS) program which integrated HVAC, Fire and Access Control all in one.
"Because our controllers communicated via the TCP/IP protocol, we often found ourselves employing consumer-grade switches which proved labor-intensive," said Zapalowski. "This posed several problems including the need to install a high-voltage outlet or power converter in the cabinet. Another concern was mounting options. Consumer-grade switches were rarely mounted on a wall and if you have ever had the joy of attempting, you would know that it was no easy task."
With the help of Contemporary Controls in Downers Grove, Illinois, Computrols selected an industrial-grade product from this manufacturer's line of cost-effective, Building Automation System (BAS) application-oriented switches. "Industrial-grade switches ensure the uptime which is significant in any BAS as it can make the difference between saving money and spending it," explained Zapalowski. "With the solid performance of these switches, we can eliminate most communication issues and start troubleshooting other areas of concern in the event of any problems quickly and effectively."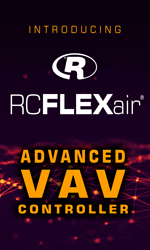 The EIBA5-100T/R switches provided the functionality, ease of mounting and ruggedness to fill this application. Using this switch eliminated the need to install a 110 V outlet which would have meant more time and materials, resulting in higher project costs for Computrols. "Now, we simply tap into the existing 24 VDC power source in our enclosure and we are up and running," commented Zapalowski. Their compact size (3.3″ H x 0.97″ D x 3.5″ W) allowed Computrols' technicians to use the existing NEMA 1 XE enclosures around the facility instead of having to install new larger ones. These switches also provided a clean DIN-rail mounting solution native to panel installation generally associated with HVAC and building automation controls.
The switch was ideal for this low-cost, 10/100 Mbps Ethernet switching application. No configuration was necessary. Each port automatically configured its data rate and duplex using the Auto-negotiation protocol. Depending on the capability of the link partner, communication can be established at either 10 Mbps or 100 Mbps and either half- or full-duplex. Each port will adapt to either a straight-through or crossover cable by using the Auto-MDIX protocol. There is no need to stock crossover cables for switch-to-switch cabling. A writeable label on the unit allowed for documenting the location of field devices connected to each port. LED port indicators of data rate and activity were prominently located to assist in troubleshooting.
In total eight switches were used to connect each controller between each building and finally to the automation server which gathered the information including the various space temperatures and status from devices such as fans, heaters, actuators, and the like. Zapalowski said they also command these items to start, stop, open, close, and modulate based on the required sequence of operations. The switches were installed in pull/junction boxes along walkways between the buildings. He stated that his technicians used standard CAT 5 wiring to connect all the devices and each Ethernet run was no more than the maximum 300 feet.
With the new system in place, prison personnel can monitor the entire campus from a single location. Computrols' CBAS program also enabled the staff to perform maintenance and other tasks that normally would have required service calls to an outside source. "Savings were realized both in self-maintenance and tighter energy management control," said Zapalowski
Zapalowski considered reliability no longer an issue after deploying Contemporary Controls' switches. "100% uptime, that's what we have. We couldn't ask for anything more."
---

[Click Banner To Learn More]
[Home Page] [The Automator] [About] [Subscribe ] [Contact Us]