---
The Application my iPhone should have

complete smart home synchronized with my handheld


Manny Mandrusiak
Vice President of OPC Marketing,
OPC Foundation
I was recently on a business trip to Pittsburgh and was going through some of my bills on the plane trying to get caught up on some personal administration when I noticed something unusual. I noticed that my power consumption for my apartment had gone up last month, and consequently so had the balance of my bill. I was travelling a lot last month, and I must have left the air conditioner on while I was away. Arizonaís been getting warmer, and as a transplanted Canadian Iím still getting used to the warm weather. I must have been talking out loud about how stupid I felt by not programming it while I was away, when the woman next to me made a comment that gave me the inspiration for this column. She jokingly commented that her Apple iPhone probably has an app to control it.















That got me thinking about those DirectTV commercials that Iíve been seeing lately where the guy is stuck in a board meeting, and he is setting his DVR to record his favorite movie. It was brilliant. How cool would it be to land at my destination, realize I left the AC on, and be able to correct the problem with my handheld? I could call or email my apartment and get a report of all its diagnostics. Find out if I left the coffee pot on, or turn on my lights from anywhere. I could turn my AC down and save myself some hard earned money while keeping focused on the business at hand.
The concept would be a complete smart home synchronized with my handheld. Complete plug and play technology. Rent an apartment, and when you receive the keys, sync your handheld up with the apartmentís systems. I would have complete control over the apartmentís HVAC and security systems. Complete control over its usage.
It reminded me of a vendorís demo that I saw at last yearís CSIA Conference in Savannah. A company called ControlSee was demonstrating this exact concept using OPC technology as a common language, and a cell phone purchased from a convenience store. The demo consisted of controlling a temperature regulator through the cell phone and their software client. It was an amazing demo in my mind, and proves the need for a common open standard for device communications. OPC was used in this case because the demo was process control based, but it could have very easily been used in a building automation setting.
I always hate to refer back to the current economic situation that we are all in, but we all need to watch where every dollar is going. Imagine if as a building owner, you could increase the efficiency of your building because you had better control over its processes? It is something that the process and discrete worlds have been adopting for years. More automation of systems, and placement of that data in the hands of the people who can effect change on the bottom line. In my case, if I could have effectively made changes to my air conditioning system while I was on the road last month, I would have saved myself some money and could probably afford better seats at the Arizona Diamondbacks games. I could have affected my bottom line, if I would have had the ability to access my system data and make real-time changes.
Looking at the application of this concept for the owner of an apartment building there are many ways that OPC technology can be employed to save money. The first thing that anyone will say when you mention the concept of integrating OPC to their system is that they have BACnet. They can access their systems when they want to. Donít get me wrong, BACnet is an outstanding protocol, but why not have the ability to do more? Why not have the ability to add a trending package to your system? Building owners could compare building HVAC trends with weather patterns to predict heat waves and cold snaps. Preventative maintenance could be planned well in advance, to avoid costly reactive maintenance situations. Who hasnít lived in an apartment where the heating system went out during an unexpected cold snap?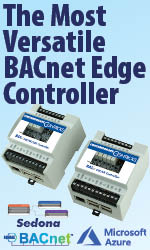 Building owners could also track tenantís energy use and implement green energy saving programs to not only save money, but help save the environment. All it would take is access to the right information through the integration of OPC technology.
Reporting and tracking could even do fault prediction. Maintenance crews could monitor switch usage, the amount of hours bulbs have been burning, etc. Maintenance and repair schedules could become completely automated by reducing the amount of time that crews spend on site. OPC technology could provide crews with data about every system in a building. There would be no time wasting doing detective work to find the cause of problems, or the need to turn systems off due to lack of replacement parts on hand. Everything could be brought with the crew because they would have the data to know what needs repair. Building owners could save a great deal of money, and pass some of that savings on to tenants. Everyone wins.
When you stop and think about it, the integration of OPC into a BACnet system is like drinking a Red Bull when you are working overtime on a project. It gives it wings. It boosts the existing systems by providing a common cross industry method of communications. For example, if my apartment had an OPC interface, I could have used off-the-shelf products to remotely access my air conditioning and turned it off while I was away. Saving me money. Matter of fact, I could remotely program it if I have to stay longer somewhere, or miss a flight.
I know that the intelligent buildings and homes was a big topic last year at Connectivity Week in Santa Clara, and there are some large companyís working on the concepts. I have no doubt that OPC will be the technology of choice for providing that common interface for data transfer from building devices, and turning it into powerful information for better business decisions.
Now that I think about it, maybe I should be talking to the people at Budweiser about making an application that reminds me to pick up more beer after work on Friday night? Now there is message I could handle getting on my blackberry!
Until next month,
Manny


---


[Click Banner To Learn More]
[Home Page] [The Automator] [About] [Subscribe ] [Contact Us]