---
How the Internet of Things Use
The Last 100 Feet Wirelessly





With the attraction of wireless connectivity, networking is expanding into a crowded air-space.

Gary Sorkin,
CEO,
Pacific Communication Group


It was a common sight to see a "Spaghetti Bowl" of cables behind the racks of business servers with coax, fiber, telephony, AC and DC power, KVM and a variety of other wires all plugged into corresponding ports on the rack-mounted units. I recall once, a few years ago, seeing a slew of cables coiled on the floor about two feet thick, saying to my friend who ran the law firm's data center, "Mike, why don't you label and organize this mess?" His reply was, "Gary, it's job security – nobody else could ever figure this out!"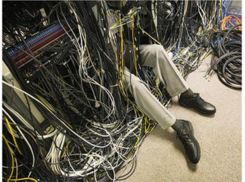 These days the Radio Frequency (RF) spectrum is becoming ever more feature rich, radio chips are getting cheaper, and clever protocols are operating seamlessly together. Frankly, nowadays, there isn't much bandwidth available in the unlicensed bands. We all have heard of the 900 Megahertz and 2.4 Gigahertz frequencies used by many gadgets including garage door openers, baby monitors, security camera (non-IP) and even remote controls. Also absolutely everyone knows about Wi-Fi, as we see it everywhere in our coffee houses, restaurants, hotels and personal hot spots. But little do people realize the IEEE 802.11 standard known as Wi-Fi has been an ongoing series of enhancements for speed and security. Engaging a beacon to allow for switching to cellular phones when in range, data is transported almost magically to end points. Likewise, another IEEE standard known as 802.15.4 b/g/n has created a niche for connectivity used by a group called the ZigBee Alliance and a new group called the Wi-SUN Alliance. ZigBee is commonly used for a wide variety of gadgets for the home, as Wi-SUN (the "SUN" stands for Smart Utility Network) concentrates their applications on smart metering and utility demand response. These alliances use a technique called MAC and PHY meaning there is a "Machine Code" and a "Physical" connection governing the communication along with a configuration called mesh networking. Wi-Fi uses an Internet Protocol (IP) address which is more sophisticated by needing a microcomputer to handle the protocol instead of a simpler, lower cost microprocessor for 802.15.4.

www.zigbee.org


Next we also see it in our cellular phones, 4G LTE and soon 5G, working swiftly in the background of our test messages and Internet browsing. A typical smart phone has six radios inside: GSM & CDMA for voice, GPS for navigation, Wi-Fi for Internet locally, Bluetooth for connecting devices, and NFC – Near Field Communication for using it as a payment or data exchange tool.

Wireless isn't only used in data communications. Additionally, the newest phones and automobiles are using wireless power, whereas you simply need to be in range of a charging base station to charge up your phone. In this niche, there are two competing standards. Just like the VCR days with Beta vs. VHS. The Wireless Power Consortium (WPC) is using their brand "Qi" (pronounced "Chee") while the Power Matters Alliance (PMA) uses a different standard. As one can guess, Eveready is behind one camp while Duracell is the other. Just over the past few months there has been a convergence of the two charging techniques to seamlessly overlap functionality, called reactive and inductive, so as not to confuse the public thus assuring consumer satisfaction. Already Mercedes-Benz, BMW, Audi, Chrysler, Tesla, GM and other automobile manufacturers have placed over 16 million Qi based wireless charging systems in 2014 and 2015 model cars' center consoles. You might have one and not even know it!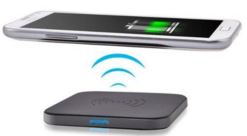 All of these invisible waves passing together cause Electro-Magnetic Interference with synergistic problems or issues that go beyond the design parameters. For the unlicensed bandwidths, the FCC takes the attitude in their Part 15 compliance code that can be paraphrased "If it doesn't work, move it to another location and try it." Meaning you're on your own.
This is rather "High level" information and can be drilled down to what is commonly done in Isolation Test Chambers of radio test labs. There, the labs have energy absorbing walls to prevent reflection in a Faraday Chamber not allowing any RF in or out along with specialized antennas to allow for scientific testing of radio transmitters and receivers. By keeping all variable RF under control, repeatable results for compliance and interoperability testing is achieved. These symbols are often seen on products by the FCC, UL (Safety), TUV, CE (Europe), CSA (Canada), CCC (China) and many others, called International Approvals (IAs). The best example of these IA's is to look at the bottom of your mouse – they usually have half a dozen of these symbols.
So the next time you press your garage door opener, or TXT a SMS, you can figuratively thank Guglielmo Marconi and Nikola Tesla for their groundbreaking work done long before our airwaves encapsulated our lives with this magical connectivity.
---

ABOUT THE AUTHOR

Gary Sorkin has been involved in the standards development for specifications related to the smart grid and Internet of Things, working with global test labs and industry alliances. During his career he has developed many fundamental techniques for data communication stemming back to the dial-up modem days. He currently is CEO of Pacific Communication Group, industry experts which consult with clients in the computer industry globally. He lives in Sparks, Nevada along with his wife Nicole and their daughter, enjoying the wonderful Lake Tahoe area.



---


[Click Banner To Learn More]
[Home Page] [The Automator] [About] [Subscribe ] [Contact Us]