---
| | |
| --- | --- |
| Editorial Comments by Ken Sinclair | |

Achieving Net Zero Buildings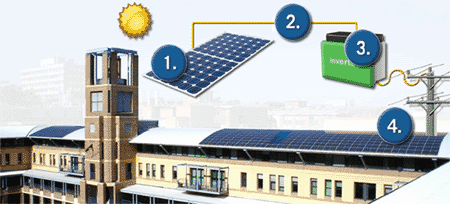 GridWise and Demand Response thinking comes to summation in these two new breed "Net Zero Projects". These projects show us how to integrate the building as a power plant to provide both its own power while passing on any excess power to the grid. These leading edge projects show how we can actually expand our existing electrical grid without adding traditional generation or distribution. We asked Ed and John to share with our readers some of their experiences and lessons learned after operating and working from their new Net Zero shop and office building. Ferreira "31 Tannery Project" First Net Zero Electric commercial building in the U.S. A Post Occupancy Review, Observations & Lessons Learned by Edward H. Brzezowski
Johnson Controls, provides this great Case Study Integrated Design Associates, Inc. headquarters is among the first to achieve net-zero energy.
Anto Budiardjo is just back from a Standing Room Only at DR-Expo where he was overwhelmed with the last-minute rush to attend this inaugural conference. More from the DR-Expo from David Katz in DR-Expo Katz's Perspective. Leighton Wolffe, Principal, Wolffe Technology Consultants tells us about The NewEnergy Alliance a group committed to driving innovation in the building automation industry that will create smarter, more energy responsive buildings. Clement J. Palevich of Constellation Sustainable Energy Solutions tell us more about Demand Response and the Path to a Sustainable Energy Future.
Clement starts us on the path to sustainable and Tom Hartman continues with Two Critical Steps Toward Sustainability. While Alison Nicholl writes about Building the Intelligent Bridge to Sustainability and I chirp in with more of Tom's insight in Stumbling Towards Sustainability.
Jack Mc Gowan explains the difference between GridWise and Demand Response while telling us about his Grid-Interop event in Albuquerque on Nov. 7, 8 and 9 www.grid-interop.com/2007/
Jim Sinopoli asks the question Can You Hear Me Now? with insight into understanding wireless communication systems in buildings. Spinwave tells how to Get a Handle on Energy Usage. Ron Bernstein reminds us that "He that has the Energy holds the Power" in his Energy & Power article.
The role of video analytics in the automated buildings market is discussed by Roni Kass, Founder and CEO, ioimage and Paul Bodell tells us Truth About Megapixel - Part 3,
Robert Beverly tells us what he and others Found in Phoenix. Lots of interest in this conference as Building Automation and Sustainability Conference was our favourite review last month.
Lynxspring University was established to proliferate knowledge in an open environment about our systems and how they interoperate with disparate systems in the market today. Terry Swope & Sean Jones interview.
I was pleased to be asked by Todd Phillips to share my thoughts for the new Magazine ENERGY MANAGEMENT CANADA www.energymanagementcanada.com Check it out in my article Harnessing the 4 Cs
Lots of other stuff going on in the industry; be sure to catch up with our reviews of; Buildings Control Symposium Josef Wojak, MBA, LOYTEC; ZEB-Zero Energy Bldgs explained Toby Considine; Why Green Bldgs Are Key to Asia asiabusinesscouncil.org; The Way You Buy Electricity Joanne Cummings, Network World; Pacific Controls HQ in Dubai! Realcomm.com/advisoryweb

Do not miss our November Column Terms & Terminologies with Steven R. Calabrese
Dave Branson and I are providing our 9th year of educational sessions to AHR Expo in New York January 22-24. More about this in next month's issue
Also as usual lots of new products and our constant flow of industry news
We have added a new Blog tab to our navigation menu which links to related industry blogs of interest. We created an Industry online Forum many years before blogging was conceived and have combined these.
Of course the news just keeps flowing thru our web site and RSS feeds daily, and of course the only way to truly find what you are looking for in the vast quantity of information on our site is with our site search engine http://www.automatedbuildings.com/search/sitesearch.htm
Be sure to check our event calendar to see the number events we have in our future.
Please welcome our newest sponsor Quality Automation Graphics Quality Automation Graphics has been providing graphic services to the building controls industry for over 7 years.
3 C's Melt Traditional Building Lines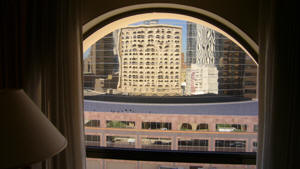 While attending the Building Automation & Sustainability Conference & Expo in Phoenix, Arizona the view from our hotel window provided a real reflection that reminded us that the traditional hard building lines are becoming quite soft and pliable in the new order of the three "C's" Conservation, Connectivity, and Convergence. Deep integration was talked about in every session and how the new converged model of our industry includes close, near and far integration. With all this growth in web based capabilities the hard traditional lines of our building industry are melting into softer identities that closer reflect the virtual nature of our web based ways. This radical growth and blurring of traditional lines brings with it a responsibility for us as an industry to better document our value statements and present ourselves as ready and willing partners in the new converged, connected, and conserving world.
In Wednesday's opening session the attending group gave our industry a "D" report card rating, Paul Ehrlich noted that this seems to be getting worse as a few years ago the general perception was closer to a "C". Industry, we can do better and those that do will become our new industry leaders.
The feeling at the conference was very positive and that we are all ready to do better. Education, leadership, and the 4th "C" communication are essential parts of moving forward.
Tom Hartman and I compare notes in the interview BAS and EGB and the State of the Industry
Sinclair: I just got back from the Building Automation and Sustainability (BAS) Conference in Phoenix and you're back from presenting a keynote and a seminar at the Engineering Green Building (EGB) Conference in Las Vegas. I'd like to compare notes and try to assess what the state of the industry is right now and where we each feel we should be moving from here to help drive our industry to become more sustainable.
We also talk about a new way of leading with "collaborative leadership" so be sure read our views and provide us your comments.
I have prepared a review of the BACnet ES Building Automation and Sustainability conference. The concurrent sessions limited the amount of presentations I could attend but have included what I feel are some of the key messages and power points slides from the conference.
Anto writes; The Killer App is here; it's called DR (Demand Response).
A killer app is defined as being a product or service that is so useful that people will buy particular piece(s) of computer hardware and/or an operating system simply to gain access to the application, one that is so valuable that it transcends any concerns, risks or need to learn something new.
Jim Sinopoli, PE RCDD, Smart Buildings answers the question -How can designers and contractors reduce the cost and streamline the process of installing cabling for building technology systems? in his article 9 Tips On How To Obtain The Best Value In System Cabling.
Following are more great articles for our October issue.
The Soft Side of Automation Integrating Window Shades into Automation Systems David Parrett, Electronic Solutions, Inc. a Hunter Douglas Company
Redefining Wireless for Building Systems ......is it rather "no-new-wires"? The Viconics Sales Team
Truth About Megapixel This is the second in a series of three articles separating fact from fiction with regard to the fast-growing megapixel camera technology. - Megapixel Network Cameras, Can They Really Save Bandwidth and Storage? Paul Bodell, Officer, Vice President Sales & Marketing, IQinVision
Turning The Vision of Buildings 2.0 Into Reality The vision of the Buildings 2.0 white paper states, we "must define tangible tools for Buildings 2.0 to evolve" and it is with this in mind that he communicates this experience. Bradley Hemphill Pr.Eng, B.Sc.Eng, Electrical Engineering Solutions
Connecting ARCNETÒ to Ethernet Infrastructures - Case Study Contemporary Controls' AI-SRVR is the Solution for Distance Issues in Multi-Building Installations Debra Biela, Marketing Communications Specialist, Contemporary Controls
Pressure Independent Valves - Case Study Pressure Independent Valves Make Cost Effective Alternative to Reverse Return System for US Census Bureau Lisa Hickey, BELIMO Americas
Johnson Controls Metasys Enhancement Prevents Building Disasters Complete One Step Backup for a JCI Metasys Operator Workstation (OWS) and Network Control Module (NCM) using the new MetaBAK™ product insures reliability. David Hagemann, Custom Computer Systems
Turning Buzz into Bucks Now is the time to get involved; learn what the buzz is all about and better understand the opportunities being presented to you with demand response. Ken Sinclair, Editor Owner AutomatedBuildings.com
Plus our October Column Electric Duct Heaters Steven R. Calabrese
Lots of information and links in this issue use the menu on your left to explore.
We have been working on improving our web site by reorganizing how we handle the great number of news release we receive daily. We now provide a

News Feed ( Which Needs a RSS Feed Reader ) and have provided a New Our RSS news feed rendered into HTML
Tell our sponsors you saw their ad on the AutomatedBuildings.com web site and thank them for supporting your free access to evolving Automated Building Industry information. Click on their ads and view their valuable products and services. Please review all Our Sponsors.
Be sure to check our event calendar to see the number events we have in our future.
As I always say, it is a great time to be in the news business for our industry.
Send comments and suggestions to news@automatedbuildings.com
---

[Click Banner To Learn More]
[Home Page] [The Automator] [About] [Subscribe ] [Contact Us]