---
OPC UA Adoption Update



No one is certain where technology trends in BAS will take us in 2011 but one thing is certain: OPC UA will be the protocol of choice in taking data from the field and making it useful information in the cloud.

Manny Mandrusiak
Vice President OPC Marketing,
OPC Foundation
As 2010 starts to come to a close, one often starts to reflect on the year's past events and begins to wonder what the upcoming year has in store.

2010 has been a year in which the OPC Foundation has focused on aggressive promotion of OPC UA technology and we have seen a significant increase in end-users and OEMs leveraging OPC UA to create new opportunities.

Many of those opportunities lie in the BAS vertical as the need for greater data exchange grows.














Typically, the Building Automation Vertical has been slow to adopt new technologies. As an outside organization looking in, the Foundation can see that BAS is looking for essentially the same things as other verticals: speed, scalability, affordability and above all security.
Security is always a topic of controversy no matter what the forum. If the trends in consumer electronics stay true to form then all industries will be forced to open up their data layers to try to achieve light speed interoperability in the new "enterprise cloud". Systems will no longer be individual pools of data or a mix of layers and protocols. They will become extremely well organized and completely interoperable as the demand for "instant" information becomes greater. Some people will read this and scoff but as was mentioned before you need only look at the current trends in consumer electronics to see where society is going. The Engineer of the future is "plugged in" and is used to instant access to data through web-based applications
The values for the Building Automation industry in adopting OPC UA are ease of use, wide adoption, certification and scalability. The OPC Foundation has invested a great deal of time and effort throughout 2010 to ensure that end-users truly understand just how easy it is to not only wrap existing OPC Classic servers and clients but to create native OPC UA products.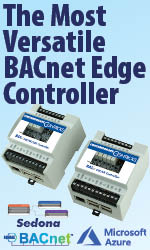 The Foundation just completed a hands-on OPC UA .NET Developers' Workshop where 25 developers gathered in Scottsdale, AZ and developed OPC UA products using OPC Foundation tools. In just four days they had the practical knowledge that they needed to begin developing OPC UA products.
OPC UA has come a long way. It is a well-documented and easy to use technology that clearly sets it above others. The Developers' workshop clearly illustrated just how easy it is to use the OPC Foundation tools, embrace OPC UA and build architectures that will meet future demands.
Over the last two years the OPC Foundation has seen a 50% increase in the number of members producing OPC UA products. Many of our member companies are offering quick starts and toolkits to make it easier for engineers and developers to work with OPC UA.
The Foundation has also worked extremely hard in 2010 to create a new OPC Certification program to ensure that OPC UA products produced by Foundation members exceed end-user expectations in reliability and security.
In closing OPC UA has truly grown into its own in 2010 as a robust and easy to use technology with limitless possibilities. Global adoption of OPC UA in all vertical landscapes is increasing and so are the mechanisms to ensure reliability, security and ease of use. No one is certain where technology trends in BAS will take us in 2011 but one thing is certain: OPC UA will be the protocol of choice in taking data from the field and making it useful information in the cloud.
The latest OPC Foundation news can be found on the OPC Foundation website (www.opcfoundation.org) or on Twitter http://twitter.com/opcfoundation.
---


[Click Banner To Learn More]
[Home Page] [The Automator] [About] [Subscribe ] [Contact Us]