---
Articles - October 2019

Our authors provide insight into our rapidly evolving industry.
Please take the time to read their valuable articles.

Collaboration is Increasing in the Smart Building Industry But We Can Do More? - James McHale, Managing Director, Memoori
High-Density Autonomous Parking Transforms Building Design and Land Use Robotic parking systems play a critical role in maximizing revenue-generating spaces by reducing the land required for parking by 50% or more. - Del Williams
Diverse Service Models are the Key to Delivering the Benefits of Analytics - John Petze, C.E.M., Partner, SkyFoundry
Smart Metering and Its Importance in Shaping an IoT Enabled Smart City - Anish PK, Senior Consultant, IoT for Buildings
How an Industry Standard Contributes to the IoT Ecosystem This month, we'll explore the important role of the LoRaWANŽ protocol. - Byron BeMiller, Vertical Lead for Smart Buildings, Semtech

The Edge The New Building Mindset - Marc Petock, Chief Marketing & Communications Officer, Lynxspring, Inc.
October is National Cybersecurity Awareness Month Own IT. Secure IT. Protect IT. - Marc Petock, Chief Marketing & Communications Officer, Lynxspring, Inc.
A Simple Way to Make Buildings Smart - is a Simple Way to Attract Smart Investors - James McHale, Managing Director, Memoori
The importance of implementing the correct Security Surveillance Architecture IP Video Surveillance Solutions typically have two distinctive Surveillance Architectures; Centralised and Distributed. - Dean Coleman, Regional Sales Manager, IndigoVision
Autonomous Automated Buildings and autonomous vehicles are on a collision course as cities get smart or digitized. - Sudha Jamthe, CEO, IoTDisruptions
A How-to Guide Adopting building optimization technology in your building services business. - David Solsky, CEO and Co-Founder, Envizi
Just the Tip of the Iceberg! 1,000,000 Buildings and 20,000,000 Devices Deployed by EnOcean Alliance Members - Mike Welch, Founder, Elite IoT
Benefits of Cloud Connected Buildings Adopters of cloud computing such as building owners or end users, however, may need to know what the cloud can do to improve building operation and occupant conditions. - Zach Netsov, Product Specialist, Contemporary Controls
The Emergence of Building Services Networks in Australia The Australian Government has set the standard around Building Services Networks (BSN) as a holistic solution which extends far beyond just a fibre backbone. - Rob Huntington, National Business Development, Airmaster, Australia
The Call Home Strategy - Yes, Another Building Data Story… - Scott Cochrane, President and CEO, Cochrane Supply & Engineering

Transforming Automation User Experience with Deep Digital Twins Deep Digital Twins enable a new type of automation platform, built on the fundamentals of physics, with the guarantees that come with it. - Troy Harvey, CEO, PassiveLogic

Security vs. Security The purpose of this article is to try and put all of this cybersecurity "stuff" into some order that can hopefully help people in the BAS industry decide what is important for them. - Anto Budiardjo, Editor, New Deal for Buildings
Blockchain, Crypto & Smarter Buildings - any synergies? - Nicolas Waern, "The Building Whisperer"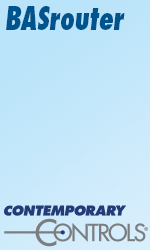 Columns - October 2019
Smart City Building The autonomous smart building is the secret formula for building a smart city. - Ken Sinclair, AutomatedBuildings
Building User Connection It's hard to believe we are now more than 50 chapter in to our ongoing journey! - Ken Sinclair, AutomatedBuildings
Building Backbones Are Changing Rapidly Backbones, our internet communication connections with everything, are under metamorphic change. - Ken Sinclair, AutomatedBuildings
---


[Click Banner To Learn More]
[Home Page] [The Automator] [About] [Subscribe ] [Contact Us]