---
SATEC and Virtual Extension to deploy challenging Wireless Water AMR/AMI Metering Solution











Mamilla modern urban project in Jerusalem to benefit from Diverse Path Mesh technology
Union, NJ and Tel-Aviv, Israel – March 3, 2008 -- SATEC, a leading provider of energy management solutions, and Virtual Extension, a leading mesh Wireless Sensor Network provider, announce the deployment of a wireless-mesh automatic meter-reading (AMR) system in the Mamilla quarter of Jerusalem. In this joint project, SATEC provides the back-office and billing applications, while Virtual Extension integrates the meters with its Diverse Path Mesh technology based products, creating a fixed wireless network.
Mamilla is a modern residential and commercial area, a mixture of contemporary architecture and historic structures. These complex structures, made of heavy stone and reinforced concrete with narrow corridors between them, pose a formidable challenge for wiring, as well as for ordinary wireless networks. As the water metering system in Mamilla is installed in the basement floors, the propagation between meters on the various floors has proved to be too demanding for conventional wireless solutions, and a GPRS solution would be too expensive due to the recurring monthly costs.
The deployment of the SATEC and Virtual Extension network was performed in less than 3 days by untrained personnel, and since the installation there have been no outages or service calls. The system has proved to meet and exceed the requirements of both reliability and robustness for the Mamilla compound. The meters in Virtual Extension's mesh network operate on standard lithium batteries, designed to last for seven years.
"This is a normal benefit of Virtual Extension's robust design, which proves itself in all our wireless network applications" explained Yariv Oren, Virtual Extension's Chief Executive Officer. "Working together with SATEC enabled the delivery of a creative and complete solution. We look forward to expanding our cooperation to provide successful mesh solutions in all the Advanced Metering and Wireless Sensor Network ranges".
"We were impressed by the reliability, simplicity and speed of the deployment of Virtual Extension's network" said Yoel Castiel, SATEC Vice-President for Marketing and Sales. "This was the right choice", he added. "Virtual Extension has been a great partner and the cooperation between us provides an excellent match for our strategy of delivering advanced, highly reliable and user friendly solutions".
Virtual Extension's patented technology approach, the Diverse Path Mesh, ensures that each transmission is relayed by the nodes surrounding it. Instead of investing in computing power to choose the best radio path and then instruct specific nodes, Virtual Extension floods the network with the data in dozens of propagation paths, eliminating the need to rout and manage, thus increasing robustness and range and connecting thousands of nodes per network.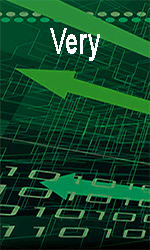 SATEC's wide range of advanced, highly reliable and user-friendly monitoring instruments is complemented by its advanced data analysis software and on-line energy management service, eXpertpowerTM. Via the Internet, eXpertpower provides users with a complete set of tools for billing, monitoring and analysing entire power systems, accessible from anywhere, anytime.
The synergy between Virtual Extension's wireless network and SATEC's back-office and billing enables robust end-to-end AMR/AMI solutions to meet the growing needs for advanced metering.
About SATEC
SATEC has been a proven solutions-oriented global leader in the research, development and manufacturing of energy management systems since 1987. Today SATEC is internationally recognized as a leading developer and manufacturer of Digital Powermeters and Power Quality Analysis equipment, with sales in more than 40 countries worldwide.
SATEC has established itself as a supplier of high quality, reliable instruments to many major power utility companies and process industries, including electronics and petroleum companies. Additional customers represent the full spectrum of applications, from banking to telecommunications.
SATEC 's extensive line of power monitoring equipment and unique software packages are backed by CE, UL and ISO9001 Quality certifications. www.satec.co.il
About Virtual Extension
Founded in 1999, Virtual Extension has pioneered Diverse Path Mesh™ technology for Wireless Sensor Networking. The company's OEM customers rate its products as having the best range, resiliency and simplicity of deployment.
Virtual Extension provides a system that literally requires removing the wires from an existing sensor and replacing them with self-organizing wireless devices. Virtual Extension's design wins power a diversity of Wireless Sensor Networking applications and Automated Meter Reading, including pipeline security applications, agricultural applications, and industrial control and monitoring. www.virtual-extension.com
---


[Click Banner To Learn More]
[Home Page] [The Automator] [About] [Subscribe ] [Contact Us]