---
Our interview section allows busy industry leaders to quickly provide insight into rapidly evolving industry issues. If you have subject matter or industry issues you would like insight into or would like to be interviewed yourself contact us. sinclair@automatedbuildings.com











February 2008
What is Performance Based Building Design & Operations?
Thomas Hartman, P.E. The Hartman Company
That is why this position paper is a developing project that is intended to be fueled by the good ideas and concerns of all interested readers and reviewers. I hope all the automatedbuildings.com readers will join the process. We ask that all interested in this issue submit comments on the paper – and future versions as they are developed.
The 2008 Niagara Summit
Marc Petock, Director, Global Marketing & Communications, Tridium, Inc.
The 2008 Niagara Summit is an open exchange conference that focuses on interoperability, integration and connecting diverse systems and smart devices.
BuilConn Santa Clara - "Empowering the Energy Revolution"
Anto Budiardjo, President & CEO, Clasma Events Inc.
The challenges I hear now are: how to make this growth happen, how to improve business, reduce risk, find resources, and generally, how to deliver solutions to building owners.
CABA and Eaton Corporation
Ron Zimmer, President CABA
CABA will be coordinating with Eaton Corporation at a two-day charrette, which will allow approximately 40 people to gather in March.
The In–Building Wireless Alliance
Dr. Anand K. Iyer, President In-Building Wireless Alliance
The IBWA formed informally in 2004 from a few in-building wireless product and service providers and commercial real estate owners. We felt that there was an inherent value in the implementation of in-building wireless and we decided to set out to quantify it.
What is OPC?
Randy Kondor, Vice President of Education, OPC Foundation
OPC is a communication standard that enables controllers and PCs to communicate with each other to exchange automation data.
January 2008
Wireless Valve Actuators?
Alex Leneveu, Director of Operations, Spartan Peripheral Devices
The market is missing the end devices and we wanted to be the first to introduce this wireless valve actuator.
Controls Vendor Free
Edmund B. Richards, President and CEO, Richards-Zeta
Building owners and facility managers now have the ability to select building systems, components, smart equipment, and applications and services by a "best of breed" approach.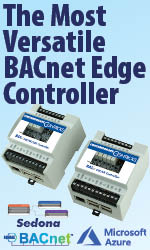 Converting Engineered Services into a Deliverable Product
Nathan F. Rothman , President, Optimum Energy, LLC
In the pursuit of clean technologies for industry I came across Tom Hartman and his work and immediately saw an opportunity. The concept was obvious to me. Take what was an engineered service and convert it to a deliverable product.
Innovation Award Winner AHR 2008
Tom Checksfield, General Manager, Tek-Air Systems, Inc
The AccuValve is an air flow control valve used in labs and critical environments for accurate air flow measurement and control.
Intelligent Sustainable Agreements
Jeff Seewald, PE, Intelligent Building Systems Engineer, Paul Ehrlich, PE, President Building Intelligence Group LLC
There are many areas within the LEED Green Building Rating System to which Intelligent Building practices and technologies may be applied.
A North American Trend?
Todd Cowles, Americas Sales Manager, Trend Control Systems
Trend grew up in the UK. They're the dominant player in the controls industry in that country by far, and have been for many years. They are well established in Europe and the Middle East, and the Americas are a huge growth target at the moment.
Russia is Open to Open Protocols
Andrey Golovin, Executive Director BIG-RU (BACnet Interest Group Russia)
Like everywhere in the world open protocols are dominating in Russia.
New Marketing Focus Recommended
Ron Caffrey, Partner BCS Partners
With all the attention to energy conservation, air quality, occupant productivity and green buildings, why do you feel the market won't grow at a faster rate?
More 2008 Events
Anto Budiardjo, President & CEO, Clasma Events Inc.
A great deal of what's been talked about related to the future of buildings will start to unfold in 2008.
---
---


[Click Banner To Learn More]
[Home Page] [The Automator] [About] [Subscribe ] [Contact Us]