---
"The true sign of intelligence is not knowledge but imagination."
Albert Einstein

It was back in the mid-1990's when the idea of green buidings was developed and accepted. While it took a while to get some traction, eventually the movement had an enormous impact on buildings, particularly with new construction. Many of the major innovations in buildings have been the equipment (elevators, construction cranes, power tools, etc.) The intense focus on energy and sustainbility has been a different type of innovation in the industry that changed the way we design and operate buildings. Building owners were interested in marketing "green buildings" to tenants, hoping to shave a few dollars on energy costs and demonstrating their desire to be good, responsible corporate citizens. Architects and engineers had to adjust their design approachs and evolve with new techniques and technologies.

Rating systems such as LEED and BREEAM have provided guidance for architects and building designers and the eventual rating or level of the building reflected the success of the owner and design team in designing and constructing a green building.
We are now at a point where voluntary rating systems will necessarily give way to mandatory green building construction codes.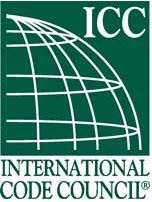 A key organization facilitating the mandatory construction codes is the International Code Council (ICC). The ICC develops building codes for a variety of building types, addressing fire, plumbing, energy conservation, mechanical systems, zoning, etc. While the codes are "models "they are widely adopted and used as mandates and regulations for governmental authorities. In the US most every city, county and state uses some ICC codes as the basis for their construction codes. In addition, ICC codes are used by the US federal government and are a reference for other countries around the world. Therefore ICC activity translates into building codes and regulations which are adopted around the world.
The International Energy Conservation Code (IECC) is an example of ICC's reach. In 1998 the ICC produced the IECC which set requirements for the "effective use of energy" in residential and commercial buildings. Nearly 40 American states have adopted the IECC as their mandatory state code. (Some states don't have mandatory codes, some modified the IECC and some developed their own code.) While an important initiative, many of the adopted energy codes establish legal minimums for some, but not all energy-related features and were criticized for "gaps" in the general approach.
Within the last few years the ICC, along with initial cooperating sponsors, AIA and ASTM, developed and published the 2012 International Green Construction Code (IgCC). This focuses on new and existing commercial buildings to address green building design and performance much more comprehensively. The idea as stated by ICC is to move from voluntary green building programs and rating systems to a mandatory basis: "the IgCC is poised to produce environmental benefits on a massive scale: a scale impossible to attain with purely voluntary green building programs and rating systems".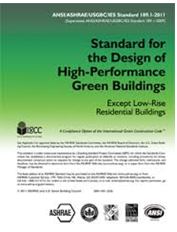 An alternative to the IgCC has been developed with ICC, ASHRAE, USGBC and IES. This alternate is known as ASHRAE 189.1; it provides minimum criteria that apply to new commercial and industrial buildings and major renovation projects. It addresses site sustainability, water and energy efficiency, indoor environmental quality (IEQ) and the impact on the atmosphere, materials and resources.(it does not apply to single-family residential, multi-family with 3 or less stories, manufactured houses and buildings that do not use electricity, fossil fuel or water.) The intent is to codify the minimum requirements of a high performance green building, develop an international Green Construction Code, and mandate minimum requirements for high performance green buildings.

In comparing the IgCC, ASHRAE 189.1, LEED for New Construction, and ICC 700 (a standard developed by the ICC and the National Association of Home Builders.) you find that ICC700 and LEED NC have mostly electives with a smaller amount of mandatory requirements. IgCC has mostly mandates with some electives, but ASHRAE 189.1 is total mandates.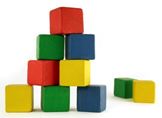 The Building Blocks of ASHRAE 189.1

ASHRAE 189.1 consists of five ASHRAE standards and mandates from nine other associations and organizations.

The ASHRAE standards are:
ASHRAE Standard 62.1 – This focuses on ventilation for acceptable indoor air quality. It quantifies acceptable conditions and appropriate HVAC system design. Standard 62.1 forms the basis for mechanical codes or is directly referenced by the codes, (does not cover low-rise residential buildings and single-family dwellings).
ASHRAE 90.1 - This standard provides minimum requirements for energy efficient designs for buildings (except for low-rise residential buildings).
ASHRAE Standard 55-2010 - This standard defines the range of indoor thermal environmental conditions acceptable to a majority of occupants.
ASHRAE/ACCA Standard 180 – 2012 – This standard mandates the guidelines for inspection and maintenance of commercial HVAC systems to improve thermal comfort, energy efficiency, and indoor air quality.
ASHRAE Guideline 0 – This guideline addresses best practices for applying whole-building commissioning to facilities, including the Total Building Commissioning Process (TBCxP) as defined by National Institute of Building Sciences (NIBS) in its Commissioning Process Guideline 0.

The standards and dictates from other associations and organizations include:
ASME - American Society of Mechanical Engineers
USDOE – US Department of Energy
USGBC – US Green Building Council
USEPA – US Environmental Protection Agency
CA DHS EHLB R-174 – This is a standard from the California Department of Health Services focusing on Indoor Air Quality Section. It involves the testing of chemicals related to air quality (paints, coatings, sealants, adhesives, wall coverings, floor coverings, wood paneling and furniture components). This specification involves testing and selection criteria for indoor air quality as well as requirements for recycled contents and lighting.
Green Seal – Green Seal provides sustainability standards for products, services, and companies; to date they have issued 31 standards that cover over 375 product and service categories.
ASTM - (American Society for Testing and Materials) - ASTM tests a wide range of materials, products, systems, and services and also claims to be the world's largest developer of standards with more than 12,000 standards.
BIFMA – Business Institutional Furniture Manufacturers association develops, maintains, and publishes safety and performance standards for furniture products.
IESNA - The Illuminating Engineering Society of North America (IES) is the technical authority on illumination. Over 100 publications on lighting, many of which are ANSI standards

ASHRAE 189.1 Topic Areas

ASHRAE 189.1 has topic areas much like the major categories in the green building rating systems:

Sustainable Sites
The requirement prohibits construction producing "sprawl" and avoiding the use of Greenfields, flood plains, wetlands, as well as fish & wildlife habitat. It promotes construction for urban infill, brownfields and greyfields. A sustainable construction site will need to reduce "heat island" effects as well as light pollution.
Water Use Efficiency

The requirements for water efficiency includes: (a) site water use reduction; this is addressed via bio-diverse plantings, hydro-zoning and smart irrigation controllers, (b) building water use reduction which requires plumbing fixtures and fittings per US EPA WaterSense or ASME Standards (generally 40% lower than EPAct 1992), with the use of Energy Star appliances, and (c) water metering; the requirement for water metering is for lease space greater than 50,000 ft2 and buildings using more than 1000 gallons per day.
Energy Efficiency
The energy efficiency of a green building has been increased. Overall, ASHAE 189.1 expects a 30% total energy savings with the construction codes with 9% being renewables and 21% energy efficiency.
The other energy efficiency requirements deal with renewables. ASHRAE 189.1 will require builders to provide for future installation of on-site renewable energy systems. Roofs must be designed to account for structural support requirements and local wind conditions, based on a minimum rating of 3.7 W/ft2 multiplied by the total roof area in ft2. There are some exceptions for roof preparation; they include a site with low incident solar radiation and an alternate such as purchasing Green power of 70 kWH/ft2 for a period of 10 years.

Indoor Environmental Quality

The requirements for indoor air quality are straightforward. Ventilation rates must be per ASHRAE Standard 62.1; Outdoor air flow rate monitoring of minimum outside air; use of MERV 8 filters (MERV 13 in PM2.5 non-attainment areas), no smoking inside building; source contaminant control; thermal comfort acoustical control, and adherence to ASHRAE Standard 55.
Building's Impact on the Atmosphere/Materials and Resources

The requirements for materials and resources concentrate on construction waste management, prohibition of the use of CFC based refrigerants, and recyclable storage areas.
Construction and Operations Plans

This topic area involves building acceptance and commissioning but also compels building owners and facility management to plan ahead. The plans include an IAQ construction management plan, an operation plan, a plan for transportation management, and plans for maintenance on the basis of overall service life.
The adoption of IgCC and eventually ASHRAE 189.1 by government jurisdictions will obviously effect the industry. New techniques, materials, methods, expertise and technology may be needed. Construction costs may rise and the industry will need to adjust. Green construction codes are likely to accelerate the demonstration of net-zero buildings on a much larger scale. Building automation and technology will play a major part attaining these goals.


---


[Click Banner To Learn More]
[Home Page] [The Automator] [About] [Subscribe ] [Contact Us]