April theme is Keeping the Cloud Open. This issue's content is one of the first attempts at describing what redefining "Open" in the Cloud might mean.
If we are not clear on Keeping the Cloud Open there is a dark side, a concern of an evolving trend towards Proprietary Cloud. I grew up in the industry during the DDC revolution and saw the floundering of the early proprietary DDC systems that evolved quickly with amazing capabilities, but rapidly became obsolete and impossible to maintain. Several early DDC system companies failed and those that succeeded were liberated with the development of open protocols with total project integration and interaction with several vendors.
Large automation companies resisted "Open" until forced to open their proprietary ways by their clients. Open meant losing control for these companies which is of course what the client needed and wanted. A new paradigm is in the definition of large companies, in the past large companies were limited to large building automation but in the cloud the likes of Amazon, Google, plus several others dwarf these companies and raise new questions as to data ownership and interaction.

I fear a repeat of history for some upstarts that are ignoring known open standards and protocols while attempting to claim ownership of your data. Their fate is known but it may be painful to you if they are your present cloud service provider.

I am concerned about companies providing Proprietary Cloud to gain control. The term "Proprietary Cloud" is not normally used because of the negative connotation but words like 'closed vendor' cloud or 'managed cloud' are used to politely describe my concern.
Cloud Standards or flavours are not well understood, or specified or requested, and this allows large companies to build fences around your data and who can control your web services. The very thing pitched to set you free may trap you. Understand and take ownership of your data and insure "cloud openness" which is yet to be clearly defined. We have provided an Review of Open Cloud Definitions as a first step to start our journey to understanding the true implications of keeping our cloud open.
From my Classification or what 'things' are called. - One of the key components of keeping the cloud open is controlling what things are called and understanding the meaning of the data they produce.
Conclusion: If we are to keep the cloud open and as useful as possible you can not allow unstructured naming of anything, you must take ownership of your classification or what 'things' are called.
The dangerous potential trend to a proprietary cloud is fueled by overall security concerns and the instant value of included web services in the proposed Proprietary Cloud.

How do we avoid Proprietary Cloud while still involving our clients and the many vendors and our new and existing web services?

How do we build "Open Cloud" that allows us to mix and match web services to our Corporate enterprise goals?

Our past open progress could be lost in a cloud, if we do not heed our past experience of 30 years we may be giving up control rather than gaining it while we move past the IOT to the WOT.
As always this new issue is a nest of great articles, columns, reviews, new products, interviews and of course the steady stream of news depicting our rapidly evolution and journey to "Openness".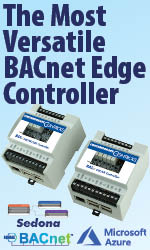 Welcome our newest sponsors:
Westco Building Automation Systems – Westco BAS manufactures BACnet® products for use in any building, healthcare facility, school or university. Solid quality products... made in the USA.

From SenseAir, the eSENSE U is simply the best CO2 sensor. Visit co2sensorhvac.com to find out why it's the only CO2 sensor you'll ever need.

Tell all our sponsors you saw their ads on the AutomatedBuildings.com web site and thank them for supporting your free access to evolving Automated Building Industry information. Click on their ads and view their valuable products and services. Please review all Our Sponsors.

The news just keeps flowing thru our web site and RSS feeds daily, and of course the only way to truly find what you are looking for in the vast quantity of information on our site is with our site search engine http://www.automatedbuildings.com/search/sitesearch.htm

As always lots of new products, plus be sure to check our event calendar to see the number of events we have in our future.



---


[Click Banner To Learn More]
[Home Page] [The Automator] [About] [Subscribe ] [Contact Us]