---
Articles - April 2014

Our authors provide insight into our rapidly evolving industry.
Please take the time to read their valuable articles.
Understanding The Facets of "OPEN" There are a number of facets of openness that affect building owners and those of us that work with automation systems. - John Petze, Skyfoundry
IoT Opens to Mobile Messaging Standards the Direction is toward Open Standards - Therese Sullivan, Principal, www.buildingcontext.me
Mandating Green Buildings: IgCC and ASHRAE 189.1 - Jim Sinopoli PE, LEED BD+C, RCCD, Managing Principal, Smart Buildings LLC

Investigate Before You Integrate We like to think of it as the "Check yourself before you wreck yourself" of the integration world. - Steve Jones, Managing Partner, The S4 Group, Inc

Lighting Controls Long Term Future Depends Upon its Success in Opening Up the Retrofit Market - Allan McHale, Director, Memoori
Data Center Power Utilization An in-depth understanding of power availability and consumption patterns within the data center is necessary for truly effective capacity planning and cost allocation. - Dane Overfield, EXELE Information Systems, Inc.
Simple and Elegant Building Energy Modeling for All - A Technology Transfer Tale - Kyra Epstein, Bay Area freelance writer
The Energy Bubble & Automation Maximizing savings in energy retrofits - Zach Denning
Addressing the Retrofit Need: A Commissioning-Friendly, Battery Powered, Wireless CO2 Transmitter (WiFi) - Mike Schell, VP of Marketing and Business Development, AirTest Technologies Inc.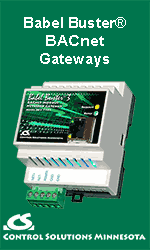 Columns - April 2014

Getting Over the Internet of Things It's time to get over the Internet of Things (IoT). - Toby Considine, TC9 Inc

Making BAS Readily Accessible – but Protected from Cyber Attack - Paul Ehrlich, Ira Goldschmidt & Angela Lewis, Building Intelligence Group
Sales 101 - The Art of Client Calls In a world of texts and tweets, a phone call is still the best way to connect with clients. - Manny Mandrusiak, Managing Creative Consultant, 4 Bravo Marketing

The Importance of Lists Part Two - Another list for another "process". - Steven R. Calabrese, Control Engineering Corp.
Ownership of the Collaboratory and its Security One clear component of every successful energy integration project was a team of champions who asserted ownership of the projects collaboratory. - Ken Sinclair, AutomatedBuildings. com



---


[Click Banner To Learn More]
[Home Page] [The Automator] [About] [Subscribe ] [Contact Us]