---

EMAIL INTERVIEW – James Dice and Ken Sinclair
James is a mechanical engineer with experience in mechanical (HVAC) design, mechanical contracting, performance contracting, energy efficiency consulting, and the design and implementation of energy management information systems (EMIS). Over the last several years, James has specialized in assisting partners in the development of criteria, evaluation, and selection of building energy analytics software across a wide array of building portfolios. He also led a team that deployed EMIS analytical software to support monitoring-based commissioning and utility monitoring services. His overarching professional mission is to mitigate climate change through advanced energy efficiency and optimizing energy systems. As a member of the Applied Engineering team at NREL, James supports internal and external EMIS initiatives.

James is an Illinois native, but these days lives in Denver where you can find him trail running, snowboarding, or hiking in the rocky mountains. Connect with James on LinkedIn or by subscribing to his Nexus newsletter.
What is Nexus?
Simply put, nexus is a weekly(ish) email newsletter for people applying technology in buildings.

Sinclair: What is Nexus?

Dice: Simply put, nexus is a weekly(ish) email newsletter for people applying technology in buildings. Each week, I share my take on noteworthy news in the smart buildings space. It's an experiment, and I've had great feedback so far. You can sign up here.

Sinclair: Why are you writing it?

Dice: First off, it's mostly designed to scratch my own itch. I've been applying analytics technology for 7 years. First as a mechanical contractor, then as an energy management consultant through monitoring-based commissioning. I'm still as passionate as ever about the power and potential of this technology and want to keep up with new developments because the field is moving quickly. But there's also lots of noise. Every day, there's a new startup. Every day, there's news about "disruption". Through writing nexus, I want to figure out which news bites and ideas matter. I want the signal in the noise, the state of the art of applying analytics technology.

I also want nexus to help create connections between like-minded energy and analytics nerds. I'm hoping to spark conversation with people like Automated Buildings readers, and together we can drive faster tech adoption across the built environment.

Sinclair: What are Energy Management Information Systems (EMIS)?

Dice: This is an important question. Confusion about the offers in the EMIS/analytics marketplace – i.e. what is it? – remains one of the biggest barriers to adoption. I've seen the consequences first hand: When building owners are confused, they slow down purchases, do nothing, or purchase a lousy product that doesn't meet their needs and sets them back for years.

I think the essence of EMIS comes down to three questions:
What devices and systems are you connected to? This is the scope of your EMIS.
What combination of hardware and software are you using? This is your EMIS stack.
What are you doing with the data? These are the capabilities of your EMIS. As John Petze explains in the December edition of Automated Buildings, the capabilities of analytics go way beyond just FDD.
Meaning we can define EMIS as a system of devices, data services, and software applications (stack!) that communicates with any building system or third-party data source (scope!) to aggregate data and transform it into new capabilities (capabilities!) that aid in the optimization of the building.

I cover this framework and definition in more detail in my essay What is EMIS? We need a new answer.

Sinclair: What are the greatest challenges when implementing analytics?

Dice: This audience knows all about the challenges of integration and interoperability. Let's take this a different direction. The number one challenge I see is making analytics actionable. Far too many software implementations are collecting dust on a virtual shelf. One reason: EMIS is an exploratory tool. We use it to find the needle in the haystack. To understand what the data is hiding in our buildings. But to actually get stuff done, we need to transition to explaining what the data means, including who, what, where, why, and how to motivate and inspire action. One way to do that is to tell a story, which I outline in my piece on why analytics insights fall on deaf ears.

Another challenge I see is the lack of a strategic approach. This software market has hundreds of vendors and service providers, all with diverse sets of capabilities, features, pricing models, user communities, interoperability, etc. Each vendor wants to take you to the promised land. But where is your promised land? What are you trying to accomplish? Also, software is simply a tool. You can't just turn it on expect results. In other words, wherever your promised land is, software is not going to take you there on its own. You need a strategy to get what you want out of it. I write more about that in my essay on my favorite analytics software.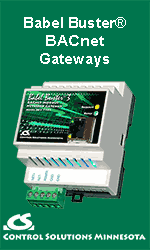 Sinclair: What are you excited about right now?

Dice: I'm excited about the emergence of digital twin platforms and grid-interactive buildings. My latest newsletter covers one digital twin platform I'm excited about. During my day job at the National Renewable Energy Laboratory (NREL), I get to evaluate and test these types of new technologies. And of course, I'm excited about writing the newsletter. Sign up here.


---


[Click Banner To Learn More]
[Home Page] [The Automator] [About] [Subscribe ] [Contact Us]