---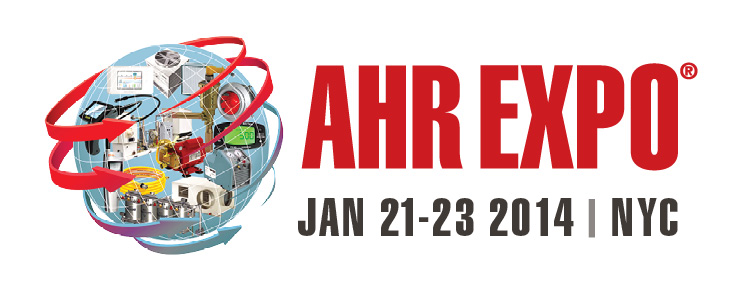 Our Education Sessions now set for AHRExpo New York

Building Data the New Deliverable
2013 in the rear view mirror A quick review of signifcant change in 2013 and insight into our AHRExpo education sessions

New Products / Releases
AHR Expo New York - Jan 21-23 EnOcean Alliance at AHR Expo 2014 - Booth #279. Spartan Peripheral Devices announces Enocean wireless Actuator - Booth #247

Control Network by Contemporary Controls - AHR Booth#239 BASautomation Products on Display at AHR Expo

Continental Control Systems New Product Preview at AHR Expo January 21-23, 2014 Booth #252 Visitors to the Continental Control Systems booth will see our C12.1-compliant and BTL- listed WattNode electric power meters, and our new flexible Rogowski coil current transformers.

CABA Presentation at AHR Expo 2014 CABA will be hosting a special workshop at AHR Expo January 21 - 23 in New York City.
Discover LonMark 2.0 at the AHR Expo - Booth #426 LONMARK International invites you to attend the free educational seminars held in conjunction with the AHR Expo.
Distech Controls Honored at 2014 AHR Expo Product of the Year Awards - Booth #123 New Integrated Room Control Solution to receive honorable mention in Building Automation category.
2014 Winter Conference - ASHRAE Looking for High Performing Buildings? Look for Trouble - Via Monitoring Based Commissioning

LOYTEC at AHR Expo 2014 - Booth #214 The AHR EXPO is the world's largest HVACR marketplace and will open its doors January 21-23, 2014 in New York City.

Lynxspring at 2014 AHR Expo Booth #124 Lynxspring to Showcase Latest Version of JENEsys, the Company's Building and Information Software Platform, LynxCyberPRO, the First Cyber Protection Solution for Building Automation and Energy Management Systems and New Applications for JENEsysONE, the Company's Application Specific Programmable Equipment Controller

Continental Control Systems Products at AHR Expo Booth #252 WattNode Electric Power Meters - Now Offering ANSI C12.1 Accuracy, Accepted for Listing by BTL
Contemporary Controls Highlights BASautomation Products and Solutions at 2014 AHR Expo Booth #239 Our exhibit will highlight our BASautomation product line with emphasis on our BAScloudVPN service, BASgatewayLX, and BAScontrol20 plus additional BAS products and solutions that help to complete your BACnet project by taking you from device to Internet including Sedona controllers, wired and wireless IP routers and Ethernet switches all of which help complete the important connection.
2014 AHR Expo Innovation Award Winners To Showcase Industry-leading Technology Encompassing a broad cross-section of the HVACR marketplace, the winning entries were selected in 10 categories and represent the most innovative new products among the thousands that will be displayed at the 2014 AHR Expo.

Earn an ASHRAE certification while attending ASHRAE's Winter Conference and AHR Expo ASHRAE has certified more than 1,600 HVAC professionals. Are you eligible to join this elite group?

Building Energy Disclosure Session Offered by ASHRAE at AHR Expo ASHRAE's 2014 Winter Conference takes place Jan. 18-22, 2014, New York City, N.Y. Held in conjunction with the 2014 Winter Conference is the International Air-Conditioning, Heating, Refrigerating Exposition, Jan. 21-23, 2014.

ASHRAE, AHR Expo Return to New York City for 2014 Winter Conference The 2014 Winter Conference takes place Jan. 18-22 at the New York Hilton.

Energy-efficiency Focused Educational Sessions & Products Will Take Center Stage at 2014 AHR Expo Programs Will Help HVACR Professionals Address Governmental Energy-saving Initiatives

FieldServer Technologies at AHR 2014 FieldServer Technologies, the major gateway manufacturer in the building industry, is demonstrating its full range of products at the AHR Expo 2014 in New York City January 21-23 in Booth 235 at the Javits Convention Center.


Our Advertisers at AHR - Direct link to Exhibitor Directory
BACnet International - Booth #114
Belimo Americas - Booth #479
Contemporary Controls - Booth #239
Continental Control Systems - Booth #252
Control Solutions, Inc - Booth #202
Cylon Energy Inc - Booth #164
DGLogik - Booth #7036
Distech Controls, Inc - Booth #123
FieldServer Technologies - Booth #235
KMC Controls - Booth #179
Reliable Controls - Booth #118
Veris Industries - Booth #165
---

[Click Banner To Learn More]
[Home Page] [The Automator] [About] [Subscribe ] [Contact Us]