---
Our interview section allows busy industry leaders to quickly provide insight into rapidly evolving industry issues. If you have subject matter or industry issues you would like insight into or would like to be interviewed yourself contact us. sinclair@automatedbuildings.com











July 2008
A "visionary" and I discuss embracing change
Keith E. Gipson, CTO, PhoenixESG 2008 Buildy Vision Award winner
I've been very blessed to be able to express and demonstrate my passion for buildings and our industry throughout my career.
Demand Response in Ontario
Peter Kelly-Detwiler, Rob Reale, Constellation NewEnergy
Demand Response (DR) is a relatively new concept in Canada with Ontario being the first Canadian Province to establish a DR Program
Building Information Modeling
Willem Kymmell, Architect, Assoc. Prof. in Construction Management at Cal. State Univ. Chico
All the concepts boil down to 'better understanding through better visualization', and 'better understanding allows better communication'.
Low power wireless networks
Cees Links, Chief Executive Officer, GreenPeak Technologies
Our new Emerald GP500C is the only IEEE 802.15.4 standard compliant chip available today with extreme low power features that enable energy harvesting solutions for wireless sensor networks.
ZigBee for Energy Management
Robert LeFort, CEO Ember
According to The Brattle Group technologies like ZigBee can help reduce peak electricity demand by at least five percent over the next few years. This reduction could save consumers more than $3 billion in annual electricity costs, and help reduce the $50-$100 billion in losses that businesses suffer each year due to power outages and brownouts.
Emerging Demand Response Opportunities
Bob Zak, President, Powerit Solutions
Some very small changes in our consumption behavior, widely adopted, would ease our energy concerns to a level that is almost unbelievable.
Advanced Multi-Display Capabilities
Liv Stewart, Sales Representative for Critical Decision Systems, Matrox Graphics Inc.
A remote graphics unit that provides the ability to remotely power up to 4 digital or analog displays; 6 USB devices, such as keyboard and mouse; and audio peripherals, such as speakers and/or a microphone, up to 820 ft form the host computer.
June 2008
Open Source for Open Systems – Follow up to ConnectivityWeek
Anno Scholten, NovusEdge
I would like to start a community called OpenLynx where I would like to bring these and several other open source initiatives together to discuss how we can all collaborate on a common goal for our industry.
ConnectivityWeek 2008
Peter Kelly-Detwiler Senior Vice President, Energy Technology Services, Constellation NewEnergy & Leighton Wolffe Vice President, Alliances and Strategy for Constellation NewEnergy
ConnectivityWeek was very significant as it incorporated seven different industry events under one roof for the first time, including DR-Expo.
What is OPC and how will it play a key in the future of Building Automation?
Tom Burke, President, OPC Foundation & Sean Leonard, VP Products, MatrikonOPC
OPC is a communication standard for the transfer of process data to the decision makers in real-time.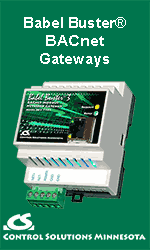 Openness and the Energy Connection
Mark Hunter, Founder, Integration Systems Ltd Corporation (ISL Corp.)
Our mission is to lower the barriers to so called sophisticated building control systems for upgrading to 'Smart or Intelligent' Buildings.
Why is security an important issue in smart metering?
Jim Alfred, Director Product Management for Certicom Corporation
Moving from automated meter reading to advance metering infrastructure, smart meters and Home Area Networks of smart energy devices create new security challenges for metering companies and consumers alike.
---
---

[Click Banner To Learn More]
[Home Page] [The Automator] [About] [Subscribe ] [Contact Us]