---

EnOcean Alliance - The Wireless Standard for Sustainable Buildings

Graham Martin,
Chairman
EnOcean Alliance
Industry Standards
The ability to combine multiple products from various suppliers knowing that they will be simple to install and will interoperate within the same system is not only a dream for building systems integrators, specifiers, consultants, installers; end-users and others alike – but a necessity in today's environment where it is generally accepted that industry standards are required to enable mass-market adoption and acceptance.











Wireless standards such as Bluetooth TM or WiFiTM (WLAN) have created such an environment in the mobile phone and computing worlds; in wired building automation LONWorksTM is one example of an interoperable standard. In wireless home and building monitoring and control many have attempted -or even claimed success - but only one technology has actually achieved the true standardization goals –multiple OEMs and hundreds of interoperable products already available, deployed and proven – EnOcean.
EnOcean wireless technology is already firmly established in building systems, simply through the unique interoperability of the products, e.g. through standardized sensor profiles. A portfolio of more than 300 products creates this interoperability between the different operating facets of a building, with the promise of unlimited flexibility and uncomplicated planning. Worldwide implementation of EnOcean technology in tens of thousands of buildings has already made it an industry standard, on a par with LON or BacNet. To further develop EnOcean wireless technology and ultimately see it become a formal international standard, we are now entering the next phase, foundation of the EnOcean Alliance.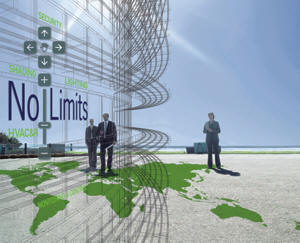 The EnOcean Alliance
A group of key companies including Honeywell, Masco and Distech Controls in N. America and Thermokon, Omnio, Siemens & Osram in Europe have now formed the EnOcean Alliance as a non-profit, mutual benefit corporation which has the formal purpose of:
Establishing EnOcean wireless technology as the wireless standard for sustainable buildings

Helping to bring about the existence of a broad range of interoperable wireless monitoring and controlling products for use in and around residential, commercial and industrial buildings and to promote global trade in such products

By initially developing the specifications for the interoperability of the sensor profiles for the wireless products operating in unlicensed frequency bands and subsequently to apply for ratification as an international standard at the appropriate standardization committee.
The Alliance will formally be launched in North America at the Lightfair in Las Vegas in May. The majority of current OEM EnOcean technology product providers as well as additional major international companies developing with the technology have already given their commitment to the Alliance along with suppliers to the eco-system. The Alliance will be formed and managed by Global Inventures, San Ramon, CA who have successfully implemented and managed multiple global alliances over the past 15 years. The Alliance has three membership classes:
Promoters- innovative and key players who will lead, define and drive the Alliance

Full Members- companies and suppliers providing product and services using the Alliance technology

Associate Members- building professionals, academics, smaller distribution partners etc interested in the technology, advancements, examples, training etc.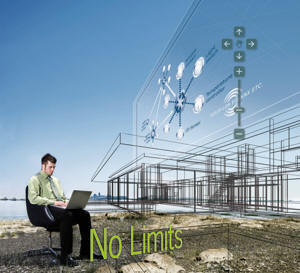 Why EnOcean Technology?
Why have EnOcean partners manage to deliver and prove through tens of thousands of successful installations where others have stumbled and fallen? I believe the key lies in the fact that EnOcean and its partners talked to and listened to the requirements, the fears, the opportunities and challenges of building professionals. EnOcean and its partners have spent the last years providing real solutions which are optimized for the task in hand and that solve real challenges to provide innovative, effective solutions for sustainable buildings under the motto:
No Wires
Across the world there is now an awareness and acceptance of the necessity to reduce the amount of energy usage in buildings, which accounts for around 40% of total. To achieve this goal it is necessary to be able to monitor and control individual rooms or areas within buildings for example to establish occupancy status, temperature & humidity, status of windows & doors and light intensity (sunlight, electric light.) The only effective way to achieve this is to implement low power wireless monitoring and control – ideal for both new buildings and retrofits, saving miles of cables, installation time and cost as well as noise and dirt caused by pulling cables or opening walls.
No Batteries
EnOcean Alliance partners believe that no-one really wants a whole bunch of battery operated systems in and around their homes and buildings when this can be easily avoided. Batteries need changing every few months to few years. Empty batteries can cause system failures, frustrations and even danger – not to mention the environmentally unfriendly issue of battery disposal. Especially in a commercial building with many thousands of nodes or in future residential homes with hundreds of sensors it is a nightmare just thinking about this responsibility – let alone the cost of actually performing the task of regular battery maintenance. Batteries may be initially cheap but maintaining and replacing them just isn't
No Limits
Having virtually no restrictions on where the sensors or switches can be mounted provides the user with an almost unlimited flexibility not only in initial placement but also during renovation – from the simple movement of some furniture to a complete refurbishment.
Members' Benefits
The benefits of EnOcean Alliance
The EnOcean Alliance offers many advantages to architects, systems integrators and planners, to facility managers and building owners. The use of future-oriented EnOcean technology means unlimited flexibility allowing simple, speedy and cost-attractive adaptation to changing requirements. Building professionals profit from the availability of a broad-based, interoperable selection of products to combine in any way. Lighting control on demand, for example, and regulation of the temperature in single rooms, made possible by EnOcean technology, means large energy and thus cost savings.
EnOcean technology and the Alliance are already the leaders and will be the long-term winner in complete solutions for home, building and industry wireless monitoring and controlling for more comfort, safety and energy efficiency. We invite you cordially to join the winning team to our mutual benefit. "No Wires. No Batteries. No Limits." - The Standard for Sustainable Buildings.
If you are interested in more information on or joining the EnOcean Alliance please see www.enocean-alliance.org
---
About the Author:
Graham is a veteran in the electronics industry with 25 years experience in analogue and RF solutions at various Engineering, Sales and Marketing positions in USA, GB, Germany, Austria and Norway. Before joining EnOcean he was a worldwide pioneer in low power wireless sensor networks at leading start-up Chipcon (purchased 2006 by Texas Instruments) where he conducted the worldwide business development activities, served as President of Figure8Wireless and was Vice Chairman of the ZigBee Alliance. Graham studied in USA and GB and is a Physics Graduate from the University of Edinburgh, Scotland.
---

[Click Banner To Learn More]
[Home Page] [The Automator] [About] [Subscribe ] [Contact Us]