---
Our interview section allows busy industry leaders to quickly provide insight into rapidly evolving industry issues. If you have subject matter or industry issues you would like insight into or would like to be interviewed yourself contact us. sinclair@automatedbuildings.com











May 2008
Convergence in Action
Tom Shircliff, Rob Murchison, IntelligentBuildings®
Take action with convergence and intelligent buildings strategies, use technology for the right reasons and deal with the real roadblocks.
Convergence Needs to Make Sense
John Greenwell, President CEPORT, LLC
We take a holistic view of the building, this means understanding the purpose of the building, how people utilize the building, what business processes are in use and how the mechanical systems were designed.
Smart Grid Legislation and ConnectivityWeek Energize GridWise Architecture Council
Steve Widergren, Administrator GridWise Architecture Council

Smart grid activities continue to build steam as we apply automation to enhance electric system operational efficiency and reliability, while better enabling the integration of environmentally sensitive approaches to energy use and production.
Innovative Solutions to Address the Nation's Energy
Rodney (Rod) M. Boucher, CEO of Microfield Group, Inc.
The advances in next generation demand response we are seeing today are only the beginning. As more technologies such as smart meters, economic distributed solar power, advanced storage, and enhanced software platforms enter the market, the opportunities for demand response and other market driven opportunities will increase dramatically.
The Virtual Energy Forum
Robert Rosenbloom, CEO PlatformQ, LLC
A unique online-only event on energy and sustainability June 10 & 11 on the Web.
Video Surveillance Continues to Grow—But Are We Letting the Bad Guys Get Away?
Paul Bodell, Officer, Vice President, Sales & Marketing, IQinVision
Security veteran weighs in on getting better results from all that video surveillance equipment that's not doing the job
Realcomm Goes Global
Jim Young, Founder & Producer, Realcomm
We now search for good ideas, emerging technologies, innovative companies, best practice case-studies and industry thought-leaders, from around the world and not just in the United States. The world is changing very quickly and we have to watch the globe if we are truly going to keep paces with the advancements in our industry.
CABA Intelligent Buildings Leadership Forum
Jeff Seewald, PE, Intelligent Building Systems Engineer
From the Conference Room to the Boiler Room, and Beyond
April 2008
Buildings as Virtual Peaking Plants
Peter Kelly-Detwiler, Vice President of Energy Technology Services, Constellation NewEnergy
The NewEnergy Alliance, a group committed to driving innovation in the building automation industry that will create smarter, more energy responsive buildings.
Demand Response Thermostats
Steve Smith, Director of Sales and Marketing, Honeywell Utility Solutions
Honeywell UtilityPRO is a new touchscreen programmable thermostat built especially for utility-sponsored demand response programs.
The Energy Revolution at BuilConn
Anto Budiardjo, Clasma Events Inc.
There are 6 events co-located with BuilConn this year, all part of what we call ConnectivityWeek.
Connectivity Week - 2008
Denis Du Bois, Editor of Energy Priorities Magazine & Anto Budiardjo, President, CEO Clasma Events
"Empowering the Energy Revolution"
Buildy Update '08
Frank Capuano, President, Strata Resource Inc
The Award for an Industry of Innovation and Intelligent Connections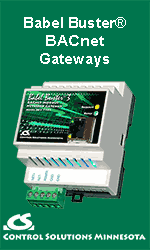 Vaisala Humidity Measurement Training Seminars
Bruce McDuffee, Marketing Manager and Humidity Trainer, Vaisala North America.
The seminar covers topics such as Humidity Theory, Psychometric Calculations, Sensor Technology, Good Measurement Practice, Calibration and Choosing the Correct Instrument.
HVACReducation.net
Chris Hickman, Building Automation Control Specialist
HVACReducation.net works with industry experts to provide challenging and comprehensive online education, online assessments and online technical reviews to the HVACR industry.
Energy Asset Management With EnterpriseDX
Keith E. Gipson, CTO, PhoenixESG
We monitor large, multi-site customer facilities (thousands of sites and counting).
CABA's Convergence of Green and Intelligent Buildings Study
Ron Zimmer, President & CEO Continental Automated Buildings Association (CABA)
Our objective through this study is to provide strategic recommendations that will can demonstrate the positive environmental impact of today's intelligent, integrated building systems and building technology solutions. In other words, this research will determine specific methods in which property owners and building designers can reduce energy consumption and costs, increase the profitability of their building stock through investments in intelligent building technologies, while at the same time reducing the deleterious effects of energy consumption such as pollution and emissions.
---
---

[Click Banner To Learn More]
[Home Page] [The Automator] [About] [Subscribe ] [Contact Us]