---

North America strongly correlates environmental performance with financial gains, boasts of patronizing real estate with at east 3-5 percent higher occupancy rate and who do not hesitate shelling out or commanding at least 3 percent higher rental rate than traditionally.

Konkana Khaund, Research Analyst
Environment & Building Technologies
Frost & Sullivan, North America

Please contact Johanna Haynes at johanna.haynes@frost.com for further information regarding this article
The initial monotony of corporate demeanor gave way to the usual speeches, graphics and exhibits streaming through the projection panel – only the all familiar tone, summing up the regular good, bad and ugly of corporate performance, seemed to faint themselves into an all pervading shade of green. Or at least the output said so.











Applauses over higher that improved return on investment with close to 8-9 percent decline in operating costs were just the beginning. Well deserved extra toppings soon followed by way of 30-50 percent more in energy and water-use savings, 50 percent or more in waste cost saving and up to 35 percent in carbon savings. But that was not all. Higher-than-normal asset value, with savings on construction and demolition waste tagged along as obvious frills, in addition to higher worker productivity and improvements on health and safety issues.
No, this is not the closed-door board meeting of the bygone era where top and bottom line considerations hardly led to scrutinizing questions of how; where; why, etc, pertaining to environmental impact.
However, this is increasingly the manner in which business performance and achievements are being appraised by corporate North America today. This is the North America that aspires to be housed somewhere among the 3 billion square feet or more 'green build' space, whose construction value well exceeds $12 billion and has been certified by Leadership in Energy and Environmental Design (LEED) accredited professionals whose total number currently exceeds 40,000.
This North America strongly correlates environmental performance with financial gains, boasts of patronizing real estate with at least 3-5 percent higher occupancy rate and who do not hesitate shelling out or commanding at least 3 percent higher rental rate than traditionally.
It is not surprising that the green building industry and its associated markets represent a thriving lot, thanks to the discerning responses of corporations and a shift in general public insight towards greening.
Responding to the Challenge
As community attitude towards environmental sustainability evolves over time, there is a noticeable shift in the realization that we dwell in a pool of finite resources. Regulations and standards came about as the obvious first steps followed by a desire to go above-and-beyond that. Be it for upgrading manufacturing plants and processes, or integrating intelligent systems and materials into constructions, the greening initiative soon took a more long-term perspective of actions.
Chart 1.1 represents an illustration of the greening initiative in North America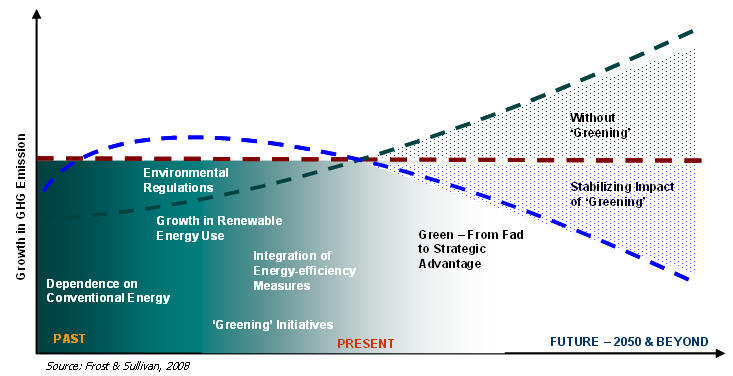 Chart 1.2 depicts the level of resource consumption by buildings in North America.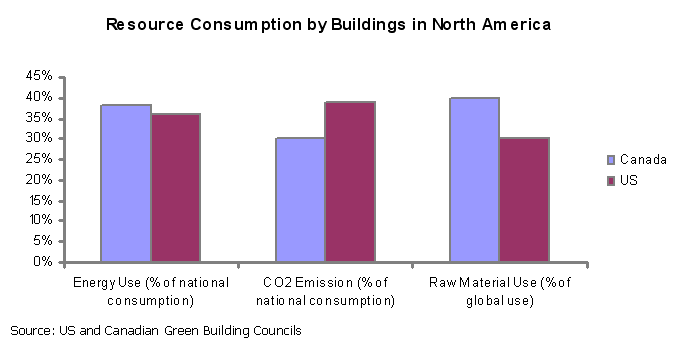 In recent years, the building sector in North America has witnessed a significant shift toward 'greening'. Buildings in both the United States and Canada account for a major portion of each country's total resource consumption, while releasing substantial quantum of carbon dioxide into the atmosphere. In an attempt to reduce this dependency on declining resources and reduce the carbon footprint, the building industry has turned its attention to reducing energy and operating costs while trying to enhance asset value over time.
The trends in this industry have not been immune to the evolutionary issues that have characterized other industries. However, what makes greening initiatives more pronounced and streamlined in this industry are the developments leading to the foundation of the Green Building Council in the United States followed by their affiliate regional chapters and the formulation of the LEED rating system for recognizing green and intelligent buildings.
Since the mid-90s, LEED has evolved over time to represent existing and emerging green building technologies with enhanced comprehension. LEED has generated enough stimuli to drive the green building concept from a niche domain well into the mainstream of the construction and building technology industry. The journey, from the 90s till date, saw LEED transition from a single standard for new construction to a comprehensive system of six interrelated standards covering all aspects of the development and construction process. Within the commercial building arena, one indicator of the exponential rise of green building practices is the widespread adoption of the LEED system.
Markets Echoing the Sentiment
The market trend observed has a direct correlation to the burgeoning importance of green buildings in North America. Emphasis on being LEED certified and the integration of energy efficiency measures has influenced revenue growth across green building products and services markets. All participating vertical segments offer environmentally sustainable alternatives today with positive end-user interest and account for a sizeable portion of the market. The dampening factor is typically higher first costs. However, as the level of competitiveness increases with more options surfacing in the market, price is expected to experience downward pressure, eventually allowing for their better market penetration.
From $7 billion in 2004, the green building products and services market has steadily grown to over $12 billion in 2007, registering a 20 percent growth over 2006. As energy efficiency prerogatives continue to drive positive interest in LEED certification, the market for green building products and services is poised for upbeat growth and is expected to be worth $42.6 billion by 2015, growing at a compound annual growth rate (CAGR) of 17.0 percent.
The installed base of existing buildings far outweighs the new construction market, which makes it inevitable for companies to opt for greening the very premises they conduct business from and reduce their environmental impact. Clearly, looking at some of the certification and registration targets set by both the US and Canadian Green Building Councils—over 200,000 projects in both US and Canada by 2015—the market for green building products and services undoubtedly has the potential to multiply its present size.
Moving Ahead
While the industry and all affected by the green building movement gears to find solutions to their energy questions, it is not surprising that these often lead to questions of their own—How much more should one pay to integrate energy efficiency solutions? Is there a positive return on investment and when? What are the potential savings and will they be enough to create an impact?
The maturity attained by the construction industry only makes it more imperative that its participants must explore ways to add valuable differentiators to their projects. If builders and designers can show they are capable of answering the questions being asked, they have a great opportunity to prove themselves as leaders and innovators in an industry focusing more intently on environmental, social, and financial responsibility.
Justifying Cost
As LEED-registered projects continue to move closer to achieving the target of 25 percent of the new construction market in the US, the shift to wider market adoption of LEED is getting more and more pronounced. Post-LEED assessments of buildings have already shown the financial gain that these buildings could potentially generate. There are camps in the industry that do agree it is not impossible to price green buildings competitively, provided they advocate green from the start.
The investor is also not considered a critical hurdle anymore – long-term economic and social sense and quantifiable rewards makes it worth their penny to go green. Builders are starting to accomplish green construction on conventional investment outlay, which validates that the cost barrier is being gradually overcome. When considered in combination with actual savings, the business case becomes more distinct. It is believed that beyond a higher outlay to climb the learning curve, it is possible to deliver green buildings for the cost of conventional buildings.
Issues to Bear in Mind
LEED will also need to address changes in technology over time. Here, the challenge for LEED lies in the fact that it takes a minimum of two to three years to develop a major new version of LEED, keeping its firmness and validity intact. Also, what is considered innovative today will tend to be behind the curve in coming years.
On a cautionary note, the industry will need to move away from the rapid homogenization of green and intelligent buildings to the extent that it is difficult to segregate which bio-regional dynamics a particular structure represents. Commercial buildings in today globalization era do share a slew of common attributes and functionalities and address the analogous requirements of inhabitants. A slow and calculated design approach is necessary to sustain this culture in an otherwise hurriedly charging North America, where, more often than not, budgets and timelines tend to dominate decisions.
---


[Click Banner To Learn More]
[Home Page] [The Automator] [About] [Subscribe ] [Contact Us]