---

The problem today is that there is a huge capability gap between building systems, their disparate or so called "open" protocols and a scaled enterprise energy management system offering control and management of all building systems.

Edmund B. Richards, President and CEO, Richards-Zeta
erichards@richards-zeta.com
May 2008 is BuilConn month. This year BuilConn rolls into Santa Clara California; an IT and technology leader and home to global technology and IT giants like Google, Cisco, NetApp, Brocade and many, many others.
As a prelude to the Connected and Intelligent Building's industry conference of the year Richards-Zeta Building Intelligence, Inc (RZ) considers the architecture and infrastructure required to actually deliver and scale an Enterprise Energy and Facility Management System.
Delivering Enterprise Energy and Facility Management through an Open Architecture











Much confusion and deceptive market messaging is created by major incumbent manufacturers in the building systems industry when describing the term "open architecture". At the "end of the day" it is the end-users and facility managers who are suffering as they attempt to take their facilities to the next level, hoping to reap the results of the enterprise solutions they were once promised.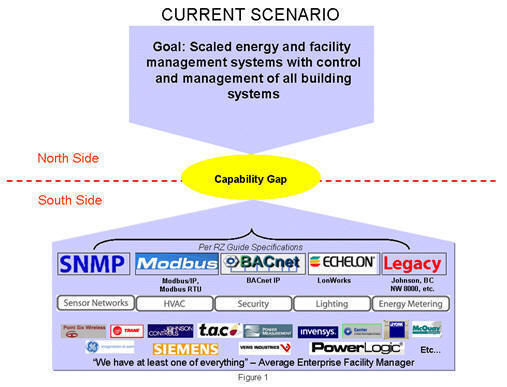 The problem today is that there is a huge capability gap between building systems, their disparate or so called "open" protocols and a scaled enterprise energy management system offering control and management of all building systems. Throughout the evolution of a buildings' life cycle, the incumbent vendor de jour installs and commissions systems which fit their best interest, not the facilities'; when asked about their portfolio the typical facility manager says, "I have one of everything". These systems have not been designed around the enterprise.
In order to successfully scale buildings on an enterprise level there is a requirement for a true "open system" which minds this capability gap through Communication, Data Acquisition, Integration and Services. An "open system" is defined by a true 'standard' that provides universal accessibility to any person or entity, to make data available without restriction, license or limitation of use. The Internet Protocol (IP) is the only truly open global protocol standard. This protocol, coupled with the worldwide IT standards of HTTP, XML, SMTP, HTML, RSS, and FTP, etc. connect and communicate with the technology around the world today.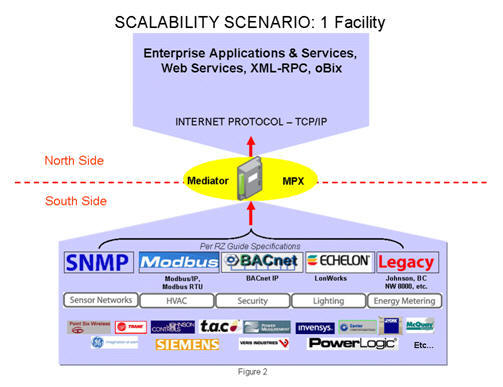 The key data acquisition component of an enterprise energy management system is an intelligent middleware platform with its primary purpose to provide a common presentation and management interface for all of the devices and systems within a facility, regardless of manufacturer or protocol. The RZ Mediator Multi-Protocol eXchange (MPX) is a microprocessor-based solution specifically designed to serve as a unifying platform for intelligent and connected buildings. The Mediator enables devices, equipment, and systems of virtually any manufacturers, using virtually any communications protocols, to intercommunicate seamlessly in a single, integrated system. In addition, the Mediator allows all of the systems in a facility – metering, HVAC, lighting, security, existing Building Management Systems, etc. – to be monitored and controlled via the IP using a standard web browser. The Mediator also receives data from other devices inside the facility such as generators, uninterruptible power supplies and power distribution units providing the additional value of measuring discrete power use and maintenance efficiencies of equipment critical to the core operations.
The Mediator achieves this by enabling two-way communication over a TCP/IP network between all of the sensors, devices, and systems within a facility by interfacing to all of the different communications protocols those devices and systems use. It collects data from numerous sources that use disparate protocols and are otherwise unable to intercommunicate, converts the data into a single, widely used format such as XML, and provides this information to numerous client views and enterprise applications and services.
The Mediator receives inputs through user applications and converts them into commands and data that conform to the protocols required by the facility's sensors, devices and systems. The Mediator runs many services and protocols at the same time; providing the capability to respond immediately to events, such as alarms, generated in the network environment. The Mediator is highly scalable, allowing new equipment, systems and whole facilities to be seamlessly integrated into an existing installation or network as the enterprise grows. It also allows existing equipment that has been removed from service due to compatibility issues to be re-integrated into the facility, thus maximizing ROI on existing equipment.
The Mediator architecture supports numerous building systems protocols which promote the convergence of buildings systems and IP, specifically enabling a deeper convergence amongst traditionally locked-up building silos. The emerging first generation standards of BACnet (HVAC), LonWorks (Field Bus), Modbus (Metering/Process) and SNMP (Telecommunications) have birthed from disparate domains and industries and as such are converging as well via this architecture.
The majority of the industry problematically uses proprietary or semi proprietary (using brand specific implementations of these standards) as the vehicle to aggregate information from multiple buildings/sites into a central server (client-server architecture with a single point of failure) where management and data visualization occurs. The RZ Mediator on the other hand pushes that functionality towards the edge forming peer to peer "cloud" architecture. This important architectural difference has significant implications that touch fault tolerance, security, management and overall scalability; both from the perspective of adding additional buildings (Mediators) and feeding data hungry enterprise services like Automated Fault Detection and Diagnostics (AFDD) that mandate robust, real-time and reliable data delivery.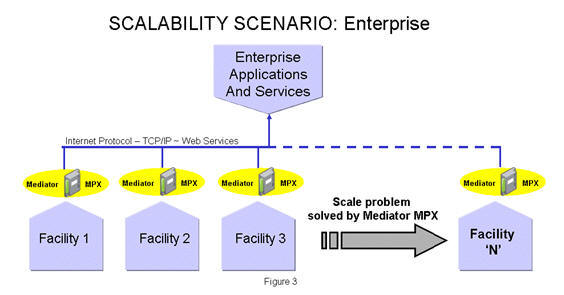 This solution provides capabilities for database integration allowing shared data between third party systems. The entrenched players have an "open in and closed out" approach, while the RZ Mediator provides an "open in and open out" solution. The truly open system architecture enables the development of applications that are built by combining loosely coupled and interoperable services. The intelligent IP centric middleware approach employs flexible application services enabling the use of best of breed applications that can be added, removed, or modified as demands evolve.
The Mediator's embedded suite of tools, OMEGA, is used to create web-based applications that serve as the presentation interface for end-users. OMEGA is a web-based application that resides on the Mediator and is accessed from a web browser to enable remote programming. The Mediator/OMEGA architecture is "headless" and therefore, avoids a single source of failure. A "cloud or cluster of Mediators is fully distributed; peer to peer via IP embedded internet appliances. Third party Application servers (EEM, Data Base, CMMS, etc) are peers to the Mediator "cloud" architecture. Through OMEGA, the RZ Mediator provides event management web and RSS interfaces and allows viewing and management of alarms and events as well as logging and exporting services which enable value and event notification. The RZ Mediator provides the enabling technology for building owners and facility managers to actively pursue and obtain the "best of breed" technology systems of their choice. Since all building systems data is normalized, the possibilities are endless and the implementation of fully integrated Intelligent Building Systems (IBS) systems is obtainable. Services such as advanced building systems analytics, energy management, Automated Demand Response (ADR), Automated Fault Detection and Diagnostics (AFDD), Computerized Maintenance Management Systems (CMMS), work order systems, tenant billing, database management and global schedules are integrated with the building management systems. This platform provides an open architecture for other applications and systems to obtain stored data or processed analysis results via SQL connections, CSV extracts, online viewing, FTP, and XML/SOAP Web Service methods.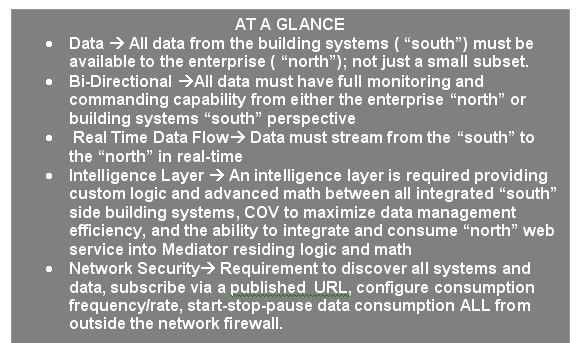 ---


[Click Banner To Learn More]
[Home Page] [The Automator] [About] [Subscribe ] [Contact Us]