---

Energy Business Intelligence will be to buildings what the iPod was to music.

John J. "Jack" Mc Gowan, CEM
Energy Control Inc.
Contributing Editor
An argument could be made that our preoccupation with intelligent buildings has been very focused on plumbing. By that I mean the underlying communications architecture that has paid the price of entry for buildings to truly become both intelligent and green. In fact new technology just hitting the market for "energy business intelligence" will truly transform our industry.















For nearly a decade the buildings industry has talked of convergence and intelligent buildings. My first article on the topic was in 1984 and my first book in 1993. However I would argue that in spite of many developments the paradigm in our industry has not been shattered. That paradigm has to do with people. We have been preoccupied in the buildings space by standards like BACnet and LON and operator interfaces like browsers, but the fundamental fact remains: these tools are only intelligible to people who know buildings. In short all of the effort has been on the plumbing that carries data, but there has yet to be a fundamental sea change in the way that buildings and systems are actually controlled.
Over the most recent decade my emphasis has been on buildings and many of my articles have pointed up the importance of efficiency, demand response and smart grid. The timing is now for these ideas to be the emphasis in buildings. Of course with the American Recovery and Reinvestment Act there are 767 billion reasons why that is true. An army of companies are poised to build their entire business model around opportunities presented by the stimulus bill, and that makes sense. However, it is also the right time to do this and it is the right thing to do. My personal belief is that no one is better positioned to seize this opportunity than the integration community. With the downturn in new construction many buildings professionals are scrambling to redefine themselves. At a recent contractor conference that I attended, energy was seen as the most important business opportunity for the next three to five years, but the question of how to pursue it remains.
The next frontier for integration will look like a variation on energy services and will be built around the idea bringing value propositions to owners. At the heart of that offer will be a hot new technology that might be called enterprise energy management on steroids. Energy Business Intelligence will be to buildings what the iPod was to music. To illustrate this point I will use an analogy to another Apple product, the iPhone. Consider the catchy television commercials we have all seen that talk about "aps" (applications) for the iPhone like calculating the calories in your lunch or finding your car. For all the intelligence that has been put into buildings, at the end of the day only an engineer can truly diagnose and trouble shoot a building automaton system. So what about the green in the title of this article, well only an energy engineer can measure and verify the effectiveness of the building system. The idea of energy business intelligence won't transform our industry on day one, but its impact will be unquestioned.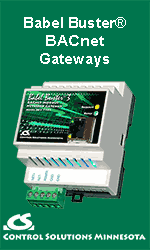 So what is energy business intelligence? Well it is a Web Portal with Data Warehouses, Online Analytical Processing and SOA (Service Oriented Architecture) Web Services that overlays applications like "Key Performance Indicators" (KPI), WhatIf Decision Support System, Geographical Information System and Business Processes onto building systems to create an Enterprise Resource Planning and Financial Management tool for Energy as well as a real time management and energy policy enforcement tool for the building owner. The first tool of this type is called Global Energy Management for Sustainability (GEMS). The GEMS Web Portal allows owners to manage campus sustainability in real time. Converting terabytes of energy and building information is a major challenge and this tool is designed to change data into knowledge. For example, at the University of New Mexico this GEMS Web Portal publishes energy data and carbon footprint in real-time. Managers establish Key Performance Indicators (KPI) to assess effectiveness of facility operations campus wide or on a building by building basis. Operators use the Microsoft Virtual Earth tool to zoom in from space to the campus. Once a three dimensional campus map comes into view, the user can chose to select KPI icons, time periods and a host of other metrics. For example if an indicator like "energy cost per square foot" or "carbon footprint" is selected, campus buildings change color based on performance against a predetermined metric. A building in red needs attention because it is consuming too much, while those in green are in the zone. GEMS users can drill down into the automation system to troubleshoot problems, but the preferred approach will be for this to happen automatically. It will be possible for systems to be integrated and programmed to execute self-learning applications and optimize energy performance to achieve new levels of sustainability.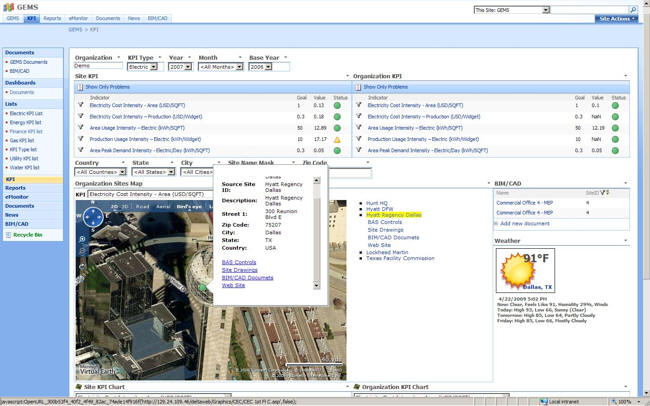 Central to this idea is making building systems smarter. It is one thing to tout the use of systems to make the building intelligent, but the driving factor for the integrator and the owner is the human cost of making sure the technology delivers its promise. Using an Energy management Web Portal and Web Services like GEMS is really just taking another page from the Information Technology (IT) book on how to use systems to their full potential. Companies like Oracle and SAP have built very successful models around this idea of using computing power to point our problems and highlight where performance needs to be improved. The buildings industry has spent the better part of the last two decades trying to wring engineering and implementation labor and cost out of system installations. Now it is time to wring labor out of the day to day tasks associated with assessing the effectiveness of building operations. First and foremost this is about recognizing that trend logs and alarms do not improve performance, and in many cases are not effective at pointing out opportunities for improvement. Leveraging a tool to highlight areas for concern is the first step in creating intelligent building management tools that provide an easy intuitive way to see what is happening in the building or on the campus. Once this tool exists it can be the focal points for adding the kind of artificial intelligence that can make buildings not only smart, but self learning. When buildings are not just dealing with comfort and energy but cap and trade on carbon, this type of tool will be invaluable.

________________________________________________________________________
About the Author
Jack Mc Gowan is CEO of Energy Control Inc. (ECI) and is Chairman Emeritus of the U.S. Department of Energy GridWise Architecture Council. He is Co-Chair of the National Institute of Standards and Technology Building to Grid Working Group and on the Board of the NewEnergy Alliance created by Constellation NewEnergy. ECI won a 2008 American Business Award sponsored by Dow Jones and the Wall Street Journal as Best Overall Company in the U.S. with less than 100 employees. Mc Gowan is author of 5 books on Fairmont Press and Prentice Hall and over 200 articles. Mc Gowan is an internationally known energy, buildings and technology expert, and was chosen by his peers as 2006 Visionary at the Builconn Intelligent Buildings event. He was named Newsmaker of the Year by automatedbuildings.com in 2007. The Association of Energy Engineers admitted him to the "International Energy Managers Hall of Fame" in 2003 and named him "International Energy Professional of the Year" in 1997. He also sits on Technical Advisory Boards and is a Contributing Editor with several magazines including Engineered Systems, Green Intelligent Buildings Today and www.automatedbuildings.com .


---


[Click Banner To Learn More]
[Home Page] [The Automator] [About] [Subscribe ] [Contact Us]