---
Articles - November 2008
Our authors provide insight into our rapidly evolving industry.
Please take the time to read their valuable articles.











Energy & Controls…making sense of it all at Grid-Interop Jack Mc Gowan, CEM
ECommerce, Buildings, and Energy How do eCommerce technologies, including contracting, reliable messaging, security, and the application of Service-Oriented Architectures (SOA) fit into the energy and buildings world? Carol Geyer, Director of Communications, OASIS
Blue, Buildings, and Energy The shift from green to blue has started. Laurent Liscia, Executive Director, OASIS, Toby Considine, University of North Carolina, William Cox, Cox Software Architects LLC
B2G and the NIST Workshop at Grid Interop '08 David Holmberg, NIST B2G domain expert working group lead, BACnet Utility Integration working group lead
The Smart Grid and Ongoing Building Commissioning For building owners, preparing for the Smart Grid starts with initiatives that will benefit them today. Jim Butler, CTO, Cimetrics Inc.
Transacted Energy End Games It starts today, with demand response, and continues with transacted energy. Toby Considine, University of North Carolina
Wireless Interoperability Wireless Interoperable Systems: Enabling the Smart Grid Christina Inge, Marketing Manager, Spinwave Systems, Inc.
OPC, XML, .NET and Real-Time Applications DCOM is alive and well. DCOM fills a void that XML web services cannot fill. OPC DA (based on DCOM) will continue to dominate applications. White Paper, MatrikonOPC
The Virtue of VirtuaWattTM VirtuaWattTM is an online demand response auction application that is designed to help customers more easily navigate the complex energy market. Joe Franz, Director of Product Management, Constellation NewEnergy & Del Hilber, Director of IT Demand Response, Constellation NewEnergy
Feel the need for total security Video surveillance, is becoming a sought-after technology to provide security Steve Rubin, President, Longwatch
Setting Sights on a Standard In order to support the technology shift toward IP video systems, the market leaders need to work toward creating increased flexibility for end users, integrators and consultants. Dr. Bob Banerjee, Product Marketing Manager, Bosch Security Systems, Inc.
Imagine you could speak to your SCADA system… Send a text message to your SCADA system. Michael Meirovitz, CEO, Control See Ltd.
Legacy Building Automation Integration The BACnet-N2 Router is a network appliance hosted on the Advantech Embedded Automation Computer. Steve Jones, Managing Partner, The S4 Group, Inc.
Demand response: turning on to new opportunities The next frontier for demand response is to move beyond curtailment and leverage the power of building automation systems that exist within or across collections of buildings. Ken Sinclair, AutomatedBuildings.com
Columns - November 2008
The Three Little (BACnet) Pigs A Modern Day Fable of Building Systems Integration Andy McMillan, President and CEO, Teletrol Systems Inc. & President BACnet International
Sequences of Operation (2 of 2) An objective look at specified descriptions of control Steven R. Calabrese, Control Engineering Corp.
Buildings, Emergency Response, Energy, and Situation Awareness The NG911 system, or Next Generation 911 supports better interaction. Even buildings, and building systems, might act as 911 operators. Toby Considine, Technology Officer, Facility Services, University of North Carolina – Chapel Hill
Data Center Building Automation In many ways data centers come closest to blurring the line between commercial and industrial controls in our industry. Paul Ehrlich & Ira Goldschmidt, Building Intelligence Group
Articles - October 2008
The NewEnergy Paradigm Quite simply, my belief is that energy in buildings has much more to do with automation that it does with any of the other technologies that seem to be in the spotlight continuously. Jack Mc Gowan, CEM, Energy Control Inc.
Buildings and ET The mantra of energy management in the 21st century has to be Buildings, Buildings and Buildings Anto Budiardjo, President, Clasma Events Inc.
The Enemy Within Project engineers must be ready to give up the detailed design work with which they are familiar and provide the flexibility, support, and oversight to others so they can ensure ultra-efficient performance is achieved and maintained over time. Thomas Hartman, P E The Hartman Company
Using Structured Cable Solutions For BAS The largest opportunity to reduce capital costs of installation in building technology systems is the installation of the system's cable and cable pathways. Jim Sinopoli PE, RCDD, Managing Principal, Smart Buildings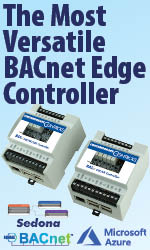 OPC Security: Seven Years, Seven Fears Eric Murphy, BSc, PEng, MatrikonOPC
Save 18% on Energy Costs with One 15-Minute Change Christina Inge, Marketing Manager, Spinwave Systems, Inc.
Wireless Sensor Networks Move Onto The Internet IP allows different kinds of links to be connected together as a single network, with routers steering each message to its desired destination, crossing different kinds of links along the way. Brian Bohlig, Vice President of Marketing, Arch Rock Corporation
DDC For HVAC Systems DDC knowledge has become critical in the current HVAC market, but the only sources of information have been highly technical until now. Barbara Ragusa, LAMA Books
Columns - October 2008
Building BACnet 2008 BACnet International Conference and Award Ceremony Andy McMillan, President and CEO, Teletrol Systems Inc. & President BACnet International
Privacy, Price and the Cost of Control As we seek to extend Demand / Response to more systems in the house, we run into what we might call Knowledge Problems, problems of diversity and understanding. Toby Considine, Technology Officer, Facility Services, University of North Carolina – Chapel Hill
Sequences of Operation (1 of 2) An objective look at specified descriptions of control Steven R. Calabrese, Control Engineering Corporation
Selecting the Building Automation or Systems Integration Contractor The process that we use involves a formal "Request for Proposals" (RFP), allowing us to gather information and evaluate it in an impartial manner. Paul Ehrlich & Ira Goldschmidt, Building Intelligence Group
October:
Brian Bohlig, Vice President of Marketing, Arch Rock Corporation Wireless Sensor Networks Move Onto The Internet
September:
Jim Sinopoli PE, RCDD, Managing Principal, Smart Buildings An 8-Step Strategy To Making Existing Buildings Smart
August:
Bob Mealey, Lynxspring's Vice President, Marketing and Sales Lynxspring's JENEsys™ snap!
July:
Christina Inge, Marketing Manager, Spinwave Systems, Inc. Water Submetering: Wireless Systems
June:
Ken Sinclair, Editor Owner AutomatedBuildings.com My 10 Takeaways from ConnectivityWeek
May:
Anno Scholten, Novus Edge Open Source
April:
Ken Sinclair, Editor Owner AutomatedBuildings.com The Future of Automated Buildings in North America
March:
Jim Sinopoli PE, RCDD, Managing Principal, Smart Buildings The Coming Flood of Energy Reporting, Building Sensors and System Meters
Robert Eckery, Marcom Manager, EnOcean, Inc. Pushing Green into the Black
February:
Anto Budiardjo, President, Clasma Events Inc. The Energy Revolution is Here!
January:
Jim Sinopoli PE, RCDD, Managing Principal, Smart Buildings Eight Predictions for Smart Buildings in 2008
Dan McCarty Quality Automation Graphics Out-of-the-Box Energy Monitoring
December:
Jim Sinopoli PE, RCDD, Managing Principal, Smart Buildings How Do Smart Buildings Make A Building Green?
November:
Johnson Controls, Case Study Integrated Design Associates, Inc. Net-zero energy
Edward H. Brzezowski, P.E – LEED AP, Director of Engineering, Ferreira Group and John Grabowski, Vice President, Live Data Systems Ferreira "31 Tannery Project" Net Zero Electric
October:
Anto Budiardjo, President, Clasma Events Inc The Killer App is Here
---


[Click Banner To Learn More]
[Home Page] [The Automator] [About] [Subscribe ] [Contact Us]