---
"Open Auto-DR Communication Standards" released!











The Website for the Draft "Open Automated Demand Response Communication Standards" (Open Auto-DR or OpenADR) is now live for its first public review and comment process -- http://drrc.lbl.gov/openadr/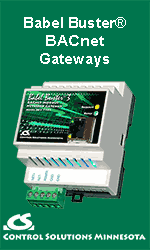 This document is a draft of the Open Automated Demand Response Communication Standards. The research that led to this standard was funded by the California Energy Commission's (CEC) Public Interest Energy Research Program (PIER). The work has been carried out by the Demand Response Research Center (DRRC) which is managed by Lawrence Berkeley National Laboratory. The initial goal of the research was to explore the feasibility of developing a low cost communications infrastructure to improve the reliability, repeatability, robustness, and cost-effectiveness of demand response (DR) in commercial buildings. One key research question was: Could today's technology be used to automate the response of commercial buildings to standardized electricity price signals? Over six years of research, development, and demonstration have led to this standard. The standard outlines communications standards using Web Services to send DR signals to end-use customer systems.
This technology has been in use for several years and the purpose of this formal standard is to reduce cost, promote interoperability among DR technologies, and allow wide spread price or emergency response in commercial and industrial facilities.
The OpenADR draft is being officially released in conjunction with Connectivity Week on Monday, May 19 in Santa Clara, CA. The OpenADR Communication Standards and supporting documents along with the review process are posted on the above Website. Please encourage all the stakeholders to visit and send comments.
---


[Click Banner To Learn More]
[Home Page] [The Automator] [About] [Subscribe ] [Contact Us]