---
I am very pleased with the industy response to our March theme and it reminded me that we have other great wireless articles that were written before this issue that I feel should be represented. Finally this summary also provides linkage to press releases and videos on the subject. I hope this helps you find your way The Wireless Way.
Articles

Energy Harvesting, Wireless and Next Generation Building Energy Management Bottomless power generation comes from ambient sources such as linear motion, light and temperature differentials. - Robert Eckery, Marcom Manager, EnOcean, Inc.
A Wireless Solution For Energy Control In Existing Buildings Costs Could Drop 30 to 70 Percent. - Jack Bolick, President and Chief Executive Officer, Adura Technologies
Back to the Future with BACnet Wireless Interoperable Wireless … for Real - Andy McMillan, President and GM Philips Teletrol
Wireless Energy Management: Transforming the Energy Costs of the Smaller Building - Christina Inge, Marketing Manager, Spinwave Systems, Inc.
A Wired and Wireless Controller For Better ROI BAS still require the use of several wired devices, which means that wired and wireless technologies need to be integrated together within a single system to enable centralized control. - David Lamarche Director of Communication, SCL Elements Inc.
Press Releases

In 2011, wireless sensors accounted for just over 15% of the 21 million building automation sensors shipped in the EMEA and the Americas markets combined. The number of wireless sensors is forecast to increase to over 25% of total building automation sensors in EMEA and the Americas by 2015. - Press Release
CAN2GO launches new line of smart wireless peripherals The TE2 and DA2 are both individually programmable and have local memory. They communicate wirelessly with CAN2GO controllers which automatically convert their points to BACnet. This facilitates deployment and integration, for less labor intensive and more cost-effective commissioning. - Press Release

Sontay Embraces Tridium with New Wireless Sensor Expansion Following the successful launch of its award-winning SonNet range of wireless temperature and relative humidity sensors, Sontay has introduced a new Tridium NiagaraAX driver for its SonNet network radio receivers. This latest innovation will enable quick and seamless integration with Tridium's range of JACE controllers as part of a NiagaraAX framework for building control systems and opens up the system to BMS protocols such as BACnet, LonTalk and Modbus.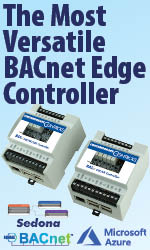 The American National Standards Institute (ANSI) has announced the approval of ISA-100.11a-2011, "Wireless Systems for Industrial Automation: Process Control and Related Applications," as an American National Standard. This approval confirms that the open consensus standards development procedures required by ANSI, which call for participation not only of suppliers but of all key interest categories, were followed in developing the standard.

The combination of the easy and quickness of installing wireless coupled with off the page finance should provide SES market independence from BC hydro
http://www.automatedbuildings.com/releases/feb12/120216115808incenergy.html
Videos
Watch these video for a quick review of what you missed in Chicago.
EnOcean wireless
http://www.youtube.com/watch?v=AfQrp4w9SYA&list=UUZIb0NA8ZDNxpo7FZfQmLrg&index=1&feature=plcp
http://www.youtube.com/watch?v=6xUSbjRkCmQ&feature=related
Geofinity Manufacturing @ AHR Expo 2012
Echelon integrating LonWorks & BACnet at AHR Expo 2012