---
AutomatedBuildings.com Preview of AHRExpo Orlando

Search the Show for Building automation products
My Show Planner combines planning and logistics into one easy-to-use tool.

Our education theme is "Transformational Change for Building Automation"
Details of our Free Education Sessions at AHRExpo 2016 in Orlando

Including our Fourth annual Connection Community Collaboratory, Orlando Tuesday Jan. 26; 1:30 pm

Add our sessions to your AHR Expo show planner
Transformational Change for Building Automation
Transforming Skill Sets to Lead and Manage Change

Data Analytics / Occupant Engagement and the Road to Self-managing Buildings

Fourth Annual Connection Community Collaboratory

Required reading to make sense of this gathering. This will be fast moving and expects attendees to have an understanding of the evolving connection communities' needs.
The Building Automation & Control Showcase This is a special area on the Show floor designated for the following products and services: Building Automation, Energy & Facility Management Systems; Climate Controls; Monitoring Systems; Wireless and Cloud-based Options; and other Networked Building Systems including Lighting, Security, Fire Alarms, and more.

New Products Previews / Releases
Sierra Monitor Will Demonstrate New Product Offerings, Including Salesforce Integration, at the 2016 AHR Expo - Booth #1159 Sierra Monitor Corporation (OTCQB: SRMC), provider of Industrial Internet of Things (IIoT) solutions that connect and protect high-value infrastructure assets, today announced a comprehensive and secure IIoT On-Ramp Suite for Original Equipment Manufacturers (OEMs) of commercial and industrial controls devices and systems.

MEMSIC Launches MDP200 Pressure Sensor for HVAC Applications at AHR 2016 HVAC System Designers & Manufacturers can improve performance and reliability without increasing cost AHR Expo, Orlando, Florida - Booth #1094

BSRIA delivering global HVAC trends presentations at 2016 AHR Expo in Orlando - BSRIA Booth #4792 BSRIA will be delivering global HVAC trends presentations at the 2016 AHR Expo in Orlando on Monday 25th and repeated on Tuesday 26th January - combining an industry presentation event and an educational training programme - from 8:00 -9:30 am.
WattNode Energy Meter Module Awarded Honorable Mention in the 14th AHR Expo Innovation Awards Competition - Booth 1250 Continental Control Systems has developed a small, low-cost energy meter module which OEMs can design into their equipment for energy consumption monitoring.
LonMark International to Offer Free Education Sessions at AHR Expo in Orlando - Booth #1337 At AHR Expo,LonMark will be highlighting new and exciting developments at our booth #1337 and in our education sessions
EnOcean Alliance at AHR Expo 2016: The Self-Powered Wireless Standard for Building Automation - Booth #1247 Seamless integration of battery-less sensors and switches with local controllers, gateways, and building management systems build a network for integrated control, meeting individual requirements

KMC Controls Announces General Release of KMC Commander at 2016 AHR Expo - Booth #1219 KMC Controls, a leader in building automation, today announced the general release of its award-winning KMC Commander Internet of Things (IoT) appliance for building automation at the 2016 AHR Expo in Orlando, Florida on January 25, 2016.

Lynxspring Demonstrations at AHR 2016 Focus on Edge-to-Enterprise (E2E) Hardware and Applications for the Intelligence of Things - Booth #1442 The company will be demonstrating numerous new products and services that expand the capabilities of today's connected devices and equipment at the edge and up to the Cloud for the Intelligence of Things.

Jacksonville Police Athletic League to Benefit from AHR Expo Innovation Award Entry Fees Donated to Local Organization

Distech Controls' ECLYPSE and ENVYSION for Consulting Engineers IP-based products and responsive visualization interface to assist in specifying IoT Building solutions - AHR Expo Booth #1242

Distech Controls Introduces ECLYPSE Connected VAV Controller Series Latest addition to the company's Connected IP and Wi-Fi Product Series - AHR Expo Booth #1242

AHR Preview: Sierra Monitor Corporation Varun Nagaraj, President and CEO of Sierra Monitor Corporation, previews the company's offering at the 2016 AHR Expo, Booth #1159.
The Future of IoT for Building Automation We've got to gather the right kinds of data and make it accessible in order to drive action and modify behavior. - Nathan Kehr, Marketing Manager, KMC Controls Booth #1219
Announcing the Largest Education Program Ever 2016 AHR Expo Jan 25-27 Orlando - Learn about the innovations, best-practices and standards that drive the HVACR Industry

Distech Controls Introduces HORYZON Display - AHR Expo Booth #1242 IP-based, high resolution color LCD touchscreen

Plasma Air Wins AHR Expo Innovation Award PlasmaSoft 2.0 Program Takes Home First Prize in the Software Category

Distech Controls Introduces Allure EC-Smart-Comfort - AHR Booth #1242 New all-in-one, occupant-focused communicating sensor

2016 AHR Expo Innovation Award Winners Announced Momentum Builds for Product of the Year Winner Announcement in January

Distech Controls Introduces EC-Smart-Air - AHR Booth #1242 Latest addition to the Allure communicating sensor series

2016 AHR Expo Calls for Innovation Award Entries Ten Awards Highlight Most Creative and Useful Products
Sun, Fun, ASHRAE and AHR Expo: Registration Open for 2016 Winter Conference in Orlando New technical program tracks, more than 200 Professional Development Hour opportunities and the world's largest HVAC&R marketplace are just a few highlights of the ASHRAE 2016 Winter Conference and AHR Expo taking place in Orlando, Fla.
Calendar Notice - 2016 AHR Expo The World's Largest HVACR Marketplace Monday, January 25 - Wednesday, January 27, 2016 Orange County Convention Center, Orlando, Florida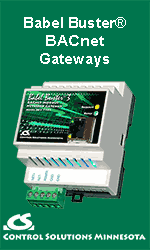 Our Advertisers at AHR 2016
BACnet International - Booth 1042
Contemporary Controls - Booth 1326
Control Solutions - Booth 1239
Delta Controls - Booth 1021
DGLogix Inc - Booth 1025
Distech Controls - Booth 1242
J2 Innovations, Inc - Booth 1167
KMC Controls, Inc - Booth 1219
Lynxspring, Inc - Booth 1442
Reliable Controls Corporation - Booth 1050
Sierra Monitor Corporation - Booth 1159
Veris Industries - Booth 1229

---

[Click Banner To Learn More]
[Home Page] [The Automator] [About] [Subscribe ] [Contact Us]