---
How to Build a Haystack


The history of Haystack as chronologically documented with AutomatedBuildings.com




Founder, Owner, Publisher AutomatedBuildings.com
In celebration of the first ever Project-Haystack.org Connections magazine I worked on a March review entitled "How to Build a Haystack", the brief history of Haystack as chronologically documented on AutomatedBuildings.com. Even I was amazed at the length and depth of our journey to date. Project Haystack Connections is a major milestone. Amazing job by all those that are Haystackable.
Journey to build the Haystack community started here:
April 2011
Finding the Needle The emerging field of analytics is the key to turning the data from smart systems into actionable intelligence. - John Petze, C.E.M. Partner, SkyFoundry

May 2011

Project-Haystack We are now awash in large volumes of data, but we can't easily derive value from it. Project Haystack's mission is to define this common vocabulary so that we can derive value from all the data our building automation systems are collecting. - Brian Frank, Founder, SkyFoundry
November 2012

An Update on Project Haystack Haystack tagging makes it possible for visualization software to assemble graphics of equipment systems with almost no human involvement. - Brian Frank, Founder SkyFoundry
January 2013
Haystack Connect 2013 - A New Industry Event Bringing together the companies, communities and people who are redefining smart and connected systems. April 29-May 2, 2013, Chattanoogan Hotel, Chattanooga, TN. - John Petze, Principal, SkyFoundry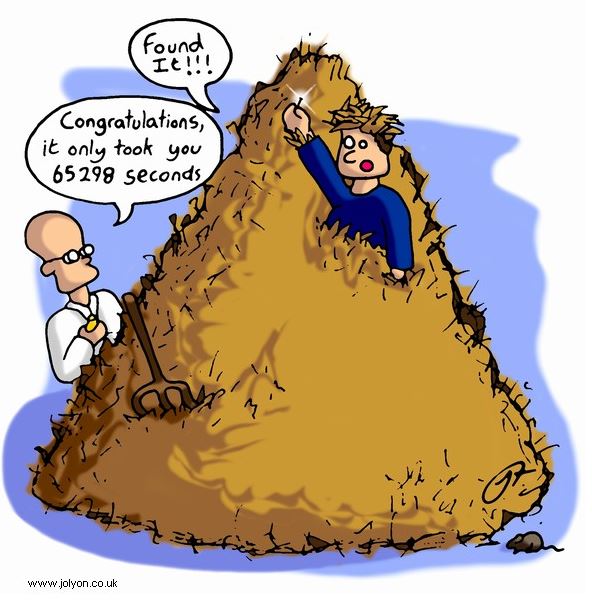 March 2013
The "Community" Comes Together to Produce Its Own Event - John Petze, Principal, SkyFoundry
June 2013
Haystack Connect Event Review The ability to automatically interpret the meaning of data enables best of breed applications to be implemented, quickly and at lower cost. This gives owners more choice and a faster path to financial return. - Marc Petock, Vice President Marketing, Lynxspring
Something Happening Here - Haystack-Connect Event review- So from every successful event there needs to be a take away that changes our point of view. For me it was captured when a couple of hayseeds took the stage and planted the seeds of change and showed us all how a connected Haystack using data modeling could alter industry dynamics as we know them.
July 2013
Project-Haystack Update an update on Project-Haystack since the Haystack Connect conference - John Petze, Principal, SkyFoundry
The Taxonomies of oBIX Every taxonomy is the outward manifestation of an information model. - Toby Considine, TC9 Inc
BAS Communities Need Bridges, Not Walls Unfortunately, the perception and misconception was created that Haystack tagging was created by and for the Tridium community. - Steve Jones, Managing Partner, The S4 Group, Inc

August 2013
Niagara and nHaystack Module nHaystack is the "engine" for the Haystack communication protocol and also a tool for configuring Haystack tags using views in Niagara Work Bench. - Jason Briggs, CEO, Founder and Haystack Volunteer, J2 Innovations
October 2013
Project Haystack Announces Educational Webinar - The webinar will be presented at 11AM ET, on Tue Nov 12, 2013.
December 2013
Project Haystack Extends Outreach with Educational Webinars The webinar, scheduled for 11AM ET, on Tue Dec 17, 2013, will include a variety of speakers presenting examples showing how the Haystack approach helps reduce project costs streamlining the work involved in data presentation, analytics and reporting. - John Petze, SkyFoundry
March 2014
oBIX & Haystack -- Understanding where each fits. oBIX and the open source Haystack are both excellent choices to make data integration easy.
oBIX's new life in the OASIS A quick history lesson and a new direction for oBIX (Open Building Information Xchange) and OASIS (Organization for the Advancement of Structured Information Standards).
January 2015
A View on Project-Haystack From Down Under We are hearing the need for raising more awareness within the BMS contractor community and trying to organise some general education on the topic. - Richard McElhinney, Chief Software Architect, Airmaster Pty. Ltd
March 2015
Preview - Haystack Connect 2015
A Preview of the Haystack Connect Technical Program Haystack Connect 2015 (May 18-20) brings together the systems integrators, technology providers and end users who are leading the way to more efficient and sustainable buildings and advanced smart-device applications. - Project Haystack - Haystack Connect Organizing Committee
April 2015
Haystack Connect What is it and Why Should I Attend? - Submitted by The IBB mystery drummer
Making Device Data Self-Describing to Enable Seamless Integration across Multiple Applications Project-Haystack has become the leading solution for making data-self describing so that it can be easily used across applications. - Marc Petock, Vice President, Marketing Lynxspring & Connexx Energy, Member Board of Directors, Project-Haystack
May 2015
Haystack Connect Final Update before the Event - John Petze, Board Member, Project-Haystack Corp
Haystack Enabled Energy Efficiency Environment had Haystack tags added and because the points that are tagged were standard on all of our builds, we had everything necessary to export data to any external application. - Kevin J. Tock, Director, Product Development, Enerliance
The Spirit of Project Haystack In preparation for this interview, I re-watched the 23 minute ControlTrends video that captured the spirit of Project Haystack. - Ken Smyers, VP and Co-Owner, DMS Controls Group, LLC
June 2015
Haystack Connect Review A summary of my observations and takeaways now that I am back from the stack.
August 2015
Project-Haystack Continues Growing with the Addition of New Associate Members - John Petze, Project Haystack, Executive Director, Principal SkyFoundry & Marc Petock, Project Haystack, Secretary, Vice President, Marketing, Lynxspring
Has Project Haystack Moved the Building IoT Across the Chasm? Has support for standardization efforts like BACnet and Project Haystack naming/tagging taxonomy grown to the point that it is providing a pathway for data-driven building operations technologies across the Chasm? - Therese Sullivan, Principal, BuildingContext Ltd
From the wayback machine; Actually talking about never throwing anything away this was just across my desk from John you know that Haystack guy talking about Ethernet becoming trendy in March 2000

http://www.automatedbuildings.com/news/mar00/articles/andv/andv.htm

Bold prediction; It is clear that Ethernet has emerged as the standard system level network.

---


[Click Banner To Learn More]
[Home Page] [The Automator] [About] [Subscribe ] [Contact Us]