---

Buildings are now expected to be an interactive part of their virtual community and of course the electrical grid. This new face is creating untold opportunities that we all must investigate, understand and support.

Control Engineering Asia
May 2008 issue
Actual pdf of article

Ken Sinclair Editor/Owner www.AutomatedBuildings.com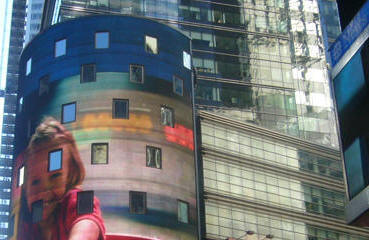 Our industry has developed a new face, not just the one projected on this building by digital signage software but a new face that includes new functionality and form. Buildings are now expected to be an interactive part of their virtual community and of course the electrical grid. This new face is creating untold opportunities that we all must investigate, understand and support.











In this interview by Peter Kelly-Detwiler, Vice President of Energy Technology Services, Constellation NewEnergy from our web site, he provided insight into our evolving new face.
Buildings as Virtual Electrical Peaking Plants
Sinclair: You've written a lot this past year about the need to create virtual peaking plants that can deliver capacity to the electric grid during times of peak demand. Can you elaborate on where participating companies can look to harvest the load in their facilities?
Kelly-Detwiler:: Absolutely. There are a variety of automated building systems that represent prime load-response assets. Most familiar, of course, are heating, air conditioning and lighting systems.
The definition of a load-response asset can be expanded well beyond these two opportunities to include any electricity load capable of being dropped, moved, or reduced during a specified time period to a level below what it would typically consume. Load-response assets are further characterized by a series of simple questions:
• How many kilowatts (kW) can be dropped?
• How long and how much advance notice is required?
• How many times per day, week, month, or year can the load be reduced?
As you can imagine, the value of a load-response asset increases with reaction time, length of drop, and the number of times the process can be successfully repeated.
Steve Smith, Director of Sales and Marketing, Honeywell Utility Solutions shows us how part of our new face is appearing on a thermostat near you;
Demand Response Thermostats
Utilities implement demand response programs to help limit energy use at specific peak times, when demand strains the electric grid and results in higher prices for both utilities and their customers. One way to reduce demand is by installing smart thermostats or other load control devices in homes and small businesses. These devices allow the utilities to cycle equipment like air conditioners on and off for short periods of time.
By having control over peak energy use, utilities are able to stabilize costs, reduce the need for additional power plants, and avoid disruptions like brownouts and blackouts. In return for their participation, customers usually receive a break on their monthly bill or a free programmable thermostat, which can help drive their energy costs down.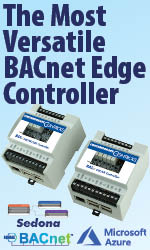 Generating new power used to be the default option when the demand for electricity started to creep toward or eclipse the available supply. "Need more power? Build another plant." However, times have changed. For example, peaking plants now costs up to $1 million per megawatt of generation capacity. Environmental concerns make nuclear power — which has the greatest return on investment — less popular, attractive and possible. Plus, power transport is increasingly difficult due to constrained distribution systems and infrastructure. That's why demand response and conservation programs are on the rise and more and more necessary.
"GridWise Thinking" is the big picture which is changing our face, form and function,
What is GridWise? http://www.gridwise.com/
It is an entirely new way to think about how we generate, distribute and use energy. Using advanced communications and up-to-date information technology, GridWise improves coordination between supply and demand, and enables a smarter, more efficient, secure and reliable electric power system. Since the building automation industry controls the energy-intensive part of the buildings it is mandatory that this partnership be well understood to allow correct integration and interoperability with the grid.
The wisdom and economics of buying back peak electrical demand is now being driven by the exposed real costs of new electrical generation and distribution. This provides new money to our building automation industry to reduce overall electrical peaks in an orchestrated interaction with the grid.
In April 2007, GridWeek demonstrated the winds of change are blowing in several directions and at several levels. The event allowed politicians, electrical regulators, generation, distribution folks, technology providers and electrical energy users a common venue to talk about the smart grid of the future and its required changes. It showed how connectivity and innovation will help change the grid users' behavior by communicating price breaks for time-of-day billing using new connectivity paths.
Buying back peak electrical demand is big business. A $900 billion market opportunity was identified for the industry to make the US national grid smart and wise with interactive connectivity. GridWise Demand Response (DR) and GridWise devices provide a quicker response time than existing generation control. These quick interactions when coupled with the shear economics of not providing new generation and distribution is the reason that the grid folks are willing to invest in the industry's interaction with the grid. Conservation and DR coupled with smart grid approaches are being billed as the new green fuel for the electrical grid.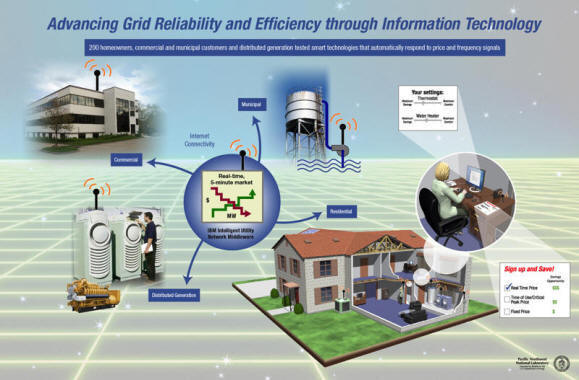 Anto Budiardjo President & CEO, Clasma Events Inc tells us that our new face is strangely a combination of the past, the changing, the new, and a heavy dose of socially-driven subjects that together are turning the world of energy and buildings upside down. From his article about how ASHRAE, CSI & OPC are meeting at BuilConn these words:
"With a focus on tangible information to implement IT and building automation for green buildings, BuilConn 2008 in May in Santa Clara California is a not-to-be-missed event for anyone involved in buildings, from owners to integrators, consultants to architects, and system to technology vendors alike."
ASHRAE For decades, ASHRAE has been the standard bearer of building automation; the association responsible for HVAC in the U.S. and arguably around the world; oftentimes focused on what many would consider traditional views of controls and automation; simply a necessary item for mechanical devices. There is a new guard at ASHRAE and a realization that not only are controls and automation critical, but the convergence with IT and the proliferation of smart sensors and integration with energy suppliers will play a huge role in achieving the Net Zero Building goals of ASHRAE, which would contribute significantly to addressing the climate change and energy supply solutions around the globe.
BuilConn 2008 in Santa Clara will be a milestone in hosting the first ever Keynote by a senior-ranking ASHRAE executive to deliver their message to the emerging community responsible for the convergence of buildings and IT. Gordon Holness, ASHRAE Treasurer, will deliver a Keynote on Wednesday, May 21; to set the tone that convergence, IT, and specifically, connectivity is something appearing on the radar screen of the association. We welcome ASHRAE to the BuilConn family.
CSI, the Construction Specifications Institute, is yet another established organization that has a significant influence on how buildings are constructed. Its MasterFormat specification framework has been the boilerplate upon which thousands of building specifications have been created in the world of spec-build for decades.
While there is a significant trend toward design-build, the draw of spec-build remains for many. CSI recognizes this trend with updates to the MasterFormat specification over the past few years. Today, CSI is veering towards technologies such as BIM (Building Information Modeling), a methodology that is more based on IT than the mechanical nature of building construction. BIM is very much in line with what the BuilConn community has been aspiring to for years; to use IT to create and model a view of buildings where information must be shared between all building systems and stakeholders through modern IT-based network infrastructures.
BuilConn 2008 is yet another milestone in organizing a CSI Roundtable with representatives from CSI on Monday May 19, 2008, prior to the formal conference in Santa Clara. The roundtable is designed to exchange views on how CSI and the BuilConn community can work together in years to come to realize various visions of sustainable and green buildings that we now accept as a critical aspect of our collective future.
OPC Anyone who has attempted to integrate building systems with each other and with user interface systems has come to use OPC in one way or another. OPC had its history founded upon Microsoft Windows technology called OLE (Object Linking and Embedding), its name originally stood for OLE for Process Control. OPC soon grew past its Windows origins and has become a widely used information interchange format and integration platform of choice not only in the process control field but also in building automation.
OPC, now standing for Open Process Control, is moving ahead with the advancement of technology, specifically the use of web services and SOA (Service Oriented Architecture). In this process, OPC is also reaching out to applications beyond process control such as building automation and energy.
Buildings 2.0 A great deal is being said about the future of buildings. How information technology is shaping the way buildings are designed, built, operated, and how buildings are generally viewed in the Internet-centric world we live in today. Many words and descriptions have been used to describe this vision, but none have come closer than the outcome of the Cisco Connected Roundtable at BuilConn in Dubai on 28 February, 2007.
The concept is to frame the future of buildings under the term "Buildings 2.0".
Buildings 2.0 is a vision that intricately intertwines buildings with Internet technologies. It is a vision that the future of buildings is one which is controlled, managed and connected to the Internet in a way that goes far beyond simply placing a web server to the control system or in the use of IP.
Buildings 2.0 is a vision of how technologies such as IP and Web Services will transform how building systems connect to each other and how the limitations of traditional integration will be blown away.
Buildings 2.0 is a desire to look at buildings in a new way, how the occupant's experience through new-found services--in concert with the purpose of the building--and maximizing a building's performance can work in harmony.
Buildings 2.0 is also sensitive to the immense investment owners have in their buildings, and must present a way for facility managers to leverage existing systems and assets to work in the context of the vision outlined by Buildings 2.0.
Buildings 2.0 must be an initiative that cares for the scarce resources we have on planet Earth. Enormous opportunities exist today to adopt technologies that will enable buildings to use less or even no fossil-based energy, and thus produce less harmful carbon emission.
For more information download this pdf; http://www.builconn.com/2008/na/downloads/Buildings2.pdf
Greening SOB's with SaaS
Several authors on our AutomatedBuildings.com web site are singing the virtues of virtual services in the greening of our buildings. Let me try to add some English subtitles to some of the intellectual talk going on about "Sassy BIMs & SOBs". Pick up your decoder ring and read on,…. this is all coming virtually to a building near you faster than you can imagine and you do not want to be left out when the true value of SaaS's virtual presence is felt.
From Wikipedia,
SaaS - Software as a Service is a software application delivery model where a software vendor develops a web-native software application and hosts and operates (either independently or through a third-party) the application for use by its customers over the Internet. Customers do not pay for owning the software itself but rather for using it.
SOB - the Service Oriented Building as a full participant in the SOA of the Service Oriented Architecture of the Enterprise.
SOA - Service Oriented Architecture is a computer systems architectural style for creating and using business processes, packaged as services, throughout their lifecycle. SOA also defines and provisions the IT infrastructure to allow different applications to exchange data and participate in business processes. These functions are loosely coupled with the operating systems and programming languages underlying the applications SOA separates functions into distinct units (services), which can be distributed over a network and can be combined and reused to create business applications. These services communicate with each other by passing data from one service to another, or by coordinating an activity between two or more services.
So have you got all that? It is the way you bank, book airline tickets, and hotels on the web.
Our newest columnist Toby Considine Systems Specialist, Facility Services, University of North Carolina – Chapel Hill writes about; SOB - the Service Oriented Building
I thank Ken for this opportunity to write regularly here. My passion is web services interfaces to the engineered world to let embedded systems be full participants in the enterprise. You might call it SOB—the Service Oriented Building as a full participant in the SOA of the Service Oriented Architecture of the Enterprise.
Can building systems join the BIM revolution?
I have long wondered how we are going to bring building control systems into the wider world. Building inhabitants see building systems as invisible and uncontrollable, and so they pay them no mind. Money spent on building systems is an instant expense, to be minimized, rather than an investment to be optimized.
Capital assets are receiving new attention, driven by the fashion of Green and the imperative of sustainability. Owners are demanding Building Information Models rather than lines on paper (CAD blueprints) to get better built buildings at lower cost. Building Information Models (BIMs) are data models to track all information about the design, construction, acquisition, and operation of a building.
The Virtual Building Operations Center
Sinclair: Last month in your article entitled The Virtual Building Operations Center, you talked about how the latest web and IT technology can be leveraged to improve operating costs. Explain what you really mean by Virtual as it applies to the concept of the Building Operations Center.
Huettel: The idea of virtual that we are discussing is that of equipment, software, and talent needed to manage an enterprise building control system, whether it be for commercial, governmental, institutional or other use. We believe that as open systems progress and the value of data from these systems increases to wider audiences within the enterprise, the criticality of the system increases. A VBOC approach towards building controls is not only more user friendly for the average tenant or consumer of information, but it is kept up and running by the outsourced supplier. This in of itself helps a facilities department shift and maintain their focus back into their proper disciplines. VBOCs are created and maintained by professional IT people centered on the concept of Software as a Service (SaaS).
George goes on with: Now that you have all of your data collected all the time, when you run a report to answer a question, and that same report generates new questions, you know that you already have the data available to find those answers. It's very empowering, and the only way to capture that last 15% – 20% of energy waste.
Huettel: The VBOC is not intended to replace the functions of a well designed and implemented control system at the building level. It is designed specifically to normalize data using IT standards of XML/SOAP Web Services from various building control technologies. Once normalized, a standard set of tools for scheduling, alarm management, data trending and reporting are used to permit aggregation of digital assets, not just physical assets. And since these tools are based in the IT space, they are more readily understood and managed by a greater pool of personnel. The top end of the system for a multiple facility portfolio is truly opened up, not only for integration of various building system technologies, but also for sharing of data with other enterprise based systems. The effectiveness and usefulness of data typically "trapped" within a conventional building control system is enhanced tremendously, and we have only scratched the surface of what can be accomplished with the technology platform.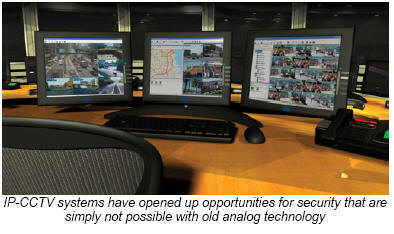 The New Face of Video security is discussed in Mega Video Solutions Systems are not just cheaper and more flexible they have opened up new opportunities. Barry Keepence, CTO, IndigoVision
IP-CCTV systems are not just a cheaper and more flexible alternative to traditional analog systems but they have opened up new opportunities for security that are simply not possible with the old technology. It is changing the way the security industry implements CCTV surveillance and has spawned a new concept – Mega Video Solutions.
Mega Video can be defined as large scale virtual matrix CCTV systems with 1000+ cameras, 200+ monitors, 50+ operators, 100+ NVRs with one petabyte+ of storage, that are continuously displaying and recording high-quality video across IP networks that span entire plants, communities and countries.
Lots of new identities are being projected on the face of Building Automation and our industry. Traditional Building Automation which for years existed only in the communication closets, boiler and fan rooms of our buildings now has a public profile, purpose, and has put a smile on our new face.
---


[Click Banner To Learn More]
[Home Page] [The Automator] [About] [Subscribe ] [Contact Us]