March

The Wireless Way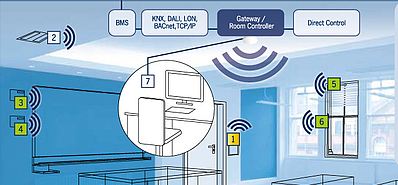 The Wireless Way
Cory Vanderpool, EnOcean Alliance Inc.



Barriers to Smarter, Connected Buildings
Jim O'Callaghan, Enocean, Inc



BACnet-EnOcean

®

Gateway


Steve Jones, The S4 Group Inc



Wireless Commissioning and Mega Trends
David Lamarche, SCL Elements Inc. / CAN2GO



Picking the Low-Hanging Wireless Fruit
Ben H Dorsey III, KMC Controls, Inc.



Energy Harvesting - A New Frontier


Paul Balazovjech, Spartan Peripheral Devices

Death by Dashboards
Jack McGowan, Energy Control Inc.

Maintaining High Performance Control Systems
Jim Sinopoli, Smart Buildings, LLC



Bluetooth, Zigbee, WiMax: What is it?
Nirosha Munasinghe



Networked Lighting Offers End-User Responsiveness
Doug Paton, Adura Technologies



Wireless Lighting Control
Josh Slobin, Daintree Networks



Energy-Intelligent Lighting Systems Go Wireless
Randy Dollar, Universal Lighting Technologies



Circuit Monitoring for Power Control
Mark Bishop, LynTec



Deploying High-Performance Wireless
Harry Ostaffe, Powercast Corporation



Wireless Sensor Networks
David Laurence, Adaptive Wireless Solutions Ltd

Killer App for Buildings & Energy Management
Jim Sinopoli, Smart Buildings, LLC

Smart Grid in Smart Buildings
Allan McHale, Memoori

Techniques for Utilizing Energy Management Systems
Sara Volpe, eSight Energy, Inc.

Innovation in Energy Management
Shane Mericle, Incenergy, LLC



I am assembling a self maintained global network of

"Who is Who" in building automation.

Presently my network includes over 3275 please join us

Please join our Group on Linkedin and interact with our magazine in real time with over 1080 others. Share your thoughts with our authors and other global readers .