---
| | |
| --- | --- |
| Editorial Comments by Ken Sinclair | |

Our August theme "Convergence Communities" is the start of the change we seek. We are extremely pleased to bring the thoughts and opinions of the change agents that are working hard to create our new convergence communities.











Anno Scholten's interview on Open Source for Open Systems provides a progress report from his community as does the interview from the next president of ASHRAE Gordon Holness, in his ASHRAE & BIM Update. Our new columnist Andy McMillan, President BACnet International provided the most reads last month with The BACnet Puzzle. Andy is back with a new column Open Systems Opens Doors "The Secret Sauce in the BACnet Recipe for Success" that talks to openness plus in addition we hear exciting things are happening in the NIST standards camp that may impact BACnet in DR and GridWise thinking. More on the BACnet topic with George Thomas, Contemporary Controls providing Object Modeling a Physical BACnet Device Part 1 Achieving BACnet® Compliance Part 2 plus Meet the "Father of BACnet®" Michael Newman in an interview with George Thomas.
Not to ignore the IT community we have Is IT God? Plus How Green IT is plus a a web-based, self-installing energy management system and securing a comprehensive solution that protects the important mission critical IT assets.
Jack McGowan provides insight to the DR community in his Crisis and Energy Opportunity plus lots more views on demand response, Wireless, Daylighting, and Participation.
Jim Sinopoli writes Touch screens are multi-faceted devices, the "Swiss army knives" of system user interfaces, while David Keidar Explories the Deep End of Video Surveillance Management
August Reviews Free Color HVAC System Graphics, ZigBee Today, Cisco - Smart Buildings Reduce Energy
August Columns Open Systems Opens Doors, Anatomy of a Typical BAS, Clouds and Rain, An Intelligently Green Building
Plus lots of new products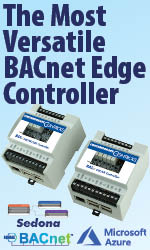 Be sure to check our event calendar to see the number of events we have in our future.
We have added a new Blog tab to our navigation menu which links to related industry blogs of interest. We created an Industry online Forum many years before blogging was conceived and have combined these.
Of course the news just keeps flowing thru our web site and RSS feeds daily, and of course the only way to truly find what you are looking for in the vast quantity of information on our site is with our site search engine http://www.automatedbuildings.com/search/sitesearch.htm
We have been working on improving our web site by reorganizing how we handle the great number of news release we receive daily. We now provide a

News Feed ( Which Needs a RSS Feed Reader ) and have provided a New Our RSS news feed rendered into HTML
Tell our sponsors you saw their ad on the AutomatedBuildings.com web site and thank them for supporting your free access to evolving Automated Building Industry information. Click on their ads and view their valuable products and services. Please review all Our Sponsors.
As I always say, it is a great time to be in the news business for our industry.
Send comments and suggestions to news@automatedbuildings.com

Entering our 10th Year Online
If you flashback 10 years with us - We have selected this article to be in our first launch issue because we think it sends us all a wake up call as to how significant the internet is going to be in the future.
Your Building.com? - The concept of a large building as an internet identity with its own web address is now the latest step in presenting and managing your Automated Buildings. Well I just about got it right...... 10 years later the identity still exists but the .com changed to a .net but ten years ago at our start up we were in the dot com boom. Also the concept of selling ISP services rapidly evolved to provide access to any internet services and the intranet rapid evolved to secure internet. The 199 Fremont project property management group has done a great job of growing the web site and adding other internet features as they evolve. It is ironical that not all buildings today have this web identity and connections 10 years later. Why?
An article I wrote in May of this year brings us closer to our evolution of today Brilliant Buildings.
It has been an unbelievable 10 years for Jane and I. What started as a retirement project to keep us from killing each other while providing resources to a few about the web evolution in our industry has turned into a Global Online Magazine with 3500 to 5000 visits daily. My surprise was expressed in "A Year of Rapid Change" or The Metamorphosis of a Digital Dinosaur which provides insight into who we are plus a quick review of our first year.
Our editorial staff and industry authors are the core of our magazine which, coupled with the fact that we never delete anything, provides a 10 year legacy of an industry growing up and is all accessible with a Google on site search.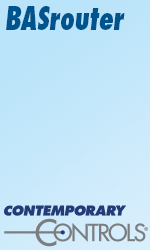 Our editorial staff all has long evolvement with our magazine.
In July 1999 Tom Hartman wrote our first article Network Control: A New Paradigm for HVAC which has evolved to be one of our advertisers http://www.optimumenergyco.com/
September 2000 saw Jack McGowan of Energy Control Inc join us as a contributing editor.
Anto Budiardjo, wrote his first article in November 2001 while still the Marketing Director at TAC Americas and joined as contributing editor March 2003. In December 2003 Paul Ehrlich the then Business Development Leader with Trane's Global Controls business unit joined us. Jim Sinopoli, Principal, Sinopoli and Associates, and author of the book "Smart Buildings" joined us in December 2006.
We have since added columnists Steve - Steven R. Calabrese Project Manager Automated Logic Chicago and Toby - Toby Considine Systems Specialist, Facility Services, University of North Carolina – Chapel Hill and have had the good fortune to have several hundred articles and interviews written by industry leaders. See The most read articles of the Last Ten Years
Our newest columnist just starting this month is Andy McMillan President and CEO Teletrol Systems Inc.& President BACnet International with The BACnet Puzzle
Our editorial staff provides a great response to our first 10 years so be sure to read every article, column, review, and interview.
Our about tab and mission statement had not been changed for 10 years and, although not wrong, a lot of changes have occurred and we hope the following better states who we now are. We are still committed to our original intent and have left that statement in our mission statement.
AutomatedBuildings.com has entered its tenth year as an on line magazine and web resource. We provide the news and connection to the community of change agents that are creating our present definition of smart, intelligent, integrated, connected, green, and converged large buildings. Our virtual magazine and web resource provides a searchable platform for discussion and exchange while creating opportunities for B2B for all new and existing stakeholders.
Our Mission - Be the Change We Seek —Gandhi As set in July 2008
Our first ten years was focused on the impact of the internet and open protocols. Our next few years will be spent breaking down the past silos of which we were all part of. We will embrace the online convergence of humanity and define new business models with self realization and publication of how we can contribute.
AutomatedBuildings.com is committed to the continuance of our existing work plus the creation and nurturing of a community of change agents, to lead those who will accept change and convince those who resist. To quote Maslow's theory and restate "What we can be, we must be"
We have a long, long way to go to move out of the deeply rooted vendor centric unconnected world of traditional marketing of our products and services. We need to define the services and recognize the transaction and the performance we can deliver. We need to "Give our customers the ability to do something new, that they couldn't do before, but would have wanted to do; if only they knew they had the ability to do it."
Imagine every single possible bit of information at your fingertips, perfectly contextualized, and perfectly personalized. This may never be realized, but the journey to find perfection will be the change we seek.
Our community of change agents needs to continue to educate customers and especially those who have never been our customers, with all types of events and in all forms of media. We need to explore new initiatives like Open Source, which is not vendor or hardware dependent so we can become the enablers. The Open Protocol work is mostly done but we need to build on the flat line created by the data pushers and find an elegant entrance to the browser and the IT world. We need virtual space in which will occur the creativity of the change we seek. We are the people that will give the kids a place to build applications quickly and easily. We are the people that will create Building 2.0, the version that still has not yet been defined.
Interoperability becomes the driver when economical. The overwhelming operational requirement to have all buildings connected to smart grid is a great example. The technology is here, we just need to create ways for our industry to be the ones that figure out how to use technology to sell solutions.
---


[Click Banner To Learn More]
[Home Page] [The Automator] [About] [Subscribe ] [Contact Us]