---
Updated October 23rd












BuilConn Europe: Cisco Systems & Hewlett Packard Sign on as Platinum Sponsors
SK Telecom: Using Ember-enabled ZigBee "digital smart home" services
BuilConn: Six LONMARK® Member Companies Support BuilConn Europe and M2M Expo and Conference
GridWise™: Architecture Council Announces Constitutional Convention
Echelon: LonWorld® 2005 / Arbitron Enhanced by Echelon Power Line Technology
AHR EXPO®: Announces 2007 and 2008 Host Cities
Pxyos: New Echelon Platform First to Embed Control Networks Inside Everyday Devices
Contemporary Controls: Overlapped VLANs for Your Control Networks
Johnson Controls: Facility Explorer Building Control System / Dow Jones Sustainability World Index
News Briefs October - A quick overview of industry events, trends and news.
The BACnet® Conference and Expo Offers Educational Sessions For BACnet Beginners and Experienced Users - BOSTON – The BACnet Interest Group of North America and the BACnet Manufacturers Association have announced the agenda for the upcoming BACnet Conference and Expo. In addition to general sessions providing overviews of BACnet and actual BACnet demonstrations, there will be two session tracks: "BACnet Basics" and "Advanced BACnet Simplified." The BACnet Conference and Expo will be held October 23 – 25, 2005 at the Nashville Airport Marriott Hotel in Nashville, Tenn. Conference details and registration information is available at www.bacnetconference.org.
Emerson Network Power`s Liebert Global Services Group Selects ComBrio`s Secure Internet-Based Remote Monitoring Gateway for Critical Systems Columbus, OH – Emerson Network Power, a business of Emerson and the global leader in enabling Business-Critical Continuity, announced a new Internet-based remote monitoring gateway that will enhance data security and availability of critical space infrastructure serving mission critical equipment. Continuous remote monitoring of the critical space infrastructure enables prevention, early detection and fast response to infrastructure problems that could affect the availability of business-critical systems. For more information on the full range of technology solutions from Emerson Network Power, visit www.emersonnetworkpower.com.
LONMARK International Releases New Interoperability Guidelines to Simplify Control Network Installation - San Jose, CA – LONMARK International announced the release of Version 3.4 of the LONMARK Interoperability Guidelines, making it easier to install open, interoperable devices. The Guidelines include support for self-installed devices and networks further extending the reach of LONMARK certification into consumer products, industrial automation, and other machine-to-machine (M2M) applications. Further enhancements have been made to improve device installation with network tools, making it easier for installers and integrators to create networks of open devices and systems. For more information about LONMARK International visit www.lonmark.org.
AEE New Online Seminars - Power Techniques for Power Purchasing A 6-Hour Distance Learning Seminar, Starts October 24
Next Generation DDC Open Systems An 8-Hour Distance Learning Seminar, Starts November 29. For information on all of AEE's realtime distance learning seminars, visit www.aeecenter.org/realtime.
HCM's New SecuraTM Cables Support Video Applications over Twisted-Pair Manchester, NH: HCM's new SecuraTM cable was designed to support the power, control, and video requirements of today's security cameras and devices over one high-performance unshielded twisted-pair cable. Video surveillance applications supported by Secura cables include: government and military facilities, airports, financial institutions, offices, universities and research laboratories, casinos, and hospitals.
IIPSEC is a World-Wide hit - If anyone needs convincing that IP is just a passing fad they should take a closer look at IIPSEC 2006. The show continues to buck the trend and indeed has grown 50% year on year since its conception back in 2003.The two guys behind the event Paul Hennings and Kevin Fagan put this down to its unique position within the market and highly targeted audience. Visit www.iipsec.com for more information.
ESC Automation - 25th Anniversary 25 years in building automation and still going strong. ESC Automation formerly know as Energrated Systems celebrates its milestone 25th anniversary in October with a Gala planned at the Vancouver Aquarium October 20th. For more details on ESC and its history visit http://www.escautomation.com/resource/pressreleases.html
Building Intelligence Tour – Kicked Off in New York The Building Intelligence Tour, a series of seminars on the benefits of Intelligent Buildings, was launched with the seminar "Introduction to Intelligent Buildings" September 12, 13 in New York City and New Jersey. Attendees participated in a half day session that defined the processes and technologies required for Intelligent Buildings as well as the value for owners. The seminars were presented by the Building Intelligence Group and sponsored by Trane, General Electric Security and Eagle Technology. Additional information about the Building Intelligence Tour seminars including future scheduled events and information on sponsoring can be found at www.buildingintelligencetour.com.
Sustainability Topic of ASHRAE Satellite Broadcast ATLANTA – A satellite broadcast is being offered by ASHRAE to fulfill its goal of promoting building sustainability as a means to provide a safe, healthy, comfortable environment while simultaneously limiting the impact on the Earth's natural resources. The program is sponsored by ASHRAE's Chapter Technology Transfer Committee (CTTC). Visit www.ashrae.org/greenbuildingsbroadcast
"BIG-RU" Association - BACnet Interest Group Russia Jon Williamson, BACnet Conference & Expo, Chairman interview (BACnet Conference & Expo / Nashville Oct 23-25, 2005 has been translated to the Russian language and posted on "BIG-RU" web-site: http://www.bacnet.ru/ru/bacexpo/bacexpo.htm. There is also more information about the event taken from conference's web-site which has been distributed among over 1000 Russian companies and experts in building automation area.
Connected@Home - Hear over 80 Leading Industry Speakers Did you know that there are over 400 delegates registered for the Connected@Home Conference & Expo? That the collocated FTTH Conference & Expo has over 1,200 registered delegates? That the combined Expo Hall will feature over 140 exhibits? That the ZigBee Alliance, 1394 Trade Association, Multimedia over Coax Alliance and the Internet Home Alliance are all sponsoring this event and also are hosting their meetings and conferences in conjunction with the Connected@Home Conference & Expo? That the ZigBee Developers Conference is sold out with over 150 delegates? Connected@Home 2005 Conference & Expo October 3-5, 2005 in the Mandalay Bay Resort & Casino Convention Center, Las Vegas.
LOYTEC Platinum Sponsor at LonWorldR 2005 LOYTEC has been a Silver Sponsor of the Building Open Systems Tour 2005 (BOS) taking place in 22 major cities across 16 countries in Europe. As a Platinum Sponsor at LonWorld(r) 2005, taking place in Paris between October 20th and 21st, we are at your disposal at the LOYTEC booth. LOYTEC is globally known for groundbreaking and reliable product solutions for ANSI/EIA-709 and CEA/EIA-852 networks.
Contemporary Controls' Updated ARCNET® Catalog—Coverage of Key Technology Concepts "ARC Control—ARCNET for Control"... the name says it all. Networking professionals having basic to expert skills can learn the fundamentals of ARCNET quickly with Contemporary Controls' revised 88-page catalog which draws on existing knowledge. The catalog is well indexed with these sections: ARCNET—The Hidden Real-Time Network, ARC Control, Transceiver and Connector Selection Guides, Product Descriptions, Technical pecifications, Regulatory Approvals, Accessories, Power Wiring Diagrams, Glossary, and much more! Visit www.ccontrols.com for more information.
Industry Experts fill crucial role as Track Leaders, Speakers and Moderators at BuilConn Europe BuilConn tracks tell the story of IP convergence in buildings, as track leaders provide guidance. BuilConn conference sessions are designed to discuss, educate and explore the full breadth of topics surrounding the subject of intelligent buildings. Track leaders ensure that the complete story on each subject area is presented by recruiting top presenters, moderating discussions and serving as a specialized domain expert. Find out more at www.builconn.com 8-10 November 2005, Amsterdam RAI
News Briefs September - A quick overview of industry events, trends and news.
BACnet® Conference and Expo: Nine Companies Sign on as Sponsors
LONMARK International: Sponsor BuilConn Europe and M2M Expo
TAC: BACnet Testing Laboratories Listing as a BACnet® Building Controller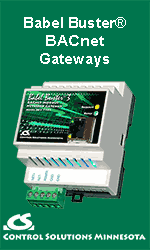 Plexus Technology: Announces Release of ALTITUDE Version 3
Ember: Lowest power ZigBee solution to ship next month
Reliable Controls®: Platinum Sponsor at The Largest BACnet Event of the Year
KMC: Expanding China Controls Business
Johnson Controls: to Acquire York / Heat Recovery System Minas Basin Pulp & Power Co
Berkeley Lab: Real Time Pricing as a Default or Optional Service
Tridium: Announces Gold Sponsorship of BuilConn, M2M Europe
Lantronix: First RoHS-Compliant, Fully Integrated Embedded Device Server Module
WebGen Systems: Recognized by Frost & Sullivan
ASHRAE: Endorses BACnet® Conference and Expo
---


[Click Banner To Learn More]
[Home Page] [The Automator] [About] [Subscribe ] [Contact Us]