---
Articles - June 2010















Our authors provide insight into our rapidly evolving industry.
Please take the time to read their valuable articles.
Takeaways from ConnectivityWeek 2010 ConnectivityWeek was a great event - with the largest ever registration of over 1300. Many new grid partners created an increased impact with new energy solutions while showing us improved overall organization and connectivity of our industry. Ken Sinclair AutomatedBuildings.com
Where The Rubber Meets The Road Measurement and Verification Jim Sinopoli PE, RCDD, LEED AP Managing Principal, Smart Buildings LLC
The Future of Cloud Connectivity for BAS It is clear that cloud computing has the potential for the BAS to seamlessly integrate with other business services to provide a user friendly, cost effective and in depth solution to the client, transparent of the underlining technology. Nirosha Munasinghe MBusIT BSc BE (Hons) (Melb), Product Development Manager, Open General
Saving Time with Image Modules Improve Your Graphic Development Process Sarah Erdman, Marketing Director, QA Graphics
Wireless Energy Management Systems Building Bottom Lines An entire segment of commercial buildings that was previously unable to afford a sophisticated EMS now has some very compelling options. Davis Watkins, Vice President Commercial Sales, Advanced Telemetry
Technology Park Leverages Technology to Move Beyond LEED Gold University of Victoria's Vancouver Island Technology Park turns to Cisco to transform decades-old hospital into modern innovation centre Rick Huijbregts, Vice President, Vertical Industries, Cisco Canada
Kaiser Permanente Qualifies Old Building for Energy Incentives Advanced pneumatic thermostats connect to EMS Harry Sim, CEO, Cypress Envirosystems
Columns - June 2010
The Saga of Westlake Condominiums Never underestimate the importance of clear, honest, open, and continuous communication Steven R. Calabrese, Control Engineering Corp.
Doing things at the right time We created WS-Calendar to create, share, invoke, adjust, and track coordinated response between domains and organizations. Toby Considine, T9
OPC UA sets a solid foundation for systems to reach for the clouds How does OPC UA illuminate the path to scalability? Manny Mandrusiak, Vice President of OPC Marketing, OPC Foundation
Intelligent Buildings in the Age of Pneumatic Control? How intelligent can a building be if most of the temperature control is provided by antiquated controls? Paul Ehrlich & Ira Goldschmidt, Building Intelligence Group
Articles - May 2010
Preview of May 24-27 ConnectivityWeek 2010 Santa Clara Lots of excitement surrounding the buildup to ConnectivityWeek and I have tried to capture and connect you to the points of interest for our industry. Ken Sinclair AutomatedBuildings.com
Finding the Answer It is a realization that BAS needs to change to a new business proposition, one that leverages great technology now available, creates significant opportunities in greening buildings, and turns buildings into virtual power plants that add value to owners, power utilities, society at large, and of course, the BAS industry. Anto Budiardjo, President & CEO, Clasma Events Inc.
Accelerating Wireless Controls in the Retrofit Market It is the social responsibility of the global community to be committed to making wireless controls work! Louis Viglione, Eng., President, Viconics Inc.
Pneumatic Integration Wirelessly to IP New product provides the most advanced pneumatic retrofit solution available on the market today. Jill Fidler, National Sales Manager, Energy Controls Company
Technology Evolves Visual Expectations When it comes to developing high-end graphics, most control companies don't have the resources or software tools to develop 3D realistic graphics. Sarah Erdman, Marketing Director, QA Graphics
Virtual Building Energy Management Moving to Cloud-based Building Energy Management Michael R. Lavelle P.E., Lavelle Energy LLC & Kimon Onuma, FAIA, ONUMA, Inc.
What is a Web Enabled Building Management System? The philosophy of designing a fully web enabled system is not only to take advantage of the current web technologies available in the market but also to be future ready with concepts such as cloud computing. & Data Integration Levels The philosophy of the integration device is to obtain required data from different vendors and protocols with minimum use of network bandwidth. Nirosha Munasinghe MBusIT BSc BE (Hons) (Melb), Product Development Manager, Open General
The Next Gold Rush? Could Be Your Meter Thar's gold in your energy data (more than you might think) Dave Krinkel, Founder EnergyAI
Getting Smarter Lighting Controls into Existing Buildings Interoperability, Easy Commissioning, Flexibility, Reliability and Scalability for Wireless Lighting Controls Jason Choong, Chief Solution Architect and Vice President Product Management, Daintree Networks
Intelligent Buildings in the Institutional Sector A three-way convergence of building control, consumption tracking (metering) and IT/business systems Gord Echlin, Vice President Sales & Marketing, Triacta Power
Using IP Protocol in an Energy Management Interface Open protocols ease installation of new systems and interoperability of legacy controls Paul Harris, Proliphix
Wireless Indoor Air Quality Monitoring Achieve a heath indoor environment Gareth Evans, Marketing Assistant, PPM Technology Ltd
Building Industry Thought Leaders to Converge at ConnectivityWeek This four-day event provides a unique opportunity for building owners, operators, facility managers, systems integrators and suppliers to learn about the key trends, technologies and solutions driving the BAS industry. Barry Haaser, Principal, Haaser Associates
Columns - May 2010
Controls Contracting Operations: Closeout The final steps to the completion of a successful project Part 3 of 3 Steven R. Calabrese, Control Engineering Corp.
Integrated Lighting Control Providing an efficient building requires good lighting control that includes coordinated scheduling, occupancy sensing, and daylight harvesting. Paul Ehrlich & Ira Goldschmidt, Building Intelligence Group
Mobile is the new HMI How an iPad saves money by making procedures lean Manny Mandrusiak, Vice President of OPC Marketing, OPC Foundation
The Integration Barrier to Smart Energy These specifications will move the markets in energy management systems into improved interfaces, for users, for enterprises, and for energy marketers. Toby Considine, T9
Building Connections – ConnectivityWeek This is the place to gain insight into how to unleash opportunities and new business from all of this change. Ken Sinclair AutomatedBuildings.com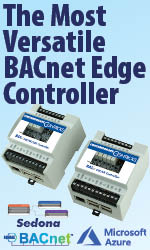 Past Favorites
May:
Ken Sinclair Editor/Owner, www.AutomatedBuildings.com Preview of May 24-27 ConnectivityWeek 2010 Santa Clara
Michael R. Lavelle P.E., Lavelle Energy LLC & Kimon Onuma, FAIA, ONUMA, Inc. Virtual Building Energy Management
Nirosha Munasinghe MBusIT BSc BE (Hons) (Melb), Product Development Manager, Open General What is a Web Enabled Building Management System? & Data Integration Levels
April:
Dave Krinkel, Founder EnergyAI What Secrets Lurk In the 98% of Energy Data that's Never Looked At?
March:
Ken Sinclair Editor/Owner, www.AutomatedBuildings.com The Next Big Things
February:
Andy Stadheim CEO, Barix Technology U.S. Building Automation Considerations
Ken Sinclair Editor/Owner, www.AutomatedBuildings.com Twenty Ten to be a BAD-ASS Year
January:
Jim Sinopoli, PE, LEED AP, RCDD Managing Principal, Smart Buildings LLC Predictions for Smart Buildings in 2010
Rawlson O'Neil King, Communications Director, CABA Research Viewpoints
Robert Eckery, Marcom Manager, EnOcean, Inc. Energy Harvesting, Wireless and Next Generation Building Energy Management
December:
Jim Sinopoli, PE, LEED AP, RCDD Managing Principal, Smart Buildings LLC How Buildings Will Communicate With The Smart Grid
Harry Sim, CEO, Cypress Envirosystems Retrofitting Existing Commercial Buildings for the Smart Grid
November:
Andrey A. Golovin, Executive Director of associations BIG-RU (BACnet Interest Group Russia) and KONNEX Russia, Editor in Chief of the magazine "Building Automation" What is "Smart City"?
Gina Elliott, MBA Project Director, Smart Buildings LLC Energy Reporting
Daryl Cowie, Business Development Manager, Wescon Technologies The Business Case for Submetering - Part 1-3
October:
Kevin Braley, Communications Specialist, Orion Energy Systems Ebb and Flow of Lighting Needs Require Flexible Controls
David Wolins, CEO Scientific Conservation The Emergence of Proactive Building Management Automation
Rick Huijbregts, Cisco Canada The Real Value of Building Information, Integration and Transformation
Marc Petock, Vice President, Global Marketing & Communications, Tridium, Inc. The Niagara Framework® and Energy
September:
Sarah Erdman, Marketing Director, Quality Automation Graphics Energy Dashboards Inform and Educate
August:
David Wolins, CEO, Scientific Conservation, Inc. (SCI) Automated Continuous Commissioning
Jim Sinopoli, PE, LEED AP, RCDD Managing Principal, Smart Buildings LLC Drilling for Dollars
July:
Ken Sinclair Editor/Owner www.AutomatedBuildings.com My Takeaways from ConnectivityWeek
Michael Bordenaro, BIM Education Co-op Cisco's Mediator
June:
Alper Uzmezler, BAS Services & Graphics, LLC. Future of Building Automation with IP Version 6 & cloud networking
---
---


[Click Banner To Learn More]
[Home Page] [The Automator] [About] [Subscribe ] [Contact Us]